« The Inevitable, Boring and Predictable Coathanger Prop
|
Main
|
Top Headline Comments 7-10-13 »
July 09, 2013
Overnight Open Thread (7-9-2013)
4 Things Every Modern Man Should Be Able to Do
4. Build a fire
3. Run a mile
2. Change a car tire
1. Divide up a bill
And speaking of changing tires you should go listen to the first 20 minutes of Adam Carolla's recent podcast where a July 4th flat tire with a non-driving teenage nephew turns into a Thurberesque nightmare.
Oh Rand What Were You Thinking?
I've wanted to unreservedly like Rand but have ended up staying a bit wary of him - mainly because I'm afraid he had a bit too much of his father's kookiness in him as well as his father's tendency to surround himself with questionable people with rather disreputable views.
And this doesn't help:
A close aide to Sen. Rand Paul (R., Ky.) who co-wrote the senator's 2011 book spent years working as a pro-secessionist radio pundit and neo-Confederate activist, raising questions about whether Paul will be able to transcend the same fringe-figure associations that dogged his father's political career.

Paul hired Jack Hunter, 39, to help write his book The Tea Party Goes to Washington during his 2010 Senate run. Hunter joined Paul's office as his social media director in August 2012.

From 1999 to 2012, Hunter was a South Carolina radio shock jock known as the "Southern Avenger." He has weighed in on issues such as racial pride and Hispanic immigration, and stated his support for the assassination of President Abraham Lincoln.

During public appearances, Hunter often wore a mask on which was printed a Confederate flag.
And Hunter sure seems to share the same political preoccupation with neoconservatives as Paul Sr:

You rarely hear about it since soldiers generally aren't quartered in peoples' homes without consent these days.
Except maybe in Henderson, NV:
LAS VEGAS (CN) - Henderson police arrested a family for refusing to let officers use their homes as lookouts for a domestic violence investigation of their neighbors, the family claims in court.

Anthony Mitchell and his parents Michael and Linda Mitchell sued the City of Henderson, its Police Chief Jutta Chambers, Officers Garret Poiner, Ronald Feola, Ramona Walls, Angela Walker, and Christopher Worley, and City of North Las Vegas and its Police Chief Joseph Chronister, in Federal Court.
Mitchell claims that defendant officers, including Cawthorn and Worley and Sgt. Michael Waller then "conspired among themselves to force Anthony Mitchell out of his residence and to occupy his home for their own use."
A third amendment suit is a bit of a stretch since you'd have to show that local police count as soldiers and that the 3A applies to state and local governments. However when you read the sordid egregious details of the case I think a fourth amendment case is more applicable.
  The complaint continues: "Defendant Officer David Cawthorn outlined the defendants' plan in his official report: 'It was determined to move to 367 Evening Side and attempt to contact Mitchell. If Mitchell answered the door he would be asked to leave. If he refused to leave he would be arrested for Obstructing a Police Officer. If Mitchell refused to answer the door, force entry would be made and Mitchell would be arrested.'"

    At a few minutes before noon, at least five defendant officers "arrayed themselves in front of plaintiff Anthony Mitchell's house and prepared to execute their plan," the complaint states.

It continues: "The officers banged forcefully on the door and loudly commanded Anthony Mitchell to open the door to his residence.
     "Surprised and perturbed, plaintiff Anthony Mitchell immediately called his mother (plaintiff Linda Mitchell) on the phone, exclaiming to her that the police were beating on his front door.
     "Seconds later, officers, including Officer Rockwell, smashed open plaintiff Anthony Mitchell's front door with a metal ram as plaintiff stood in his living room.
     "As plaintiff Anthony Mitchell stood in shock, the officers aimed their weapons at Anthony Mitchell and shouted obscenities at him and ordered him to lie down on the floor.
     "Fearing for his life, plaintiff Anthony Mitchell dropped his phone and prostrated himself onto the floor of his living room, covering his face and hands.
     "Addressing plaintiff as 'asshole', officers, including Officer Snyder, shouted conflicting orders at Anthony Mitchell, commanding him to both shut off his phone, which was on the floor in front of his head, and simultaneously commanding him to 'crawl' toward the officers.
     "Confused and terrified, plaintiff Anthony Mitchell remained curled on the floor of his living room, with his hands over his face, and made no movement.
     "Although plaintiff Anthony Mitchell was lying motionless on the ground and posed no threat, officers, including Officer David Cawthorn, then fired multiple 'pepperball' rounds at plaintiff as he lay defenseless on the floor of his living room. Anthony Mitchell was struck at least three times by shots fired from close range, injuring him and causing him severe pain." (Parentheses in complaint.)
Remember this was all because police wanted to spy on the Mitchells' neighbors over a domestic violence complaint.
Fact checkin' is hard. Can you spot the error is this diagram?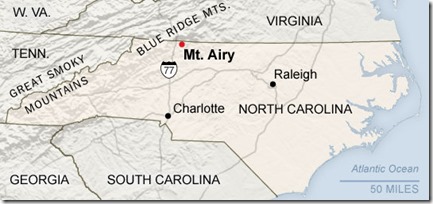 And speaking of Mayberry: Andy Taylor and the Coercive Power of the State
Andy Taylor? Readers with long memories may remember that he is the character played by Andy Griffith in the long-running eponymous television show from the Sixties (the good bit of the Sixties). As sheriff of the town of Mayberry, Andy is responsible for maintaining order - no, that's not quite right: the townspeople are responsible for maintaining order. Andy is simply a sort of boundary marker. He represents what Walter Bagehot might have called the impressive side of the social contract. He has a sidearm. He rarely wears it. It's usually at home, unloaded, hidden on top of a china cabinet. He barely wears a uniform. That's to say, his uniform is homey, not scary.

Why? Because he wished people to trust and respect him and not fear him; he was an authority, not an authoritarian figure. His sidekick, the lovable but bumbling Barney Fife, likes the paraphernalia of police garb. Andy lets him wear a revolver, but it has to be unloaded. He's allowed to carry one round of ammunition in his shirt pocket.
Compare this to what happens when you go fishing in Effingham, Illinois today:
I took 3 of my grandchildren jug fishing (tie string to a milk jug, attach a hook and bait and set them in the water, come back hours later and bring in the fish). This was a first for my kids. We left about 9:00 p.m., and after setting out two of the jugs we got stopped by two officers from Illinois Department of Natural Resources (appropriately shortened to DNR). They were going to do a safety check. They had guns, dressed as Gestapo, and had bulletproof vests.
As you'll see there is no Andy Taylor or even Barney Fife in the IL DNR.
Guantánamo prison will synchronize force-feedings to Ramadan fast
"The U.S. prison at Guantánamo has sufficient military medical staff to synchronize forced-feedings to the Ramadan fast and will only feed hunger strikers after sunset and before dawn,"
I guess I'm supposed to feel bad about this but eh whatever. I've never been impressed by hunger strikers - to me it's always been a form of blackmail and a particularly stupid form of suicide but hey if you wanna starve yourself go right on ahead. Less money for us to spend keeping your dumb ass living and bitching. And if we decide to keep to keep you alive, well then you're just gonna have to keep on living motherfucker. Oh and happy Ramadan.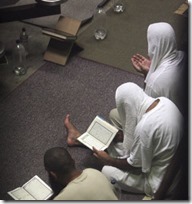 Brett Kimberlin vs. Mrs. Kimberlin
And is the man named in the complaint their gardener?
@AaronWorthing @rsmccain @antvq16 @SarahWW @itsEric she is SO getting SWATted.

- Simon Templar (@SimonTemplarPV) July 9, 2013
That Time Jennifer Aniston Ate Poor People Food
And it was just horrible - however do the proles survive on that stuff?
Have you ever been in a situation where you had no other choice but to grab some fast food?

I'll never forget when Justin and I were on a road trip and we were so hungry. The only thing around was McDonald's. I think I ordered a Big Mac. Wow, my body did not react well to that! It was like putting gasoline in a purified system. I am always trying to eat organic and natural foods, so that just made my stomach turn and made me feel terrible. And I think what you put in your body, as well as stress, is reflected in the quality of your skin.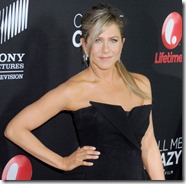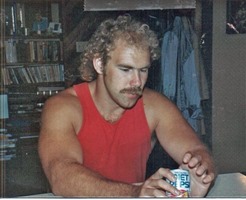 Teh Tweet!
Tonight's post brought to you by Goofus and Gallant: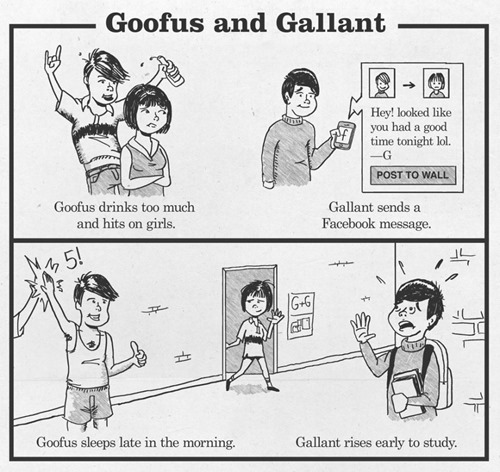 Notice: Posted by permission of AceCorp LLC. Please e-mail overnight open thread tips to maetenloch at gmail. Otherwise send tips to Ace.

posted by Maetenloch at
09:46 PM
|
Access Comments