« NTSB: Early Indications Are The San Francisco Plane Crash Was Caused By Perhaps The Worst Pilot In The World
|
Main
|
Overnight Open Thread (7-7-2013) »
July 07, 2013
CAC's Spaced-Out Challenge: Galaxy Guide (Part 4) From the Shield to the Arrow
Onwards we push through the Milky Way, in this week's edition of the Spaced Out Challenge. Finally leaving the Sagittarius-Scorpius region, we enter the realm of the small constellations Scutum, Sagitta, and Vulpecula; and one third of the Summer Triangle: Altair and Aquila the Eagle

So, let's dive in, shall we?
The region of the Milky Way being explored in this part of the guide is both expansive and small. Focusing on a section of sky stretching from the northern edge of Sagittarius to the southern end of Cygnus, the targets are in frustratingly small segments and (excluding Aquila) in small, faint constellations.

We will begin where we left off, just above Sagittarius.
Scutum, the shield
Scutum is relatively faint but benefits from having several outstanding sights. You'll notice two of the nebulae discussed in Part 2, the Eagle and Swan, are just a few degrees to its south-west.
The Wild Duck Cluster

image by AstronomyIreland
Mid-way between lamda Aquila and alpha Scutum you'll spot a tight concentration of stars in binoculars. With a telescope, this concentration becomes an incredible open cluster with a core of over a hundred stars. It surpasses any open cluster in beauty this side of the border of Cassiopeia and Perseus, and it's namesake is evident at even low-power.
sketch by Daniel Stasiak
The Star Cloud

image by Michael A Stecker
Numerous dark nebulae obscure much of the stars in this region and are worth their own look, but in one "window" through the dust we spot a naked-eye bright patch of stars due west/southwest of the Wild Duck Cluster. Spanning several degrees, take the binoculars through a swarm smaller than the windows in Sagittarius but strikingly beautiful in it's own right.
Aquila, the Eagle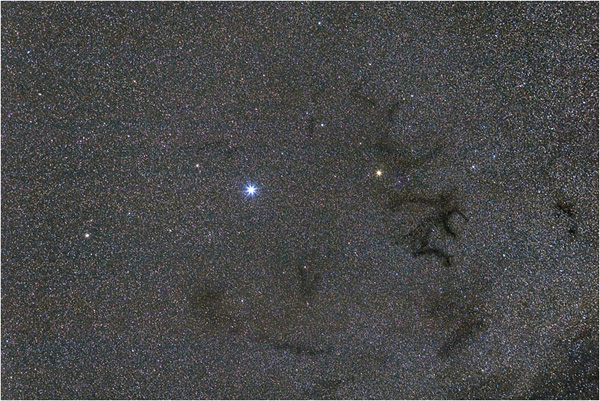 photo credit Alexandru Conu
Our challenge object for the week lays within this constellation: Barnard's E (also known as the Triple Cave Nebulae). Actually two separate cataloged dark nebulae, hunting down the E, one degree west of Gamma Aquila, can help sharpen your skills in picking out further dark nebulae. Against the milky way star fields it appears as two greyish-black semi-transparent voids.
map generated using Tri-Atlas
Move your binoculars along from Altair to (gamma Aquila) then move again one more degree to the spot indicated. Get gamma out of your field of view just slightly, so your eyes can adjust and tease out these cold molecular amalgamations, the sites of future star birth: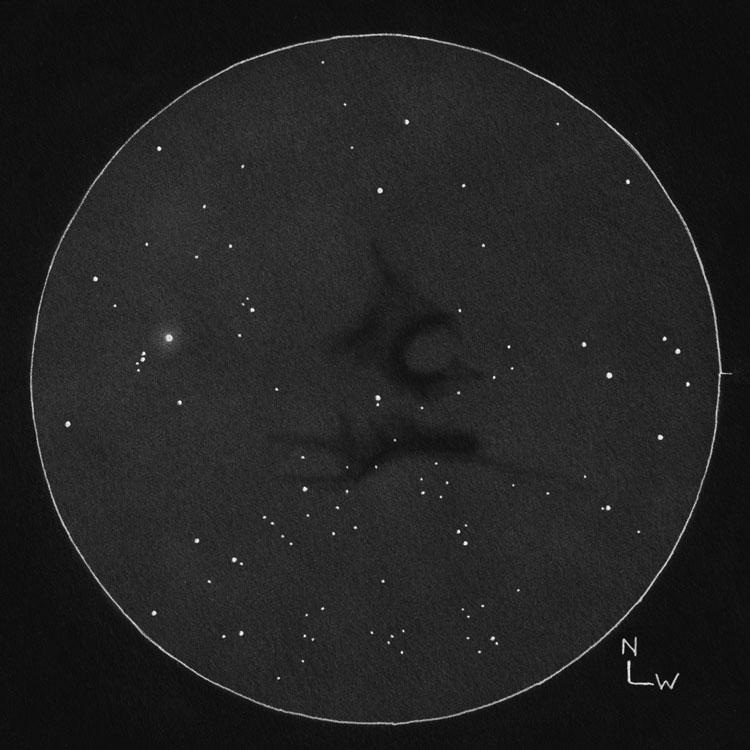 sketch by Jeremy Perez
In the Scutum map, you'll notice several additional dark nebulae worth attempting to tease out.
Sagitta, the Arrow
One of the smallest constellations in the sky, it still holds at least one interesting object for amateur scopes traversing the summer Milky Way, the globular cluster in Sagitta (or is it?)

image credit: Wolfgang Howurek
From the
SEDS Messier site
, it's status as a globular has been rather nebulous (pardon the pun), and it holds several intriguing characteristics:
For a long time, the classification of M71 as a globular cluster was uncertain, many astronomers thought it was a rather condensed open cluster, similar to M11...other criteria, as the radial velocity, and the abundance of heavier elements (metalicity) is of little help in this case: The radial velocity is poorly known, the sources differ from 80 km/sec in approach to 80 km/sec in recession, the most modern value being perhaps 23 km/sec in approach; this value is not very high and thus consistent with both types, and the metalicity is one of the highest for globulars, only M69 has higher abundances. It seems that the high metallicity is connected with a low number of RR Lyrae stars: None could be found in M71 (nor in M69)...Nevertheless, there's now some consensus that M71 is a loose globular. According to newer sources (e.g., W.E. Harris'globular cluster data file), it is 13,000 light years distant. Its denser, easily visible core is only about 5 to 6 arc minutes, while in photos it has an angular diameter of about 7', corresponding to a linear extension of only 27 light years, small for a globular cluster.

In binoculars there is little to resolve but it stands out nicely with star 9 Sagitta close by.
In even small telescopes, the core of this is-it-or-isn't-it globular resolves easily.
sketch by Uwe Schultheiß
Vulpecula, the Fox
The faintest constellation thus far discussed, it is sandwiched between Cygnus to it's celestial "north" and Sagitta to it's "south". Despite it's small size, there are two interesting features here we should take a few moments to explore.
The Coathanger Cluster (Brocchi's)

image credit: Till Credner, allthesky.com
Long thought to be an actual cluster, only recently it has been determined the stars are simply a line-of-sight grouping. Still, this asterism of stars just below the head of the swan and the tail of the fox is striking in binoculars as we pass through the clouds and stars of the galaxy.
The Dumbbell Nebula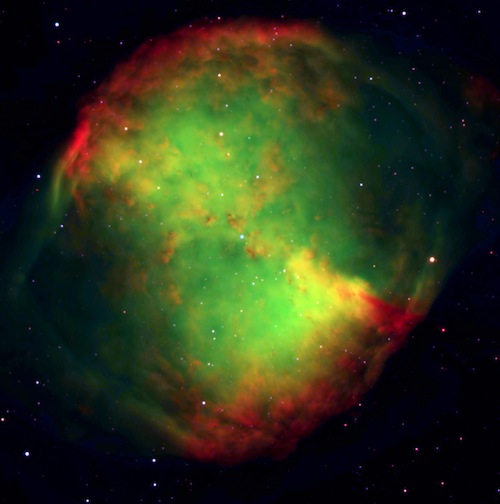 photo credit: ESO
Planetary nebulae are one of the few deep sky objects that, with moderate aperture, appear to the eye as they do before a camera. Some even show color, such as the Blue Snowball. The Dumbbell Nebula is large and bright enough to be peaked at with binoculars:
But really shows itself off through even the smallest telescopes:
Stellincam 8 sec image by Larry McHenry, imitating view through 8" scope
Faint greens can be detected with averted vision and aperture of about 6" or larger, and the white dwarf star corpse illuminating it is readily visible. A nebula filter, such as an O-III, can boost contrast in more light-polluted areas and yields finer details in dark skies. If you pick only a single object from this weeks list to hunt down, aim for the Dumbbell. You will not be disappointed.
Next week, we travel to the most striking portion in the northern Milky Way, the kingdom of Cygnus the Swan.
Link up to Guide Part 1: Galactic Core
Link up to Guide Part 2: Nebulae in Sagittarius/Serpens
Link up to the Guide Part 3: Clusters near the Core
FULP List Link HERE
If you can, grab a copy of Astronomy magazine this month. For its 40th anniversary it has a go-to guide for 40 objects in Sagittarius, many discussed in previous Spaced-Out Challenges, and a great article expanding on the topic of dark nebulae.
Until next week, clear skies to you and keep looking up!

posted by CAC at
08:00 PM
|
Access Comments