« Scenes from Turkey
|
Main
|
Top Headline Comments 6-5-13 »
June 04, 2013
Overnight Open Thread (6-4-2013) - Elijah Edition
Depressed and despondent over the political course of the country? Bewildered that the LIVs can be so ignorant and unconcerned about what's going on in Obama's government?
So why even bother trying to change people's minds at this point. Well let Albert Jay Nock's classic essay, "Isaiah's Job", explain what your real purpose is.
This essay was first published in the Atlantic in 1936 near the height of FDR's New Deal and it still applies today. Except that now the Remnant also have the internet.
The prophet's career began at the end of King Uzziah's reign, say about 740 B.C. This reign was uncommonly long, almost half a century, and apparently prosperous. It was one of those prosperous reigns, however - like the reign of Marcus Aurelius at Rome, or the administration of Eubulus at Athens, or of Mr. Coolidge at Washington - where at the end the prosperity suddenly peters out and things go by the board with a resounding crash.

In the year of Uzziah's death, the Lord commissioned the prophet to go out and warn the people of the wrath to come. "Tell them what a worthless lot they are." He said, "Tell them what is wrong, and why and what is going to happen unless they have a change of heart and straighten up. Don't mince matters. Make it clear that they are positively down to their last chance. Give it to them good and strong and keep on giving it to them. I suppose perhaps I ought to tell you," He added, "that it won't do any good. The official class and their intelligentsia will turn up their noses at you and the masses will not even listen. They will all keep on in their own ways until they carry everything down to destruction, and you will probably be lucky if you get out with your life."

Isaiah had been very willing to take on the job - in fact, he had asked for it - but the prospect put a new face on the situation. It raised the obvious question: Why, if all that were so - if the enterprise were to be a failure from the start - was there any sense in starting it? "Ah," the Lord said, "you do not get the point. There is a Remnant there that you know nothing about. They are obscure, unorganized, inarticulate, each one rubbing along as best he can. They need to be encouraged and braced up because when everything has gone completely to the dogs, they are the ones who will come back and build up a new society; and meanwhile, your preaching will reassure them and keep them hanging on. Your job is to take care of the Remnant, so be off now and set about it."
What chiefly makes it so, I think, is that in any given society the Remnant are always so largely an unknown quantity. You do not know, and will never know, more than two things about them. You can be sure of those - dead sure, as our phrase is - but you will never be able to make even a respectable guess at anything else. You do not know, and will never know, who the Remnant are, nor what they are doing or will do. Two things you do know, and no more: First, that they exist; second, that they will find you.
Read the rest here.
Obama's Appointees Using Secret Email Accounts, Demand $1M for Information
Your government servants at work.
Some of President Barack Obama's political appointees, including the Cabinet secretary for the Health and Human Services Department, are using secret government email accounts they say are necessary to prevent their inboxes from being overwhelmed with unwanted messages, according to a review by The Associated Press.

The scope of using the secret accounts across government remains a mystery: Most U.S. agencies have failed to turn over lists of political appointees' email addresses, which the AP sought under the Freedom of Information Act more than three months ago. The Labor Department initially asked the AP to pay more than $1 million for its email addresses.
Japan's Radiation Disaster Toll: 0 Dead, 0 Sick
Which makes it only slightly worse than Three Mile Island.
Choqué: Fast Food Accounts for 54% of Restaurant Sales in France
But but I was informed that only cultural barbarians ate la restauration rapide.
>As NPR reports, food consultancy firm Gira Conseil conducted its annual survey on restaurant spending in France and found that 54% of total sales belong to the likes of McDonald's, Burger King and Subway. The new fan favorite increased 14% in consumption in the past year, shattering any notion that the French, known for world famous chefs and sophisticated palates, look down on the cheap and easy alternative to traditional restaurant dining.

McDonald's racks up more than 1,200 locations in France, Subway has opened hundreds of stores in the past 10 years and Burger King, which shuttered its French locations 16 years ago, recently returned to the market.
Also 11 Mots Merveilleux Recently Added to the French Dictionary. Hell we ought to start calling booty-calls 'ass plans'.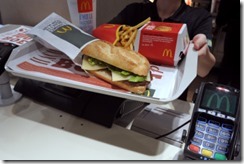 Stage IV Socialism: The Food Rationing Begins
A Venezuelan state is testing a system to limit purchases of food and other staples, local media reported on Tuesday, in a move that officials defended as necessary to stop contraband trade but opposition critics slammed as Cuban-style rationing.

The OPEC nation's consumers have for months had to endure long lines or visit several stores to find basic products that run the gamut from toilet paper to butter, driven in part by a lack of hard currency to ensure imports.
7 Bizarre Ways Kids Entertained Themselves Before Video Games
Hell a good portion of my youth was pre-video games/pre-VCR so we occupied ourselves with activities only slightly more sophisticated than these - except that we did have TV and so they became episode 're-enactments'.
Mumbly Peg was popular among boys in the 19th and early 20th centuries. Each boy would, in turn, perform a series of complicated knife throws-left handed, round the back, launched from behind his ear-escalating in difficulty. The knife had to stick in the ground at the end of each throw. In some versions, winners were picked on how close the knife landed to their own foot. You won automatically if it stuck in your foot (seriously). The first boy to fail to stick a throw would have to get the mumble peg, a piece of wood driven into the ground by the winner, using the knife as a hammer. And he could only use his teeth. Thus, the mumbly part of Mumbly Peg.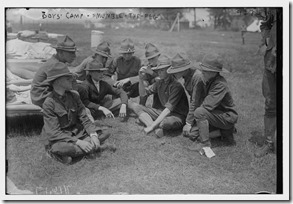 Sad: Female Israeli Soldiers Disciplined for 'Unbecoming Behavior' After Scantily Clad Pictures
There are always a few who take it too far and spoil the fun for the rest of us.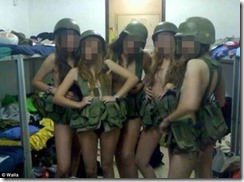 Dead at age 74. Thanks to Adam Carolla I always think of this clip when he's mentioned.
Teh Tweet!
Tonight's post brought to you by the future: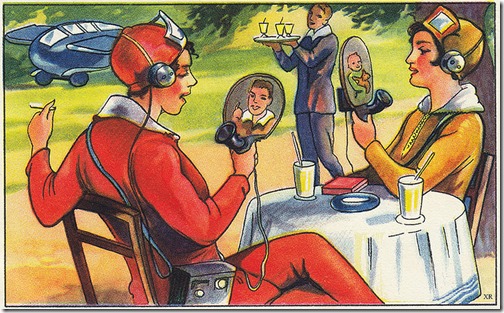 Notice: Posted by permission of AceCorp LLC. Please e-mail overnight open thread tips to maetenloch at gmail. Otherwise send tips to Ace.

posted by Maetenloch at
09:47 PM
|
Access Comments