« Out of the Mouths of Liberals [OregonMuse]
|
Main
|
Miami-Dade County Will Be In A World Of Hurt In About 20 Years »
June 01, 2013
Science!
This morning rdbrewer asked nobody in particular on twitter:
Really? Well I'm glad you asked.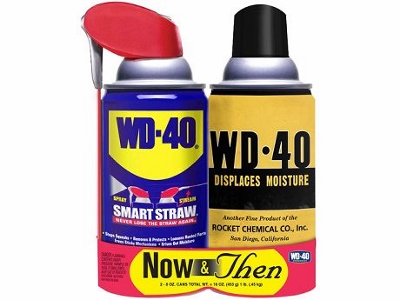 Water Displacement formula, 40th attempt.
It took them 40 attempts to get the water displacing formula worked out. But they must have been really good, because the original secret formula for WD-40®—which stands for Water Displacement perfected on the 40th try—is still in use today.

Convair, an aerospace contractor, first used WD-40 to protect the outer skin of the Atlas Missile from rust and corrosion. The product actually worked so well that several employees snuck some WD-40 cans out of the plant to use at home.
DrewM seemed surprised to learn this too, even though I thought this was well known. He told me I should never assume everyone posesses valuable redneck knowledge. So I'm sharing.
Stay lubricated my friends.

posted by Dave In Texas at
02:43 PM
|
Access Comments