« Cleveland Kidnappers May Also Have Induced Abortion in their Kidnapped/Raped Victims, by Beating
|
Main
|
Mother of Slain Benghazi Hero Rips Hillary: "I Blame Her" »
May 07, 2013
Hollywood "Script Evaluators" Now Being Consulted to Punch Up Scripts into Box Office Gold
A chain-smoking former statistics professor named Vinny Bruzzese — "the reigning mad scientist of Hollywood," in the words of one studio customer — has started to aggressively pitch a service he calls script evaluation. For as much as $20,000 per script, Mr. Bruzzese and a team of analysts compare the story structure and genre of a draft script with those of released movies, looking for clues to box-office success. His company, Worldwide Motion Picture Group, also digs into an extensive database of focus group results for similar films and surveys 1,500 potential moviegoers. What do you like? What should be changed?

"Demons in horror movies can target people or be summoned," Mr. Bruzzese said in a gravelly voice, by way of example. "If it's a targeting demon, you are likely to have much higher opening-weekend sales than if it's summoned. So get rid of that Ouija Board scene."

Bowling scenes tend to pop up in films that fizzle, Mr. Bruzzese, 39, continued. Therefore it is statistically unwise to include one in your script. "A cursed superhero never sells as well as a guardian superhero," one like Superman who acts as a protector, he added.

His recommendations, delivered in a 20- to 30-page report, might range from minor tightening to substantial rewrites: more people would relate to this character if she had a sympathetic sidekick, for instance.
This is so dumb, except for one thing:
This is already how scripts get changed. A producer says "Put in a dog, make it a Labradoodle, my girlfriend just got a Labradoodle and everyone loves it." The female lead wants her character to have a Kaballah subplot because she just got into that. The director's now really into smoke and wants to put in a smoky nightclub. A dozen studio executives offer glib "notes" based on barely-remembered bullet points from Lew Hunter's or Syd Field's screenwriting guides: "Give it more of an arc." "Make the hero more relatable." Etc.
I don't see the difference here. It's all mostly stupid. Most people have no idea what the hell they're talking about, and that's especially true in Hollywood. This guy has no idea what he's talking about either, but neither did the people who paid for his services.
I suppose there could be some actual data to be mined here: Maybe people just don't like Cursed Superheros-- if they want the Fantasy, they want the Full Fantasy, not some kind of halfway measure where it's all weighed down by Angst.
And who knows, maybe people have some secret preference for Self-Willed Demons over Summoned Demons.*
I guess in very bottom-of-the-barrel cash-play exploitation films such things might be helpful. Sort of.
All's I know is that Hollywood doesn't have enough Talking Labradoodles in its films.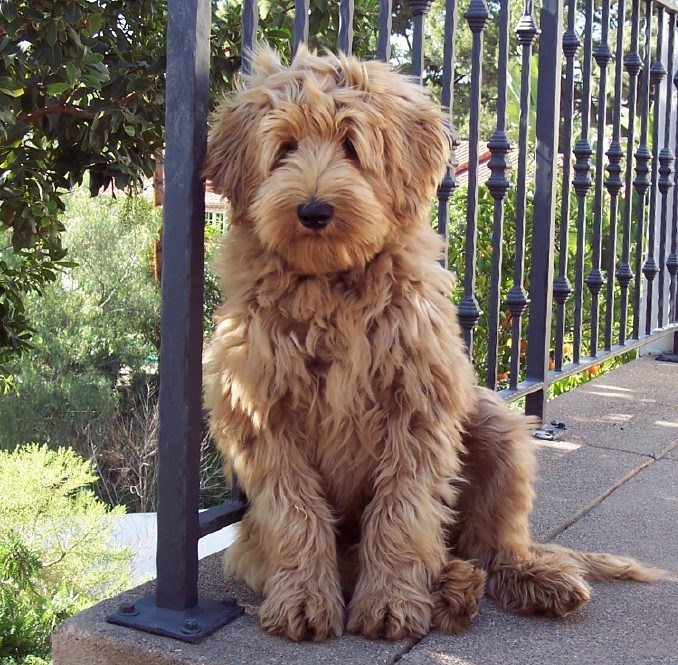 Detective Doodle--
He's got a Nose for Crime!!!
Pay me.
via @filmladd
* Actually, I just thought of why an audience might actually preferred a self-willed demon over a summoned one: In summoned demon stories, the hero is always part of the summoning, usually a minor participant, but still involved. So then that character naturally is drawn as one in some kind of moral darkness. Maybe just a touch, but it's there.
But the Self-Willed Demon ("Targeting Demon," this guy says) just appears and attacks. So the hero there doesn't necessarily have any moral darkness and may be Totally Upright. Who knows, maybe that's why he's selected.
So this may just be a disguised way of saying, "In very simplistic cash-play films, don't clutter the hero with any kind of negative characteristics. Just make it Monster Hunts Hero."

posted by Ace at
05:24 PM
|
Access Comments