ę Scandalous: OFA Collects Emails for Fundraising Off Boston Bombing
|
Main
|
Canadian Police: Thwarted Plot to Bomb Trains was "Supported" By Al Qaeda Elements In Iran Ľ
April 22, 2013
Officials: Tsarnaevs Appear To Have Been Motivated By Religion and/or Early 60s Futurist Architecture
From AP:
Two U.S. officials say preliminary evidence from an interrogation suggests the suspects in the Boston Marathon attack were motivated by religion but were apparently not tied to any Islamic terrorist groups.
Well knock me over with a leprechaun sneeze.
But not all observers agree with this common sort of conclusion. Some wonder if the Tsarnaevs might not have been motivated by architecture.
Wait, what?
Well, sure, architecture. Why not? This guy ponders the soul-eroding effects of Brutalist Architecture, which, FYI, is pretty vile. It's that style of using concrete in the forefront of buildings that you often see in institutional buildings from the 50s and 60s and even the 70s. It looks like it should be called Stalinist Moderne. So of course you see it in a lot of government buildings and on college campuses.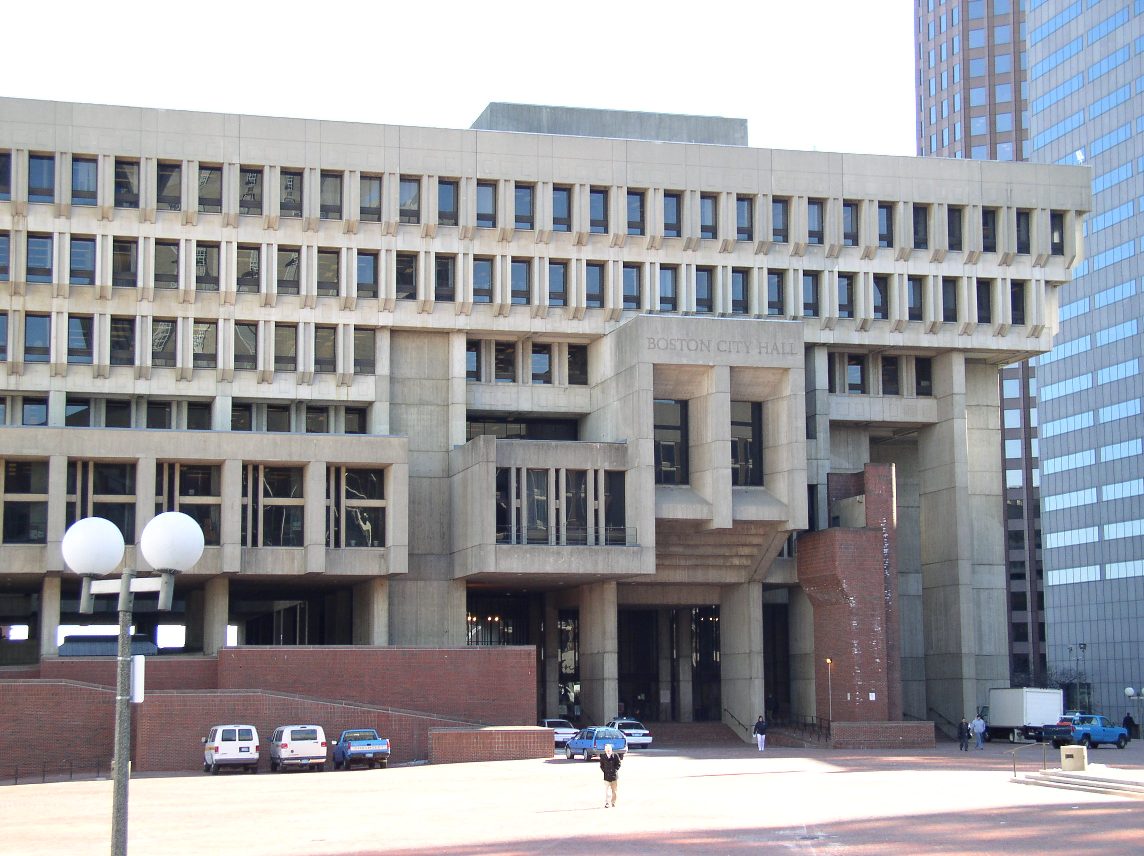 This kind of crap.
Hey, who could have imagined that off-white porous concrete
would wind up being such an attractive perching place for migrating grime?
Gotta love a fasÁade in the color of "Bottom of a Dirty Gym Sock."
So sure it's hideous. But a motive for terrorism? Huh?
I had just written about people's need to attract attention to themselves by proclaiming counter-intuitive fake-clever things. And thus, a guy named James Russell thinks he's found the motive for the Boston Bombings:
U. Mass Dartmouth, which started life as the Southeastern Massachusetts Technological Institute, dates from the same period and is a strange mix of technocratic rationalism and architectural megalomania. A vast parade ground posing as a campus green runs between lines of identical buildings. Hoisted on hefty concrete piers, highway-scaled beams span vast distances, holding up horizontal trays of academic space that jut pugnaciously into the green.

...

Amazingly, Rudolphís design has been barely altered and rarely added to. The newest dormitory has been built in a budget-minded medium-security-prison style that makes the Rudolph buildings look humanist.

...

As I sat stewing under the lock-down order, my thoughts returned to the U Mass campus, which swarmed with students who looked much like Dzhokar Tsarnaev, the bombing suspect. Although itís too early to know whether he was motivated to violence by political or religious fervor, thatís looking unlikely as I write this. He was a student at the Dartmouth U Mass campus, it turns out. He seems to have had many friends, but I wondered about the effect of such a deeply impersonal place. Itís isolated at the suburban edge and unintentionally expressive of the assembly-line education thatís become the cost-driven norm. Does such a place aid the alienation -- or, at least, impede the forming of deep personal bonds -- of even a smart, sociable kid?


It sounds much too glib an explanation -- as the numerous other theories we are now hearing are likely to be -- but I canít help thinking it.
Glib? Not a word of it, old man! And congrats on successfully intuiting that it seemed "unlikely" that "political or religious fervor" motivated this.
I gotta say one thing, though: This is a truly ugly, deliberately anti-human style of architecture. It literally offends my sight. It's as if people have gone out of their way to create a massive visual insult to human beings.
And just as a bit of triva: You know who also hated this SPECTRE-Headquarters sort of ugly-futurism-on-the-cheap style? Bond writer Ian Fleming. Goldfinger is named after Erno Goldfinger, one of the architects in this style. Goldfinger threatened to sue and Fleming threatened to change the name to Goldprick.
That said, people really need to stop buying every ticket in sight in the Preciously Overclever Lottery. It's not a contest and you will not win A New Car. Stop it already.
People are so determined to be Clever they're willing to play the Fool to do so.
Update: The Boston Globe hedges, but notes that Islam may have been a secondary motivation for the bombings.
So I guess we're going with Chez Goldfinger as the reason?
Great Quote: Sci fi writer John Scalzi has saying:
The failure mode of "clever" is "asshole."
Yeah. So don't force Teh Clever.

posted by Ace at
07:05 PM
|
Access Comments