« Natural Conservatives Alert: Hispanics Overwhelmingly Favor More Gun Control
|
Main
|
Gaming thread 4-14-13 »
April 14, 2013
The Recurring Rate of Non-Recovery
This is depressing. Geoff measures labor stats from a different perspective: those who are earning paychecks and those who aren't in the Obama "recovery".
It's not pretty.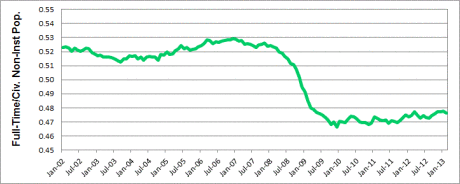 I'm thinking of a word. I think the word is "unsustainable". I'm not sure, it has more than two syllables so perhaps I should look it up.
...
Ok yeah, that's the word.

As I sit here doing my taxes and cursing, there is one thought echoing in my stupid head. I have a job. It's a good job. I'm glad to have it. But it could all change tomorrow as it has for so many others.
Too many Americans have lost too much while their government takes even more from them to buy votes to keep themselves in power. It sickens me. This is no way to run a railroad.

posted by Dave In Texas at
01:48 PM
|
Access Comments