« Manchin-Toomey "Bipartisan" Gun Control Press Conference
|
Main
|
NRA to Oppose Toomey/Manchin Deal »
April 10, 2013
The New York Times Deliberately Falsifies the Chronology to Present a Whitewashed Version of L'Affaire Weiner
He says he's running for mayor of New York.
The New York Times attempts this very Clintonesque defense:
It was a sex scandal without any actual sex — more creepy than anything else.
No actual sex, but I'm pretty sure the pictures were exchanged with an eye to mutual masturbation over the computer. The Times makes it sound as if it wasn't sexual.
One can argue that in the scheme of things this scandal isn't very big, but the Times blows right past that to claim it wasn't even a sex scandal.
What astonishes me about the leftwing media is that there are actual honest arguments to be made -- but they skip right over them to seize on the stupidest lies they can think of.
The bulk of the Times article is spent on portraying Anthony Weiner exactly as his press advisers wish him to be portrayed, as having made a mistake, and suffered adequately for it, and repented it, and so, like Bill Clinton after a few sessions in Jesse Jackson Jr., ready for the responsibility of public trust again. Count the ways in which he's given the Victim Edit:
Over the next few days, Weiner was besieged by reporters demanding to know if the picture was of him — and if not, if his Facebook and Twitter accounts had really been hacked, why he hadn't called for an investigation....


"I've never been on Twitter," Abedin says. "I couldn't tell you the first thing about how it works. And Anthony had told me in the past that there were these sort of trolls on the Internet who were trying to damage him, take him down. And so, that's the mind-set I came with to this conversation." It wasn't such an implausible theory; after all, it was the not entirely reputable right-wing blogger Andrew Breitbart who broke the story.
Um, no. It needed no "breaking" apart from the initial RT. Dana Loesch happened to retweet it.
The Times is just making stuff up here. Also note that this spin protects the Times, as well-- because they bought into the "hacked" claim right away. This is the New York Times explaining to you why its perpetual credulousness about the claims of liberals caught in scandals is defensible, and even, when you think about it, rather righteous.
Breitbart pushed the story, certainly, to a media that decidedly was not demanding answers from Weiner. The media's take was Howard Kurtz' -- why, obviously this was a hack. Only "twerps" would think otherwise.
The question about Weiner not contacting investigators over an alleged hack didn't originate with "reporters." I should know. It originated with me. And I retweeted that question to every reporter whose Twitter handle I knew.
In fact, it wasn't until the Tuesday after the Memorial Day weekend dick-pic that reporters ran any stories on this at all. I know this, because I, and a few others, were blogging and tweeting about it all Memorial Day weekend, trying to keep the story alive and put relevant questions like "If it's a hack, why haven't you contacted the FBI?" in front of clueless reporters.
So, Weiner besieged, possibly set-up by right-wing hacker Andrew Breitbart, all these reporters all over him. Except they weren't. Not at first, and really, not even later either.
It was absolute smoking gun proof offered by Andrew Breitbart that did Weiner in on June 6th, and not "questions from reporters," that compelled Weiner to confess.
I'm getting to that. The New York Times is about to lie to you about the sequence of events, and credit for exposing the story, in order to polish up Weiner's post-"hacked!" behavior. And to credit "reporters" for a story that Andrew Breitbart owned-- and took to completion.
Keep your eye on how the New York Times misrepresents Time, like an Agatha Christie murderer contriving a false alibi, below.
...

But every day, more questions were being raised, more reporters were calling. Weiner's dissembling began to take on an air of desperation as reports surfaced that there were transcripts of sexually explicit exchanges with another woman.
That is actually Breitbart's scoop-- that was his story, which he shopped to ABC and ran with ABC (receiving joint credit). And that's the story that proved that Weiner was lying. Before that, he was content to lie, and claim that right-wing bloggers had hacked him.
A lie which was not consequence-free, either-- to this day, I and many others on the right are being cyberstalked and harassed by left-wing lunatics who believed (and still believe!) Weiner's initial claims, and the conspiracy theories shopped to Rachel Maddow, which she giddily ran on her program every night.
By June 1, when Weiner said, "I can't say with certitude" if the picture was of him, it was clear, at least to most of the world, that he was guilty of something.
This msistates the chronology deliberately. What they're doing is mixing up the timing of Breitbart's scoop -- that there were other women, and one was talking on the record with ABCNews, and that the case was now entirely proven-- by mentioning Breitbart's scoop and then June 1, as if June 1st followed Breitbart's scoop.
Nope! Breitbart's scoop came later -- just before Weiner admitted it, hours before he admitted it. The scoop forced Weiner to admit it-- but only because he had no other options left to him.
This fact is obscured by the Times' deliberate misstatement of the chronology because they're now going to pretend that Weiner chose the honorable course of admitting the cybersex, when in fact Breitbart's scoop left this as the only remaining option, after all lies were rubbished.
That weekend, Weiner and Abedin escaped to a friend's house in the Hamptons to get away from all the "hoopla," as Weiner calls it, "and that's when people starting coming out of the woodwork. I got a call from Chris Cuomo saying that they had someone who was going to say that I texted with her. It reached this point where I just sat down with Huma and said, 'Listen, I can't. . . . I don't want to lie.' . . . I just didn't want to lie anymore to her." Here, his voice cracks and tears well up in his eyes. "I have a choppy memory of it, but she was devastated. She immediately said, 'Well you've got to stop lying to everyone else too.' And basically we drove back to the city, and she said: 'You've just got to tell everyone the truth. Telling me doesn't help any.' It was brutal. It was completely out of control. There was the crime, there was the cover-up, there was harm I had done to her. And there's no one who deserved this less than Huma. That's really the bottom line. No one deserved to have a dope like me do that less than she did."

Abedin's memory of this moment is a little sharper. "The weekend was over, we're about to leave, the car is packed, and Anthony said: 'I have something to tell you. I can't lie to you anymore. It's true. It's me. The picture is me. I sent it. Yes, these stories about the other women are true.' And it was every emotion that one would imagine: rage and anger and shock. But more than anything else, in the immediate, it was disbelief. The thing that I consciously remember saying over and over and over again is: 'I don't understand. What is going on? What's happening to our lives?' "

At a hastily arranged news conference in New York on Monday, Weiner tearfully admitted that he "engaged in several inappropriate conversations conducted over Twitter, Facebook, e-mail and occasionally on the phone" and exchanged "messages and photos of an explicit nature with about six women over the last three years," essentially the entire length of his relationship with Abedin...
The lie is now complete, suggesting that Weiner was motivated by a talk with Huma to confess everything on June 6th.
This is false. In the morning of June 6th, at around 6 am, Breitbart blew up all of his lies by publishing pictures he'd sent to another woman. Including the same one he sent to the Seattle coed on May 27th.
But the Times has fuzzed up the chronology so it you don't realize he was compelled to confess by the Breitbart story (and people like Nancy Pelosi demanding he confess-- something the New York Times doesn't even mention at all!). Instead, they claim that Breitbart's scoop came much earlier, on May 27, and that Weiner only contended with his conscience until he bravely decided to confess on June 6th.
Nope. In the early a.m. on June 6th, this was published: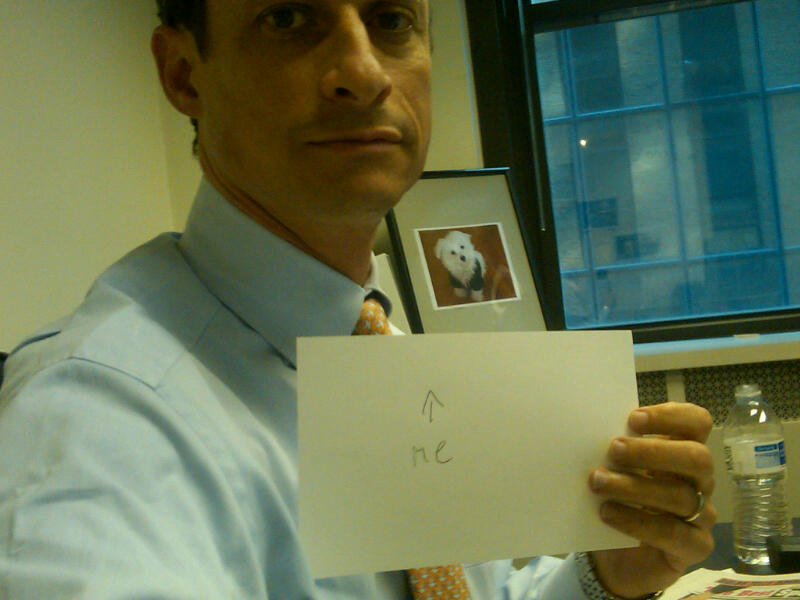 And then a series of shots much more revealing than that.
One last glimpse of Anthony the Victim:
The next day [on June 15th_, while Abedin stayed behind in their apartment in Queens, Weiner held a chaotic four-minute news conference at a senior center in his district, at which hecklers nearly shouted him out of the room, one yelling, "Goodbye, pervert!"
Again, they make this last chapter-- Weiner's resignation -- sound as if Weiner and Huma made the couple-centric decision to just get on with their lives, for the sake of their coming child.
They completely edit out the part where Nancy Pelosi called on him to resign, as did many other Democrats.
Once again, a forced decision is presented, by omissions and actual lies of commission, as a noble choice the man made to protect his wife.

posted by Ace at
12:56 PM
|
Access Comments