« Marco Rubio May Walk From Gang of Eight?
|
Main
|
Top Headline Comments 4-5-13 »
April 04, 2013
Overnight Open Thread (4-4-2013) - Hateful Misogyny Edition
Princeton Grad: Ladies You Better Find Your Husbands in College
From a letter by Susan A. Patton, Princeton grad of '77,  in the Daily Princetonian:
For most of you, the cornerstone of your future and happiness will be inextricably linked to the man you marry, and you will never again have this concentration of men who are worthy of you.

Here's what nobody is telling you: Find a husband on campus before you graduate. Yes, I went there.

...My younger son is a junior and the universe of women he can marry is limitless. Men regularly marry women who are younger, less intelligent, less educated. It's amazing how forgiving men can be about a woman's lack of erudition, if she is exceptionally pretty. Smart women can't (shouldn't) marry men who aren't at least their intellectual equal. As Princeton women, we have almost priced ourselves out of the market. Simply put, there is a very limited population of men who are as smart or smarter than we are. And I say again--you will never again be surrounded by this concentration of men who are worthy of you.

Of course, once you graduate, you will meet men who are your intellectual equal - just not that many of them. And, you could choose to marry a man who has other things to recommend him besides a soaring intellect. But ultimately, it will frustrate you to be with a man who just isn't as smart as you.

Here is another truth that you know, but nobody is talking about. As freshman women, you have four classes of men to choose from. Every year, you lose the men in the senior class, and you become older than the class of incoming freshman men. So, by the time you are a senior, you basically have only the men in your own class to choose from, and frankly, they now have four classes of women to choose from. Maybe you should have been a little nicer to these guys when you were freshmen?
<Sam Kinnison voice> Is she right?
Well there are seasons to our lives - particularly so for women. And as of yet no amount of technology or academic theorizing or outraged blog posting can alter this basic fact.
Is this fair for women? Nope - not at all. But then sometimes Mother Nature is just a flat-out sexist bitch.
So given the reality of men and women and biology Patton's advice is about 100x more likely to result in overall happier lives for Princeton female graduates than anything they'd ever learn in a Women's Studies class. It's certainly not the only path to satisfaction (after all Jacqueline Mackie Paisley Passey did eventually find a Mr. Passey) nor is it a guarantee - but on the other hand why play Life on difficulty setting Challenging if you don't have to. The prizes are going to be the same either way.
James Taranto has thoughts here. Plus more from Bookworm, Instapundit, and WRM.

Why Are Action Stars More Likely to Be Republican?
Thanks to benK.
Fighting ability, largely determined by upper body strength, continues to rule the minds of modern men, according to a new study by Aaron Sell from Griffith University in Australia and colleagues. Their work explores the concept that human males are designed for fighting, and shows how this fighting ability drives both their behavior and attitudes to a range issues, including political orientation. For example, their research demonstrates that among Hollywood actors, those selected for their physical strength, i.e. action stars, are more likely to support the Republican position on foreign policy.

...The authors conclude: "Upper body strength in adult males is a crucial variable that appears to have impacts on a wide range of mental mechanisms. These mechanisms were designed by natural selection at a time when personal physical aggression was far more common and individual differences in fighting ability were far more relevant for the resolution of conflicts.
Strengthen your body and your mind will follow.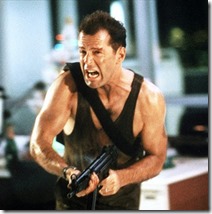 Stupidity's in the Water: Florida DJs Suspended for 'Dihydrogen Monoxide' April Fools' Joke
What two radio hosts in Florida thought was a harmless April Fools joke got them temporarily suspended from their long-time post.
The joke made by morning show hosts for Gator Country 101.9, Val St. John and Scott Fish, was about "dihydrogen monoxide," and it led some in the area to begin expressing concern over the local water quality.

...The Bonita Springs News-Press reported radio management saying the joke stepped over the line when it caused public concern.

"It is one thing when radio stations change their format or other crazy things they do," the general manager for the country music station, Tony Renda, told the News-Press. "But you are messing with one of the big three, food, water or shelter. They just went too far; I just knew I didn't like that."

The Lee County public utility began receiving calls from residents wondering if dihydrogen monoxide coming out of their faucet was safe to drink and use.

"My understanding is it is a felony to call in a false water quality issue," Diane Holm, a public information officer with Florida Department of Health in Lee County, said, according to the News-Press.
Well the water supply is full of dihydrogen monoxide and kills hundreds of people a year. Clearly we must pass laws outlawing it. For the children.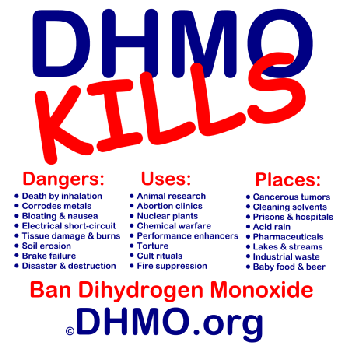 Flipper Was a Horn Dog  i.e. a Typical Dolphin Bastard
As for the fabled orgy, it turns out that dolphins are one of the most promiscuous animals on the planet. They don't mate just for reproduction. They enjoy sex. It's a social binder for them, like a handshake. On a good day a dolphin can have sex 50 times. Dolphins do it with everyone . . . old, young, big, small, even family members. Homosexual behavior is common, as is masturbation; dolphins have even been known to make advances at human beings. The dark side of the dolphin-the turd in the superpod-is that sometimes dolphin sex can be violent and nonconsensual. Rape and gang rape happens. We did not see any of that, though. This seemed to be a law-abiding lot.
Always beware of a dolphin 'handshake'.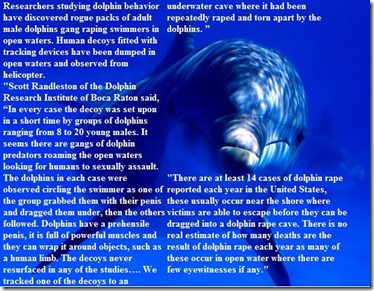 And here's the parody of the Star Spangled Banner.
Stretching Before Exercise Considered Harmful
The numbers, especially for competitive athletes, are sobering. According to their calculations, static stretching reduces strength in the stretched muscles by almost 5.5 percent, with the impact increasing in people who hold individual stretches for 90 seconds or more. While the effect is reduced somewhat when people's stretches last less than 45 seconds, stretched muscles are, in general, substantially less strong.

They also are less powerful, with power being a measure of the muscle's ability to produce force during contractions, according to Goran Markovic, a professor of kinesiology at the University of Zagreb and the study's senior author. In Dr. Markovic and his colleagues' re-analysis of past data, they determined that muscle power generally falls by about 2 percent after stretching.
I've seen similar studies that found that stretching before a workout also doesn't seem to reduce injuries either. But at this point stretching is so ingrained in me that it's really a psychological preparation that would be hard to give up.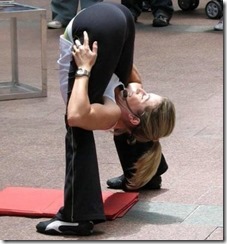 In the big scheme humans are mere mayflies whose time is quick and brief.
The Newest Protected Minority in England: Goths
A British police force on Thursday began recording attacks on goths and punks as "hate crimes" similar to those suffered by people targeted because of their race, religion or sexual orientation.

Police in Manchester, northwest England, said the new policy would allow them to better protect goths, easily identified on the streets by their black clothes and pale make-up, and members of other "alternative sub-cultures".
Well at this rate they're going to start making it an offense to give scandis an old fashioned  'curb dance'.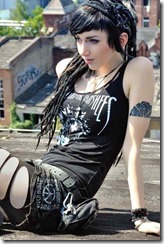 Yahoo group. That is all.
And my Twitter spew.
Tonight's post brought to you by strange Earthly customs:
Notice: Posted by permission of AceCorp LLC. Please e-mail overnight open thread tips plus $1 for S&H to maetenloch at gmail. Otherwise send your scraps to BizarroAce.

posted by Maetenloch at
10:25 PM
|
Access Comments