« Muscle Car Quiz #3/Open Thread [CBD]
|
Main
|
The "White Knighting Chronicles" or "Squares trying to more Square" or gaming thread »
March 31, 2013
Sunday Morning Book Thread 03-31-2013: The Empty Grave That Changed the Course of History [OregonMuse]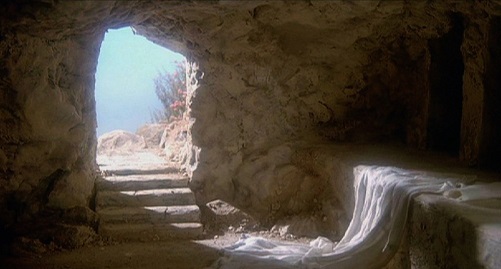 Alleluiah
Good morning morons and moronettes and welcome to the Sunday Morning Book Thread here at the award-winning AoSHQ.
First, An Apology
For all of you who are reading this but are unable to post comments due to the aggressive anti-spam rules that have been put in place, my sincere apologies, and I hope it will be changed soon. For what it's worth, I (still) can't post comments, either. I've e-mailed Pixy several times over the past month about this, and he assured me he was going to fix it, but it hasn't happened, yet, and I don't know when it will.
But, a few days ago, Pixy showed up in a comment thread and posted the mu.nu "help-line" e-mail address:
help@mu.nu
So, for those of us who are unable to post comments on this blog, I would encourage you to send a quick note to Pixy. And please keep it civil, Pixy's a good guy.
This should give him an idea of the extent of the problem, if he doesn't know already.
And now down to business...
A few weeks ago when I did a thread about noted ex-slave merchant and Christian author John Newton, someone posted a comment late in the thread complaining about me posting about religious views he didn't agree with. This caught me a bit by surprise, because I had always figured that if people don't like the book thread, they would just skip it and go on to the next thread, no big deal. I'm not going to apologize for posting on spiritual topics, although I do keep in mind that the AoSHQ readership includes people of many faiths, or no faith. So even though this won't turn into some sort of religion round-up, I will post on such topics as the occasion warrants.
So with that in mind, fair warning, here comes another spiritually-oriented thread.
He Is Risen!
OK, so when it first dawned on me that the best way to live my life was to consciously follow Christ, I had all kinds of questions and doubts and fears and stuff about what I was getting into. In retrospect, a lot of it seems a bit silly, but back then, it was A Very Big Deal.
Josh McDowell's Evidence That Demands A Verdict helped out a lot. It brings together much of the archeological evidence for the accuracy of the historical events recording in the Bible. It doesn't necessarily prove the Resurrection, but it testifies to general historical trustworthiness of the Scriptures. The link is to the version I read many years ago. Since then, it has undergone many revisions and updates since it was originally published.
I've heard that Lee Strobel has also written books on these historical topics, but I haven't read them, so I can't comment on how good they are.
Then my best friend (RIP, and I hope God allows us to meet again) gave me a copy of C.S. Lewis' Mere Christianity, and suddenly it all makes sense. The text is taken from talks given my Lewis on BBC radio, and include discussions of faith, the necessity of the Atonement, the Trinity, the nature of virtue, and other topics. Lewis had the ability to translate difficult concepts into ordinary language so anybody could understand what he was talking about. So if you read only one book about Christianity (other than the Bible, of course), this is the one I would recommend.
Again, He is Risen!!
And history is forever altered. Not by the sword, or by military conquest. By the time of the Emperor Constantine, the new faith had spread throughout the Mediterranean and beyond. A fictional account of how this happened is seen in a book I've mentioned before, Quo Vadis. One of the main characters is a Roman general and nobleman, close to the Emperor, and he is all about honor and Roman pride and crushing his enemies, even those who merely insult him. But then circumstances bring him into contact with the (mostly underground) Christian church in Rome and he hears the preaching of the Apostle Peter. This Roman patrician can't believe what he's hearing: Thou shalt not murder? What? Forgive your enemies? How absurd! Whoever would think such a thing? He hates it, he think it's foolishness, but he just can't get it out of his mind. Of course, he's madly in love with a beautiful girl who happens to be a Christian, and this happy convergence helps to remind him of the foolishness he would rather forget. And then, toward the end of the book, his household slaves misbehave in such a way that is going to result in them being brutally punished, as is traditional. But just as he is about to enforce the sentence, he discovers that he just can't bring himself to do it. What he has always done in the past no longer seems to be appropriate, at least, he finds that no longer wants to do it. And so he simply forgives them. when I read this part, I remember thinking what a wonderful illustration of the way the Holy Spirit works in people's lives, and not just believers. When the gospel goes forth, not only will there be converts, but the effects will go beyond the community of believers (the church) and out into the culture as a whole. A little bit of yeast causes a whole big wad of dough to rise.
Books For Morons
Moron author George Milonas (My Last Testament, The Warrior of God) e-mailed me a couple three weeks ago to recommend The Last Centurion by John Ringo. He says:
I'm writing to let you know I read a phenomenal book. The last centurion by john ringo. He's a conservative sci fi writer. The book is so good it actually scared me at how plausible it was. I consider it prophecy and should be a must read for every moron.
From the Amazon description:
In the second decade of the twenty-first century the world is struck by two catastrophes, a new mini-ice age and, nearly simultaneously, a plague to dwarf all previous experiences. Rising out of the disaster is the character known to history as "Bandit Six" an American Army officer caught up in the struggle to rebuild the world and prevent the fall of his homeland—despite the best efforts of politicians both elected and military. The Last Centurion is a memoir of one possible future, a world that is a darkling mirror of our own. Written "blog-style," it pulls no punches in its descriptions of junk science, bad strategy and organic farming not to mention all three at once.

This video always cracks me up:


"I'm here to kick ass and hide Easter eggs... and I'm all out of Easter eggs."

___________

So that's all for this week. As always, book thread tips, suggestions, rumors, and insults may be sent to OregonMuse, Proprietor, AoSHQ Book Thread, at aoshqbookthread@gmail.com.
So what have you all been reading this week? Hopefully something good, because, as we all know, life is too short to read lousy books.

posted by Open Blogger at
10:57 AM
|
Access Comments