« Support This Blog or We'll Shoot This Ewok
|
Main
|
Top Headline Comments 3-22-13 »
March 21, 2013
Overnight Open Thread (3-21-2013)
When your 95% confidence interval is exceeded within just a few years, maybe your models kinda suck.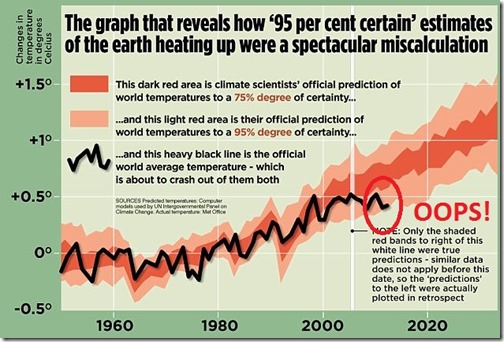 Jeff Bezos recovers Apollo F-1 engines from the ocean floor
They still don't know which mission they came from but they've been 14,000 feet deep for over 40 years.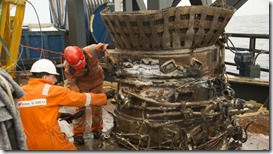 How Old Is Too Old For Liquor?
Are some supervintage spirits just too old?

"Yes," Dave Pickerell emphatically says. As a former master distiller for Maker's Mark in Kentucky for 14 years and the current master distiller for Hillrock Estate Distillery in New York's Hudson Valley, Pickerell has aged his fair share of whiskeys. "It is possible for a spirit to get too old. Sometimes older is better-but sometimes it's just older.

...What distinguishes these two approaches is what Pickerell refers to as "the tea-bag effect": The first time a tea bag (or barrel) is used, there's more flavor to draw out. Resting in brand-new barrels, bourbon needs less time to extract what Pickerell calls "wood goodies"-it sucks vanilla and caramel flavors, as well as spice-like notes, out of the wood with ease. Many of those same bourbon barrels, once emptied, make their way to Scotland, where they are used to age Scotch whisky. At this point, most of the "wood goodies" have been depleted, so scotch often needs a longer aging time to suck out the remainders. Evaporation plays a role, too: In the dry climate favored by bourbon distillers, liquid evaporates more quickly, and the product becomes concentrated more quickly.

Pickerell puts the ideal aging range for rye (whiskey made with rye as its primary component, as opposed to corn or other grains) between nine and 11 years, while the "sweet spot" for bourbon (made with corn as its primary ingredient) is anywhere from six to 10 years. And scotch? "While it depends on the type and style," he says, "20 years is a good number."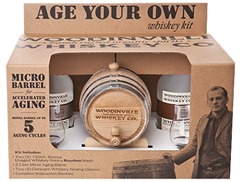 Five Military Surplus Rifles You Should Own
This is pretty good summary of five of the most significant military surplus rifles out there. I own all of these except a Garand but I'll soon rectify that via the CMP program.
Almost all of these rifles can be had for $180 or less a few hundred dollars so there's little excuse not to get one. [Looks like my price estimate was a bit out of date although you can still find MN 91/30s for under $150]Personally if I had to go into battle with a milsurp bolt-action rifle it'd be the Enfield No. 4 Mk II.
Pretty Girls, Cameras, and Your Give-Away Face
Forty years ago, I read an interesting science fiction story about a novel device worn on the top of the head that lit up when its wearer was in the presence of an individual that he or she found particularly attractive.

The device in question removed all of the ambiguity involved in determining whether individuals thought that strangers were particularly desirable, and the story delved into the social implications of doing so.

While it sounded rather far fetched at the time, this week, science fiction became a bit closer to science reality with the news that Fujitsu Laboratories (Kawasaki, Japan) has developed software that is capable of measuring an individual's pulse rate in real time by calculating variations in the brightness of their face.
More here on techniques used to detect very fast color and brightness changes on you face.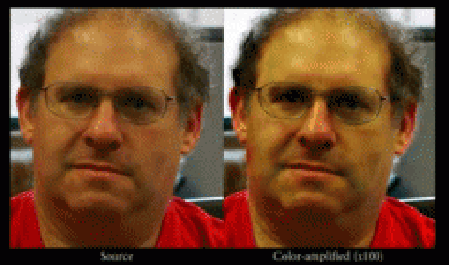 Sakamoto Ryoma: The Man Who Made Japan a Modern Country
It's rare that a single man can transform an entire country into a full, modern state but Sakamoto was one of those men. And he did it all before being assassinated at the age of 31.
In 1853 when Commodore Matthew Perry rolled into Japan, Sakamoto actually saw his black ships coming into the harbor. This roused feelings of both curiosity and angst in Sakamoto.
He later became the student of Katsu Kaishu who had studied Western militaries and traveled to the US.
Sakamoto was convinced. Among many other things, Katsu instructed Sakamoto in the ways of naval science, joint stock corporations, American democracy, and the Bill of Rights.

...Together with Katsu, Sakamoto worked towards creating a modern navy to contend with the naval forces of the Tokugawa. Sakamoto was so influential here that he's even been called the "father of the Imperial Japanese Navy". Sakamoto also established Japan's first modern company, Kaientai. Kaientai was a private naval and shipping firm that Sakamoto and his men used to transport guns for the revolutionaries.

While Sakamoto's revolutionaries prepared to crush the shogunate with military might, Sakamoto drew up an eight-point plan. It was a simple but incredibly forward-thinking piece of work which laid out what he considered to be the necessary conditions for a stable and respectable government after the fall of the shogunate.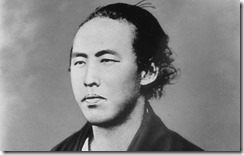 Supreme Court Upholds the First Sale Doctrine
Once you buy something, it's yours and you're free to resell it. Even if you bought from overseas.
UK Bloggers Could Face Libel Fines Unless Officially Registered As Press
Thanks to the unprecedented restrictions on the press imposed by Clause 21A which passed Parliament 530 to 13 earlier this week.
Were a lot simpler and more like Five Guys and In-N-Out are today.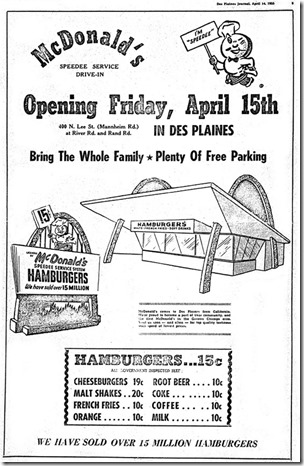 Scotland To Allow Jedis To Perform Marriages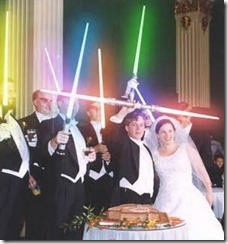 Yahoo group. That is all.
And my Twitter spew.
Tonight's post brought to you by the real March Madness: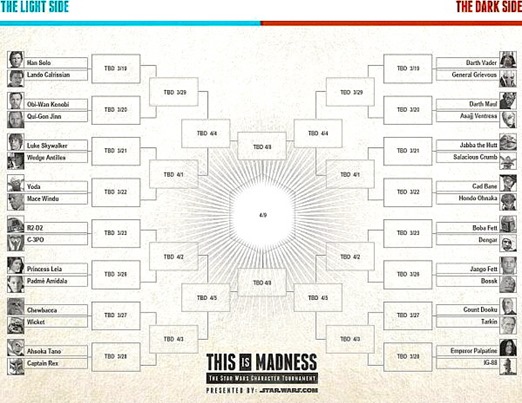 Notice: Posted by permission of AceCorp LLC. Please e-mail overnight open thread tips plus $1 for S&H to maetenloch at gmail. Otherwise send your scraps to BizarroAce.

posted by Maetenloch at
08:43 PM
|
Access Comments