« FAQ: I Think I Might Like Steely Dan's Soft-Rock "Reelin' In the Years," But I Fear It Might Have Too Much of That "Hard Rock" Edge. Can You Help?
|
Main
|
Overnight Open Thread (3-21-2013) »
March 21, 2013
Support This Blog or We'll Shoot This Ewok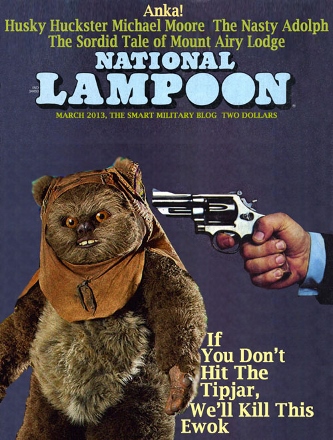 pshop courtesy the Slublog galleries
We mean it.
All serial aside, we haven't rattled the tin can in a while for the head Ewok, much to our shame. Where else can you get award winning double posted content like you get here?
No where, that's where. This is how I ask and answer my own questions, because we believe in efficiency, full value on your money, and the guys get shirts.
So please give. Before you do your taxes, that'd be the best time to do it I think.
Award winning commenters make for award winning blogs. Without you, we're just a bunch of yammering yentas arguing over the lunch tab. Speaking of, which one of you assholes had the tuna salad?

posted by Dave In Texas at
08:11 PM
|
Access Comments