« Cypriot Government Freaks Out
|
Main
|
Top Headline Comments 3-20-13 »
March 19, 2013
Overnight Open Thread (3-19-2013)
It turns out that Sen. 'Lieawatha' Warren's call for a $22/hr minimum wage was even stupider that it sounded and that $22 was a cherry-picked (and exaggerated) number.
Whether you use inflation, the CPI or even 50% of the average wage as an index for the minimum wage, the numbers come out to far less than $22.
If the minimum wage in that year had been indexed to the official Consumer Price Index (CPI-U), the minimum wage in 2012 (using the Congressional Budget Office's estimates for inflation in 2012) would be at $10.52. Even if we applied the current methodology (CPI-U-RS) for calculating inflation - which generally shows a lower rate of inflation than the older measure - to the whole period since 1968, the 2012 value of the minimum wage would be $9.22. (See Figure 1.)
Using wages as a benchmark, in 1968 the federal minimum stood at 53 percent of the average production worker earnings. During much of the 1960s, the minimum wage was close to 50 percent of the same wage benchmark. If the minimum wage were at 50 percent of the production worker wage in 2012 (again, using CBO projections to produce a full-year 2012 estimate), the federal minimum would be $10.01 per hour.
Even the report that Warren likely got the number from doesn't quite go that high, and it notes that $22/hour would actually put the minimum wage above what the average production worker makes today.
Since 1968, however, productivity growth has far outpaced the minimum wage. If the minimum wage had continued to move with average productivity after 1968, it would have reached $21.72 per hour in 2012 - a rate well above the average production worker wage.
And no where is there any justification for why the minimum wage should follow average worker productivity. The fact that most jobs now involve computers and other technology doesn't mean there's suddenly extra value to an hour of flipping hamburgers or mopping a floor. It has about the value as it did back in 1970 and the chart and minimum wage reflect that.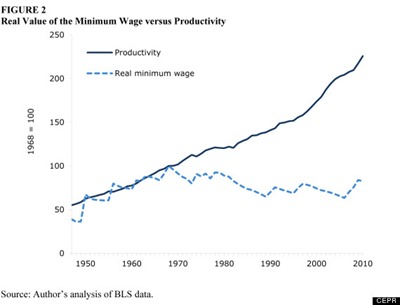 "Isn't it a strange thing that in every period of social unrest men have the notion that they can pass a law and suspend the operation of economic law?"

  -- Calvin Coolidge
Okay the knife auction may be over but there are plenty of other government stuff available including guns, ammo, fork lifts, election booths, and fire trucks.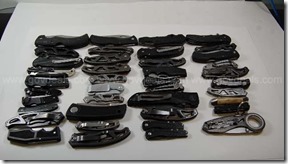 So the The Defense Equal Opportunity Management Institute (DEOMI), part of the Defense Department, created this video on stopping and preventing rape and other violence.
The video opens with a depiction the brutal rape and murder of Kitty Genovese. Genovese was savagely attacked and stabbed multiple times. Her cries for help were ignored by numerous neighbors. At one point, her attacker left the scene, only to return several minutes later to rape her and repeatedly stab her again.

The video goes on to suggest preventing violence or rape by, among other strategies, encouraging dialogue or using humor.
Of course as long-time readers of the ONT know pretty much everything you've been told about the Kitty Genovese murder is untrue.
So using it as an example of people standing by during a crime is wrong on multiple planes. And beyond that this video doesn't really given any practical advice other than to get involved.
Plus even their video example is somewhat ambiguous - if I see a guy slumped on the stairs of a public building, my first decision is whether he looks homeless or not. If not, then yeah I'll check on him and/or get someone else to. But if he's a homeless type I won't bother. Why? Because I'm heartless and cruel.
Also because I know that nothing will be done other than to encourage him to move to a different building or at best a short trip to the hospital on the public dime to deal with the side effects of his own mental illness/drug abuse. So in this case I'm an experienced and informed bystander who's been down this road before.
If only real life situations were as clear-cut as seeing someone in act of murdering a woman.
The Map of NCAA College Basketball Fandom
It's interesting how regional certain states are while others like Texas and Colorado are completely mixed.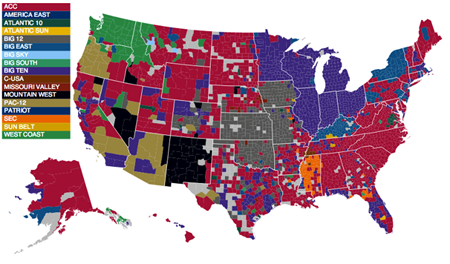 The Death Star Was an Inside Job!!!
Photon torpedoes can't melt imperial steel!
Luke was just a patsy and how much do we really know about 'Han' Solo anyway?
"You Can Do Anything When You're Wearing Sunglasses"
It's 971 miles to Chicago, they don't have a car, can't buy cigarettes, it's a tad dark... and they're wearing sunglasses.
Man Without Penis Bedded 100 Women
Well what's your excuse Mr. I Actually Have A Cock?
With his good looks and charming patter, it's easy to see why Andrew Wardle is a hit with the ladies.

But while he has slept with more than 100 women, there is a secret he has kept from all his admiring pals - he was born without a penis.

Andrew's birth defect has caused him mental anguish, even driving him to the brink of suicide.

But now he is preparing for ground-breaking surgery which will see him become one of the first men in the world to have an entirely new penis built from his own arm.

..."I've been to bed with over 100 women. Some were one-night stands, some long-term relationships. I've told 20 per cent of them the truth.

"The fact I didn't just want to get my leg over made me more attractive to women. I had charm and patter because it wasn't all about sex."
Okay now I feel pathetic too.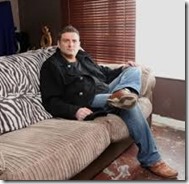 Teh Tweet!
Tonight's post brought to you by the TSA guide to on-board knife fights: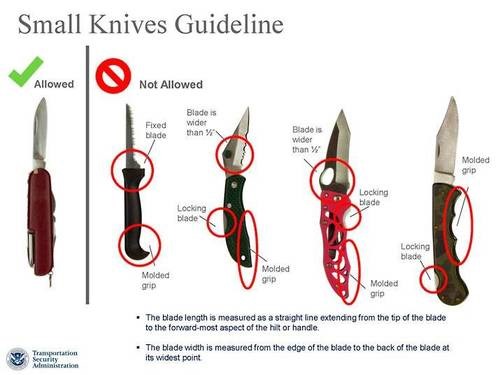 Notice: Posted by permission of AceCorp LLC. Please e-mail overnight open thread tips to maetenloch at gmail. Otherwise send tips to Ace.

posted by Maetenloch at
10:33 PM
|
Access Comments