« An Honorary Moron (via See-Dub)
|
Main
|
Spring thread cleaning [Purp] »
March 31, 2013
Gun Thread 3/31/2013
The resident firearms expert has a life today, so I got a couple things.
This is my preferred carry piece. I shoot this one more accurately than anything else I have, it carries ok (a bit bulky in the summer but I have figured that out), and it's a classic, time-tested design.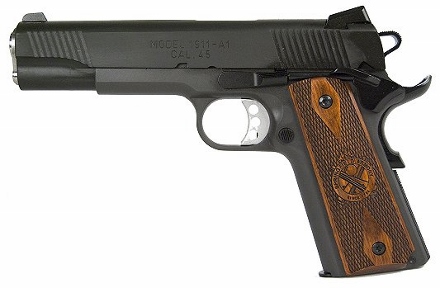 This weapon features a thumb safety, which toggles (on either side lefties) that locks the slide into position, and a grip safety (see that thing on the back?) Very similar to the old S&W Lemon Squeezer design, it can't be fired unless you grip the grip. Most good holsters like this one from Galco place leather between the hammer and the firing pin, which lets you carry confidently in "Condition One" (a round in the chamber, ready to shoot). But that's just an added comfort thing, A Springfield 1911 is perfectly safe to carry with the hammer back and a round chambered.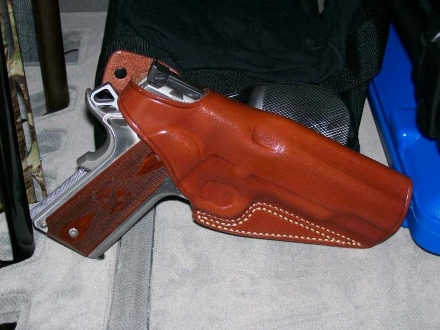 In other news, the Local Knights of Columbus are about to raffle off this beauty, and I bought $100 of the winning tickets (I hope).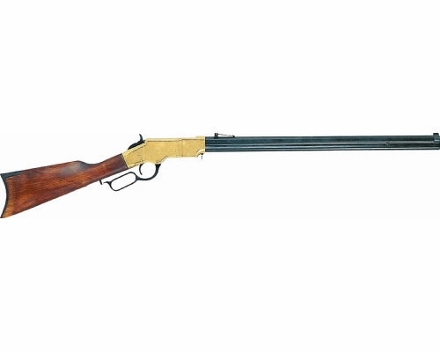 That there is a Henry repeating rifle, in .22 Henrys had and still have a very distinctive octagonal machined barrel that makes them a) heavy and b) accurate.
Wish me luck!
Histwah! "No free man shall ever be debarred the use of arms. The strongest reason for the people to retain the right to keep and bear arms is, as a last resort, to protect themselves against tyranny in government"
Thomas "Mad Dog" Jefferson, from TJ papers 334 (I think).
There you have it. Stuff f'n Jefferson Said, about the purpose of the f'n Second Amendment.

posted by Dave In Texas at
03:41 PM
|
Access Comments