« Sunday Morning Open Thread
|
Main
|
On Wine Drinking [CharlieBrown'sD????] »
March 03, 2013
Sunday Morning Book Thread 03-03-2013: The Amazing Grace of John Newton [OregonMuse]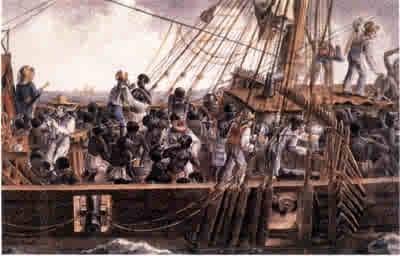 French Slave Ship, 19th Cent., Color Lithograph
Good morning morons and moronettes and welcome to the amazing Sunday Morning Book Thread.
Amazing grace, how sweet the sound
That saved a wretch like me
I once once was lost, but now am found
Was blind, but now I see.
This is, of course, John Newton's most famous hymn. Most of us probably know the traditional tune the words go with, but what's interesting is that is that they also fit the tune we know as The House of the Rising Sun. I've heard that this odd coincidence was used as an evangelistic device during the "Jesus movement" years. I'm not going anywhere with this, I just thought it was a curious musical artifact.

OK, so Mrs. Muse, as part of her church book club, is reading this autobiography of the famous English preacher and ex-slave trader John Newton.
He was born the son of a shipmaster in London in 1725, and when he was old enough (age 11), he went to sea with him. After his father retired, he signed on with a merchant ship sailing to the Mediterranean Sea. A few years later, he was kidnapped and press-ganged into the Royal Navy. He tried to desert, was caught and ritualistically flogged in front of the entire crew.
So this is where it gets ugly.
En route to India, he transferred to another ship, which turned out to be a slave ship en route to West Africa. Apparently, Newton was such a problem for the crew, that they just left him there with a slave trader, who gave him to his wife, the African duchess Princess Peye. Newton was basically a slave, and was abused and mistreated along with the other slaves. His father eventually sent someone, another sea captain, to look for him, and so he was rescued.
On the way back to England, the ship ran into heavy seas and nearly sank. Newton cried out to God as the ship filled up with water. But then some of the floating cargo in the hold jammed up the hole the water was coming through, and so the ship did not sink.
Now, after experiencing all of this suffering and abuse, followed by a religious conversion, you'd think that Newton would, if not actively oppose slavery, at least have nothing to do with it.
But you'd be wrong.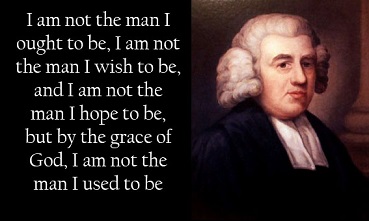 Newton's life is not as neat and tidy as one would like. Reality never is. Even though he stopped drinking, gambling, and using profanity, he made several voyages as the captain of slave trading ships. And then, even after a second conversion experience, he continued to invest his money in slave trading enterprises.
So what is he, another lousy Christian hypocrite? God knows the church has had her fill of those. Well, as I said, reality is usually pretty messy, and it took a number of years before realization of the evil and the horror of the slave trade finally sunk in. Of course, it's easy for us from our historical vantage point to look down on him; I daresay most of us wouldn't have any problem with the slave trade, either, if we lived back then.
But, by the grace of God, we are living now, and benefit from being heirs of John Newton's moral legacy. For he did eventually come to loathe the slave trade. The man who captained slave ships and made money from slave trade was eventually brought to a point where he could write "It will always be a subject of humiliating reflection to me, that I was once an active instrument in a business at which my heart now shudders."
He also wrote the pamphlet Thoughts Upon the African Slave Trade in 1788, available for download in various eBook formats here. A copy was sent to every member of Parliament, and was widely reprinted.
So it took him awhile to get there, but he got there. And thank God he did.
Newton was ordained as an Anglican priest in 1764. His preaching became so popular that they had to build an additional gallery in the church to accommodate the crowds who flocked in from miles around to hear him. He influenced a young MP, William Wilberforce, and encouraged him to remain in politics, which set the stage for the eventual abolition of the slave trade throughout the British Empire..
Newton also wrote letters. And oh, what letters they are. Many of them are still extant. If you're a Christian, and you haven't yet read any of John Newton's letters, then you really need to do so without delay. The man was blessed with tremendous insight and as I read them, I can't help thinking that he knows my soul. He knows. He knows how badly sin darkens the heart and how difficult it is to be free of it. I cannot help but feel a real kinship towards this man, my brother, who, even though he lived and over 200 years ago, yet nevertheless knows who I am.
But you don't have to take my word for it, you can maybe experience this for yourself: various collections of Newton's letters are in print, including this one, this one, this one, and this inexpensive Kindle edition which, at 1450+ pages, appears to be a comprehensive collection.
The author of the Newton biography, Jonathan Aitken, used to be one of the British Parliament's leading members, until he got caught perjuring himself, and after his fall from public grace, had his own spiritual conversion, in prison. He also wrote a number of other books, including a biography of Richard Nixon.

Books By Morons For Morons
For the first time in many weeks, I thought I would have no books to pimp on the thread today, either written by a moron or recommended by a moron. But just now, as I am typing this (Sat. noon PST), I checked the googlemail account one last time and behold, occasional moron commenter "Mondo" has written to let me know he has just released his short crime novel, Broken Glass Waltzes, available on Kindle for only $2.99. Mondo says "it's sex, violence, and rock and roll." Amazon describes it as
...a crime thriller set in the heavy metal club scene of the Midwest of the late 80s/early 90s. It's a story of lust, violence and madness with a heavy metal beat. Jim Thompson meets Alice Cooper. Metallica reading James M. Cain.
The dead-tree edition will be available soon. And at 138 pages, it should only take most of you morons 6-8 months to read, once you work out the big words.
___________

So that's all for this week. As always, book thread tips, suggestions, rumors, and insults may be sent to OregonMuse, Proprietor, AoSHQ Book Thread, at aoshqbookthread@gmail.com.
So what have you all been reading this week? Hopefully something good. because life is too short to read lousy books.

posted by Open Blogger at
10:45 AM
|
Access Comments