« Dr. Benjamin Carson's Galvanizing Speech at the National Prayer Breakfast
|
Main
|
Horror Rock »
February 09, 2013
February 9, 1943: Guadalcanal Secured
America's first offensive victory in the Pacific war.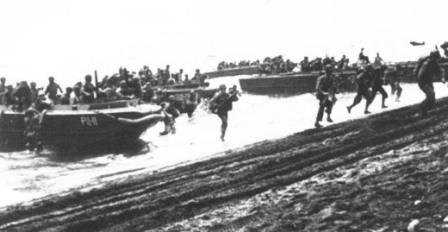 A six month campaign, one of the longest in the war, fought on land, sea and air. Although the Marines initial assault was relatively unopposed, the Japanese stiffened resistance and the next six months were a bloody struggle of back and forth of intense combat and strained lines of supply.
Gunnery Sgt. John Basilone, USMC, Platoon Sgt. Mitchell Paige, USMC, 2nd Lt. Jefferson DeBlanc, USMCR and Signalman 1st Class Douglas Munro, USCG were all awarded the Medal of Honor.
John Basilone is the only enlisted Marine in WWII to have received both the Medal of Honor and the Navy Cross, the Navy Cross posthumously after combat on Iwo Jima.
Douglas Munro was the only member of the United States Coast Guard to have received the Medal of Honor. It was awarded posthumously. The full citation is below the break.
For extraordinary heroism and conspicuous gallantry in action above and beyond the call of duty as Officer-in-Charge of a group of Higgins boats, engaged in the evacuation of a Battalion of Marines trapped by enemy Japanese forces at Point Cruz, Guadalcanal, on September 27, 1942. After making preliminary plans for the evacuation of nearly 500 beleaguered Marines, Munro, under constant risk of his life, daringly led five of his small craft toward the shore. As he closed the beach, he signaled the others to land, and then in order to draw the enemy's fire and protect the heavily loaded boats, he valiantly placed his craft with its two small guns as a shield between the beachhead and the Japanese. When the perilous task of evacuation was nearly completed, Munro was killed by enemy fire, but his crew, two of whom were wounded, carried on until the last boat had loaded and cleared the beach. By his outstanding leadership, expert planning, and dauntless devotion to duty, he and his courageous comrades undoubtedly saved the lives of many who otherwise would have perished. He gallantly gave up his life in defense of his country.
Andy and I asked the same question today, from Michener's The Bridges at Toko-Ri. Where do we get such men?

posted by Dave In Texas at
02:21 PM
|
Access Comments