« As Promised, Obama Energy Policy Bankrupts New Coal Plant
|
Main
|
John McCain: Of Course The GOP Is Going To Have To Accept "A Path To Citizenship"
UPDATE: Boehner Says House Will Have An Immigration Proposal Soon. »
January 27, 2013
Sunday Morning Book Thread 01-27-2013: Unexpected Books [OregonMuse]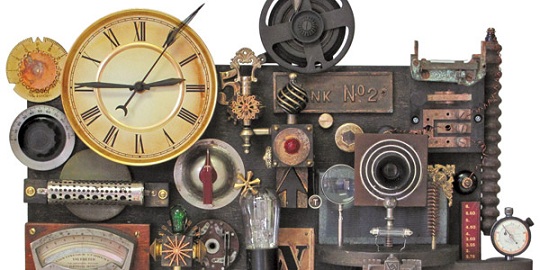 Behind the Scenes At AoSHQ (Pixy's Office)
Good morning morons and moronettes and welcome to this week's Sunday Morning Book Thread.
Before we get into the good stuff, I want to take advantage of my position as an AoSHQ sub-cob-logger and say one thing:
A Public Appeal To Pixy To Fix This Blog
Dear Pixy:
I know that being inundated by spam comments is a real problem for blogs and I know that you have to take aggressive measures to deal with it, and believe me, I thank you for all your efforts to keep AoSHQ free of these barnacles. But the fact is, I have been unable to post comments in any thread for over a month. From home, I mean. I can post from my work computer just fine.
The problem is that the standard solution of sending in the IP address to ace to forward to you to put on a white list doesn't work, at least not for me. Here is why:
63.155.153.173
71.34.241.110
71.215.190.131
63.155.151.76
75.170.16.163
75.170.29.201
71.215.181.48
75.170.29.57
71.34.247.225
See these IP addresses? They have all been my external IP address at some time during the last couple of weeks. I know this because I have been keeping track using http://whatismyipaddress.com. My ISP is CenturyLink, and for whatever reason, my computer is assigned a new IP address every day or two. I have no idea why they do it this way, but there's nothing I can do to change it. So by the time I contact ace to contact you with another IP address to whitelist, it's already been changed to something else, and I'm back in the same boat.
I am unable to comment on threads that I create. I can modify or delete existing comments, but I can't add a new one, not even with my super sub-cob-logger posting powers. Ironic, that.
So please, Pixy, I beg you to look into this to see if there's something you can do. Because if it's happening to me, chances are there are other morons who are being affected by this as well.
Thank you.
-OregonMuse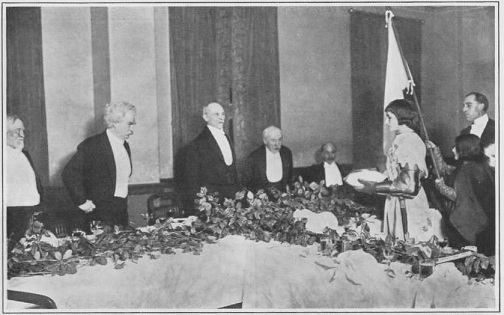 Left to Right: Andrew Carnegie, Mark Twain, Dan Beard, Sir C. Purdon Clarke, Rollo Ogden, Joan of Arc


Things I've Learned From the AoSHQ Book Thread
Mark Twain wrote a biographical novel about Joan of Arc. No, really, he did.
In last week's book thread, Paul Zummo wrote:
I am currently reading Mark Twain's "Joan of Arc," a book few probably know exists but which Twain called his personal favorite of all the books he ever wrote. And it is nothing like anything else he wrote. It's a very well-researched biography of Joan of Arc told from the point of view of her aid-de-camp (a fictionalized character). It's very good and provides a lot of background on someone I honestly don't know much about.
This piqued my curiosity, as I had never heard of this before. And then I found this article that discusses this topic in great detail (warning: about half way down the page, the article swerves off the road into a silly discussion about Twain's use of cross-dressing themes in his books, so by the time you've reached this point, you've read enough). The full title of the book is Personal Recollections of Joan of Arc, and as Paul noted, it is nothing like anything else Twain ever wrote.
Amazon has PROJOA for something like $9.99 in the Kindle edition, but you can get it for free on Gutenberg..

Morons What Write Books
And speaking of Paul Zummo, he has written his own novel, Dirty Laundry, which is available on Kindle. The plot concerns the progress of a journalist:
CF Stone is a columnist for a well-regarded but not well-read Washington DC newspaper. After having written a column that has all but guaranteed him a Pulitzer he runs into blogger and all-around gadfly Darius Gilbert, who lets him onto a story that will guarantee them a place in history next to Woodward and Bernstein. Stone goes undercover in order to expose a right-wing plot to bring down the American government. Stone dreams of the accolades that he will receive after publishing his expose of the ultimate manifestation of political extremism in the United States - that is if they don't find out who he is first.

Dirty Laundry is satirical portrait of the American media and the inability of members of the fourth estate to truly grasp the stories that are right in front of them.
___________

Moron commenter xbradtc got all pouty-faced because I didn't mention his book in last week's thread even though I received his e-mail well before the deadline. So let me make amends by doing it now. xbradtc has written a book on the Falkland Islands War. He calls it a "book", but, to be all pedantic and shit, I think it's more of a monograph. The Naval War in the Falklands, is, as described by the author, "an easy to read overview of the 1982 Falklands war at sea. It was a surprisingly savage war, and Britain came perilously close to losing. It was written specifically with the non-naval or military reader in mind, so most of the jargon is pared back."
So buy this man's book and soothe his butthurt, will you?
___________

Moron commenter Seamus Muldoon is the author of a book entitled The Curious Disappearance of Seamus Muldoon, but I don't think he's writing about himself:
It is an odd hybrid of true crime and biography spun in a series of fictional short stories. The basis for the story is the real life (and to this day unsolved) disappearance of my wife's father.
Everyone had a theory about what happened. Maybe this happened, or maybe that happened:
[E]ach of those "Maybe he..." theories turned into a vignette or chapter in the collection... Seamus Muldoon, a fictional character, lives out each of the scenarios, sometimes tragically, sometimes comically.
And then the final chapter lays out the framework for what probably really happened.
___________

So that's all for this week. I have a couple more book plugs I didn't get to, but will next week. By the way, the reason I do these delays is because I get paranoid that I won't have anything to write about next week, so this insures that I have at least some usable material on hand.
As always, book thread tips, suggestions, rumors, and insults may be sent to OregonMuse, Proprietor, AoSHQ Book Thread, at aoshqbookthread@gmail.com.
So what have you all been reading this week? Hopefully something good. because life is too short to read lousy books. I think I'll make this the new motto of the AoSHQ book thread. If I knew how to translate it into Latin, I would. I'll bet it sounds real classy in Latin.

posted by Open Blogger at
11:06 AM
|
Access Comments