« Financial Times Analysis: Time to Start Moving Money Out of Supposedly "Safe Haven" US Investments to "Riskier" Bets in the Growing World
|
Main
|
Guess the Crime »
January 17, 2013
Oh, Buzzfeed
I try to be understanding. I do. As much as the media is faltering, the online media isn't exactly a cash-cow either. It's a highly competitive environment, and hit-whoring -- splashily overstated and linkable stories -- are a fact of life.
It's a bit like the comic book industry's attempt to Hype its way out of an industry-wide collapse in the late nineties. Everything is a stunt, everything is grabby. Spiderman dies! Alternate covers. Hologram covers! Gold leaf covers. In this issue, with six alternate covers including one gold-leaf hologram cover, Spiderman dies. Can't. Miss. Issue!
But there's a downside to that sort of Spike Sales thinking. When everything is calculated to Spike Hits, it begins to sound like carnival barking. And carnival barking tends to be -- get this -- dishonest. And people start noticing that.
Anyway, Buzzfeed published an article by the hackish McKay Coppins, which got linked around a lot -- including by people on the right, because it offered them a reassuring and surprising storyline: that hipsters and assorted liberal d-bags were the new "gun nuts."
Well, McKay's sources are saying the story is bullshit, and that the reporter failed to report their clear statements that contradicted the premise of the story. Quotes like...
The Atlantic Wire asked Carr what he felt like being a poster boy for a gun nut convert. The process does not sound like it's complete. At South by Southwest once, Carr said, he shot large-caliber handguns for a story. "I found them absolutely terrifying in all regards."
By "them" he meant "vaginas" but still it's the same thing. (No, just kidding, he meant guns, which are Icky like Veejers.)
Scott Beauchamp's wife Elspeth Reeve, who probably knows a thing about cooked-up, sensationalistic Too Good to Check pieces containing counterintuitive mindthoughts and unexpected soulpatterns, finds it to be shoddy.
Jim Shooter, a veteran of comic books, talked about the Great Big Comic Book Crash of 96/97 and noted:
The comic book industry today is rife with creators who don't know their craft -- creators who are in love with their ignorance and defiantly cling to their destructive self-indulgence. That's the greatest reason for the decline of the industry. It's not poor distribution, lack of promotion or anything else. If there was a comic book shop on every street corner with big neon signs, people still wouldn't buy un-entertaining, impenetrable, rehashed, derivative masturbatory crap.

Ill-conceived storylines, reliance upon "shocking" or sensational events, dependence on gimmicks and marketing ploys, oppressively derivative material and the dearth of new ideas are all evidence of visionless, clueless creative leadership at the top and untrained, clueless (though often very talented) creators on the firing line.

...

Whether Aunt May dies or not isn't the question. If she dies, does it mean anything beyond a brief sales spike[?]
I'm using the comic-book analogy because comic books are a fringy, niche sort of thing, and definitely considered a Lesser Cousin of the big players in the media, and so is online media. And because so much of comic books is plain ol' hucksterism and carnival barking. As is... online media.*
But ultimately the carnival barking is a very short-term strategy. Profiting in the long run is like grinding at professional gambling -- a hundred small, sound positive moves, few of which are spectacular in themselves, which accumulate to result in a net profit.
Shooter's advice for increasing sales is distressingly simple (distressing because "simple" isn't the same as easy): Be better. Write better stories.
Not really any way around that. Even if you have a Twitter account!
* There was never a Golden Age of the internet wherein Sensationalism and Hit-Whoring wasn't in vogue. Like the comic book industry, these things were present from the beginning.
It's not that these things are being abused now, or done more now. It's that... well, just like with comic books, everyone now understands these tricks and Eyes Glaze Over and then Roll.
It's just the tricks don't work anymore. A medium has to be sensitive to trends, including trends in audience sophistication.
I don't know about you, but I'm put-off by hit-whoring. Not saying I always was. Just saying that, to whatever extent I once thought it was funny or cute to hit-whore, it all now strikes me as... well, crude I guess. Callow.
Same trajectory in the comic books. Dozens and dozens of Superman covers promised SUPERMAN WILL DIE!!! Number of Superman actual Superman deaths in his 80 year history: 0. (I know, people claim he died in 1996 or whatever. Well, he wasn't completely dead, it turns out. He got better. Is that really "dead" then?)
That trick works the first few times. Maybe the first dozen times if you're talking about six-year-olds. After that, people catch on pretty quickly that Superman isn't going to die and so this is all An Stunt.
Anyway, I guess I'm just tired of the Shouting. The Internet features a lot of Shouting in print form. I think I've just gotten a headache.
Speaking of Comic Books, Overhype, and Media Bias... Well we weren't actually talking about media bias in this post, for once. But let's say we were.
Anyway, Spider-Man comics featured a blatantly biased, egotistical newsman, of course, in J. Jonah Jameson.
I think J. Jonah's fair-and-balanced treatment of the city's pressing Spider-Man Issue is an unintentional parody of how the actual media frames issues for the public: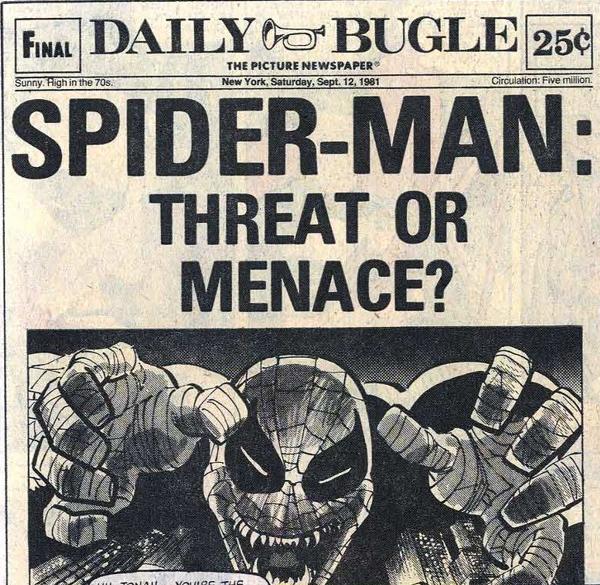 Pretty spot-on, eh? Assault Weapons: Threat or Menace? It just works.

posted by Ace at
05:36 PM
|
Access Comments