« Guns & Hunting Thread (1-6-2013)
|
Main
|
AFC Wild Card #2 »
January 06, 2013
Sunday Morning Book Thread 01-06-2013: The Zombie Bible [OregonMuse]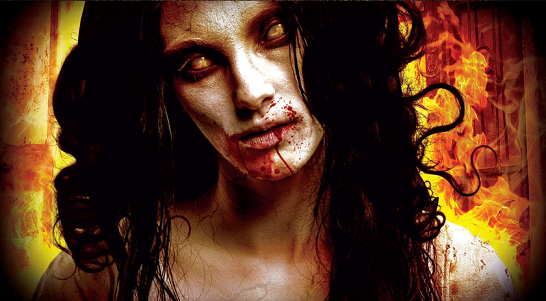 Image courtesy of The Zombie Bible Blog by Stant Litore
Good morning morons and moronettes and welcome to this week's shambling, decaying, brains-hungry Sunday Morning Book Thread.
The Zombies Are At the Gates
Stories about zombies and the zombie apocalypse constitute a very large section of the sci-fi/horror genre. I never realized just how big a sub-genre it is until I started poking around on Amazon, looking for zombie books. Sweet smoking Judas, there's a crap ton of zombie books out there. Some even take material written by someone else and insert a zombie storyline into it.
Which is what author Stant Litore has done. In a very interesting way. Because the "material written by someone else" is the Bible, in particular, the book of Jeremiah.
When the first book in the Zombie Bible series, Death Has Come Up into Our Windows, first appeared on one of my Amazon "recommended" lists, I thought, how can you have zombies and the Bible, this is probably the worst schlock imaginable, I'd better take advantage of this $1.99 Kindle sale so I can read it and tell the book thread how bad it is.
But, I was wrong. This book is actually quite good and in particular, the quality of the writing is really good. It's not something I can put into words, kind of the the Supreme Court justice who said he couldn't define pornography, but he knew it when he saw it. For me, good writing is like that. I can't describe the elements of what goes into good writing, but I read it and think, 'Wow, now that is really some fine writing.' This book is like that.
So, what we have here is a new version of the Old Testament book of the prophet Jeremiah (here Hebraicized as Yirmiyahu). The Israelites have broken covenant faithfulness with God, and their dereliction is symbolized by the hill of Tophet, outside of the city of Yerusalem, a site of abominable human sacrifices to the pagan god Chemosh. Up on Tophet, the the dead walk, and the bones of murdered, sacrificed children are strewn about.
And death is coming from the armies of Babylon who are swarming in from the east and are hammering at the gates of the city.
This is not your typical "club 'em, stab 'em, shoot 'em in the head" zombie thriller. In fact, the zombie involvement is muted and mostly in the background. Yes, the main character has to kill a zombie or two, but that's scarcely the point. In this Old Testament reboot, the zombies are like head lice or other vermin -- in normal conditions, where basic rules of cleanliness are followed, not a big deal, but in an unsanitary, filthy environment, vermin thrive and grow. So here, too, with the Israelites beshitting and defiling themselves with false gods, the zombies are becoming a greater problem.
Yirmiyahu is God's navi, her prophet (yes, God is female) sent to warn Israel of the dangers of her idolatry. But the only things he gets in return are severe, violent beatings. This doesn't matter, he is compelled to speak whenever God fills him with Her word -- he must proclaim it to the city, at whatever cost to himself.
But when it comes down to it, I don't think this book is about zombies, not really. I think the author used the zombie genre to say something else.
I am reminded of Psalm 115, where the psalmist is contrasting the omnipotence of the one true God of Israel with the worthless idols of the surrounding pagan culture(s). First he says:
Our God is in the heavens;
He does all that he pleases.
And then you can almost hear the scorn dripping from every line:
Their idols are silver and gold,
The work of human hands.
They have mouths, but do not speak;
Eyes, but do not see.
They have ears, but do not hear;
Noses, but do not smell.
They have hands, but do not feel;
Feet, but do not walk;
And they do not make a sound in their throat.
Those who make them become like them;
So do all who trust in them.
So it would not be a stretch that idol worshipers are basically dead men who are still walking around. Not that every pagan in Litore's book turns into into a zombie, that's not what happens. But in a culture rife with gross pagan worship practices, up to and including human sacrifice, it is perhaps not surprising that the ultimate result of such practices might manifest itself somewhere, and the more that culture indulges in idolatry that alienates itself from the nourishing, live-giving God, the more that deathly results will grow and become widespread. We can see this also in Proverbs 8:36b: "All who hate me love death."
But enough of my speculations. Read the book, it's really good. And than after you read it, open your Bible and re-read the book of Jeremiah.
Another Public Service Announcement
This may seem a bit tacky and serve-serving, but that's not my intent. Last week, a commenter whose nic I forget mentioned bookmarking the older book threads. I do this myself, because sometimes I need to refer to one of them. But it occurred to me that this might be good to pass around. So here are bookmarks to all of the book threads I've done since I started doing this late last March. The value here is not from anything I've written, but because there's a royal buttload of book recommendations from many different morons in these threads, and I think some of you might find such a collection to be quite valuable. So, without further ado:
Book Thread 03-25-2012

Book Thread 04-01-2012

Book Thread 04-08-2012

Book Thread 04-15-2012

Book Thread 04-22-2012

Book Thread 04-29-2012

Book Thread 05-06-2012

Book Thread 05-13-2012

Book Thread 05-20-2012

Book Thread 05-27-2012

Book Thread 06-03-2012

Book Thread 06-10-2012

Book Thread 06-17-2012

Book Thread 06-24-2012

Book Thread 07-01-2012

Book Thread 07-08-2012

Book Thread 07-15-2012

Book Thread 07-22-2012

Book Thread 08-05-2012

Book Thread 08-12-2012

Book Thread 08-19-2012

Book Thread 08-26-2012

Book Thread 09-02-2012

Book Thread 09-09-2012

Book Thread 09-16-2012

Book Thread 09-23-2012

Book Thread 09-30-2012

Book Thread 10-07-2012

Book Thread 10-14-2012

Book Thread 10-21-2012

Book Thread 10-28-2012

Book Thread 11-04-2012

Book Thread 11-11-2012

Book Thread 11-18-2012

Book Thread 11-25-2012

Book Thread 12-02-2012

Book Thread 12-09-2012

Book Thread 12-16-2012

Book Thread 12-23-2012

Book Thread 12-30-2012
That's all for this week. As always, book thread tips, suggestions, rumors, and insults may be sent to OregonMuse, Proprietor, AoSHQ Book Thread, at aoshqbookthread@gmail.com.
So what have you all been reading this week?

posted by Open Blogger at
11:15 AM
|
Access Comments