« Last Minute To Don't List [Niedermeyer's Dead Horse]
|
Main
|
Filler 'til the grownups get home [CBD] »
December 23, 2012
Overnight Open Thread (12-23-2012)– A Festivus For the Rest of Us
In case you're unfamiliar with Festivus traditions here are the key ones:
The Festivus Pole
The Airing of Grievances
Festivus dinner (filled with carbohydrates)
The Feats of Strength
May your Festivus miracle come true and everyone else's be denied.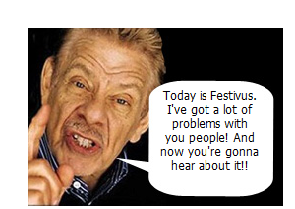 More Modern Christmas Songs
Now is the time every year when we take a moment to enjoy the Christmas songs that don't get played to death on the radio and commercials but ought to be.
Lost in the political standoff between the Obama administration and Congressional Republicans over the budget is a virtually forgotten impasse over a farm bill that covers billions of dollars in agriculture programs. Without last-minute Congressional action, the government would have to follow an antiquated 1949 farm law that would force Washington to buy milk at wildly inflated prices, creating higher prices in the dairy case. Milk now costs an average of $3.65 a gallon.

Higher prices would be based on what dairy farm production costs were in 1949, when milk production was almost all done by hand. Because of adjustments for inflation and other technical formulas, the government would be forced by law to buy milk at roughly twice the current market prices to maintain a stable milk market.
Well maybe the American people getting to experience all the Federal laws will encourage some changes.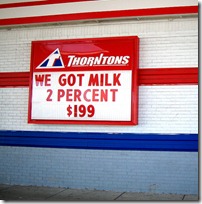 The Infamous Star Wars Special
Here is the full length version of the infamous Star Wars Holiday Special that was shown on CBS on November 17, 1978. It has never been shown on TV again since then nor ever released on VHS or DVD. It was so horrible that George Lucas won't even acknowledge it to this day, though at one convention he is quoted as saying that, "If I had the time and a sledgehammer, I would track down every copy of that show and smash it."
You can read the full details about here. Suffice it to say that it combines the worst parts of Star Wars with the worst of 70's variety shows and is generally considered the worst two hours of television ever. And yes, there is a song and dance number with Bea Arthur and wookies.
On the 2010 television program Times Talk, New York Times columnist David Carr asked Carrie Fisher about the special; she said that she made George Lucas give her a copy of the special in exchange for recording DVD commentary for the Star Wars films. She added that she shows it at parties, "mainly at the end of the night when I want people to leave."
Everyone should watch it once. But only a fool watches it twice.
Lesser Known Christmas Specials
Many were horrible and some were pretty good but almost everything got their own Christmas special during the 70s, 80s, and 90s. Including Bloom County:
Another comic strip gets a rare dose of animated life in A Wish for Wings That Work, which takes Berkeley Breathed's Opus character from his various comic strips and puts him in a tale where he faxes Santa a letter with a wish for wings that let him fly - although he of course finds his own penguin-abilities are useful enough when the time comes. It's not as cutting as some of Breathed's strips, but it still has a darker, edgier tone than most Christmas specials, complete with the vile Bill the Cat as Opus' sidekick.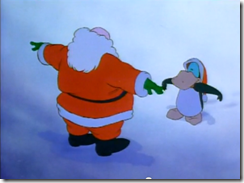 The Earnest Hemingway House in Key West, FL is famous for its feral 6-toed cats. And this somehow deeply concerns the Department of Agriculture:
The dispute began in 2003 after a museum volunteer and cat lover filed a complaint with the department after an aggressive cat wandered from the property. The agency concluded that the museum needed to follow federal regulations on exhibiting animals. But the museum argued that the cats are born and bred at the house, that they seldom wander beyond the grounds and that it is Mr. Hemingway's legacy - not the cats - that serve as the main attraction.

...But the agency disagreed. It sent in an animal behavioral specialist to index the cats and analyze the situation. Undercover agents were then sent in 2005 and 2006 to observe the cats and surreptitiously photograph their movements. One photo shows a gray cat sitting on the pavement. It carries the caption: "Picture of six-toed cat taken in restaurant/bar at end of Whalton Lane and Duval. May or may not be a Hemingway Home and Museum cat."
Sounds like the Key West office of the Dept. of Agriculture could use some sequestration.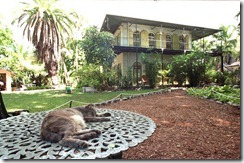 Private investors in Switzerland, Austria and Germany are lining up to buy gold bars the size of a credit card that can easily be broken into one gram pieces and used as payment in an emergency.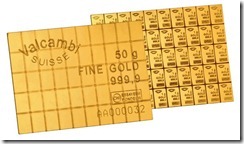 Dr. Helen on Not Taking It Anymore
I wonder how much the media and the liberal hatred of Republicans plays into the current Republican angst. It's almost as if Republicans are the new Jews of yesteryear where any vile dirty thing can be said about them with little blowback and less truth. The media blames Republicans for every ill that comes down the pike. A storm in the Northeast? Damn Republicans caused it. You aren't making the money you once did? A Republican did that to you. A violent young man kills 27? That Republican sitting next to you is somehow to blame. That's what the media wants people to believe and because people are eager for a scapegoat, many listen without critical thought.

I am always surprised at those people who consider themselves intelligent, well-meaning "empathetic" types who think nothing of tossing out some nasty crack about Republicans -whether at the holiday table, in the classroom or in line at the supermarket. It puts people on the opposite side of the political fence on the defense and makes for an antagonistic atmosphere, one that is growing more hostile by the day. I used to think that people should try to be "tolerant" and not get too upset by the jabs. I was wrong.

Here is my advice: rather than just take it and fill out a poll saying you are demoralized, fight back. Even if you feel uncomfortable, even if you might wreck the holiday party, and even if it means you might be open to hostility like you have never seen before, speak up. Or, if you don't want to talk politics, just say so and say that this type of talk makes you feel uncomfortable. If you are with friends or family and they don't understand this, how important can they be in your life? If your well-being is that unimportant to them, why bother? Perhaps next year, you need to spend the holidays in Barbados if you can or at least in the company of those who don't see your politics as evil.
Weekly AoSHQ Commenter Standings
Top 10 commenters:
1 [682 comments] 'DAve' [95.74 posts/day]
2 [559 comments] 'Anna Puma (+SmuD)'
3 [397 comments] 'Vic'
4 [380 comments] 'yankeefifth'
5 [366 comments] 'Mr. Moo Moo'
6 [342 comments] 'Nevergiveup'
7 [333 comments] 'BCochran1981'
8 [327 comments] 'Alex'
9 [323 comments] 'Jones in CO'
10 [301 comments] 'toby928? for TB'
Top 10 sockpuppeteers:
1 [92 names] 'beach'in' [12.91 unique names/day]
2 [65 names] 'Alex'
3 [46 names] 'The whole world watchin''
4 [28 names] 't-bird'
5 [25 names] 'Cicero (@cicero)'
6 [25 names] 'Islamic Rage Boy'
7 [23 names] 'wiserbud'
8 [22 names] 'fluffy'
9 [20 names] 'kbdabear'
10 [18 names] 'andycanuck'
The group. Yeah.
Where it's at - the Twitter
Tonight's post brought to you by 1960: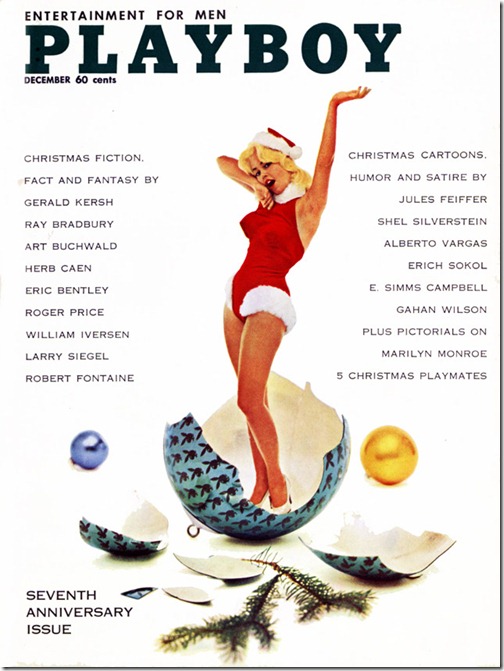 Notice: Posted by permission of AceCorp LLC. Please e-mail overnight open thread tips to maetenloch at gmail. Otherwise send tips to Ace.

posted by Maetenloch at
09:22 PM
|
Access Comments