« Is GPS Making Us Dumber And Less Interesting?
|
Main
|
Top Headline Comments 12-10-12 »
December 09, 2012
Overnight Open Thread (12-9-2012) – Case of the Sundays Edition
The Hidden Link Between Medieval Land Parceling and Modern American Psychology
Did land division rules drive culture?
The flight from Boston to Chicago isn't the most scenic, but if you're lucky enough to snag a window seat - no mean feat these days - study the patchwork landscape with a discerning eye. About 40 minutes into the flight, you'll notice something a bit peculiar (at least for North America): Instead of the usual tableau of square or rectangular farmsteads, you'll see ribbons of agronomy.

These ribbon layouts are a ghost of geography: a relic from when France parceled land in Canada back in the 1600s. What's most intriguing to me, though, is how ribbon farms - or rather the lack thereof in much of the United States - shaped attitudes toward modern transportation, and continue to shape our psychology as a nation today.

Because with ribbon farms, the expectation is that transportation is king.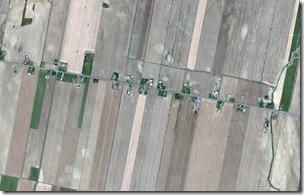 So when the U.S. started with square farms, the process and the results were the exact opposite from ribbon farms: We plotted the farms first and then pondered the logistics. It's therefore no surprise that Americans feel transportation should come to us instead of the other way around. We pick a place to live and then figure out how to get where we need to go. If no way exists, we build it: roads, arterials, highways, interstates . and so on.
We pick a place to live and then figure out how to get where we need to go. If no way exists, we build it.. It's the American way.

And it's this quirk of geography - the shape of a typical American farm - that I believe influenced the development of the entire nation.

...The fact that the farm, not the transportation, came first is important. It was a geographic case of the tail wagging the dog.
Well I'm not so sure the specific differences in land parceling were quite as psychologically significant as the author claims or that the Canadian/French way is clearly superior.
The French ribbon-farm layout may optimize for ease of transportation but assumes an existing road system and minimizes any choice in how to layout a farm. But the American system let people choose the locations to farm in and then roads were built based on demand and farm location.
So I would argue the latter system was optimized for the greatest local personal choice and maximum agricultural output over central planning and easier transportation. And these differences in choice and priorities behind the systems do reflect different cultural values and traditions that are still visible today e.g. Anglo-Saxon capitalism versus Dirigisme.
Quote of the Day: James Lileks
It is remarkable the amount of ire you collect nowadays, like lint, simply by being insufficiently worshipful of the State and its gentle intentions.

It's been a while since I saw a QUESTION AUTHORITY bumpersticker.
Ken Burns: Leftist Cockholster
Ken Burns is one of those people who become more unlikeable the more they open up.
The filmmaker, who works primarily on projects for PBS, says there wouldn't be a birther movement with a President Joe Biden in the White House. Burns then turned his attention to the Tea Party, saying a friend who attended a Tea Party event told him "almost every one she met there invoked the 'n-word'" about the president, he recalls.

That friend isn't the only one hearing that racial slur of late, he alleges.

"I have heard in last four years the 'N-word' used more often than in the rest of my life," the 59-year-old filmmaker says, adding Obama's detractors routinely call the president "un-American," the "other" and a Muslim.
Adam Carolla had Burns on his podcast last year and it was one of the few episodes I've ever turned off mid-cast and deleted. Burns insisted on making every single topic political and humorlessly spouting far left talking points until it was simply unlistenable.
It's Transgressive Radical Sex, Not Ordinary Mortal Sex
Nadia Cho, a student at UC Berkeley had sex in the campus library and wants all you close-minded squares to know about her super-edgy radical act.
We decided that, out of the millions of books in the library, the shelves full of books on religion seemed like the best place to fuck.

...Berkeley is the best place to explore your sexuality. Our school is a predominantly safe and accepting space with many places, people and resources to help you discover your sexual self. It is the place where I learned what it means to be queer, to recognise the presence of patriarchy, to attempt polyamory and to become more confident in my sexuality so I could go ahead with new experiences - attending naked parties and orgies and writing a sex column, just to name a few.
David Thompson snarks:
The studiously uninhibited Ms Cho is keen to educate the rest of us in matters sexual and political. She tells us, for instance, that, "Sex-positive isn't a term that most people are familiar with. Look it up, learn and be amazed."

Suitably amazed and quaking with excitement, Ms Cho shares her insights: "Sex-positive is a concept, a culture and a state of mind. It is a view based on acceptance, communication, zero judgement..." Judgement is recurring motif in Ms Cho's sexual sermons and we are told, more than once, that, "It's extremely insensitive to berate a person's intimate experiences," and that, "It feels good to internalise the belief that you deserve to be respected for your personal decisions and that you're not doing anything wrong in doing what feels right for you." And hence, presumably, the shagging in public libraries and issues of tissue.

...Ms Cho's previous contributions to human knowledge include, "The thought of being in a [monogamous] relationship scares the living shit out of me," and a stern reminder that while having "fucking intense, mind-blowing sex," her partners "need to acknowledge and understand their positions and privileges relative to mine." Which sounds like a recipe for the hottest, edgiest, most radical sex ever.
Well as we all know hot sex was invented circa 1970 so this isn't quite as an amazing of a discovery as  Cho thinks it is. And she's not quite hawt enough to be this tedious and annoying.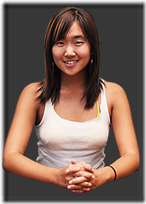 By now most people have heard about the NYPD policeman who gave a shoe-less homeless man a nice pair of boots. Of course a few days later the man was spotted walking around barefoot and couldn't quite explain where the shoes went.
This is a classic example showing that the problem with the homeless is in general not the lack of a home but the underlying mental illness and/or drug abuse that resulted in them being on the street. But Bookworm explains this far better than I could.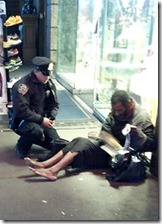 20 Fashion Laws That All Men Should Follow
Full disclosure: I have worn socks with sandals but in my defense it was a yard emergency and there were no witnesses.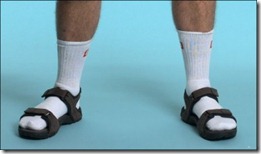 Weekly AoSHQ Commenter Standings
Top 10 commenters:
1 [623 comments] 'Niedermeyer's Dead Horse' [87.48 posts/day]
2 [576 comments] 'Vic'
3 [426 comments] 'alex'
4 [361 comments] 'AllenG (Dedicated Tenther) Channelling Breitbart'
5 [335 comments] 'BCochran1981'
6 [332 comments] 'beach & a kindle'
7 [330 comments] 'kbdabear'
8 [325 comments] 'Truman North'
9 [324 comments] 'MWR, Proud Tea(rrorist) Party Hobbit'
10 [299 comments] 'CharlieBrown'sDildo'
Top 10 sockpuppeteers:
1 [101 names] 'alex' [14.18 unique names/day]
2 [59 names] 'Equality for All Comrade'
3 [48 names] 'kbdabear'
4 [48 names] 'Cicero (@cicero)'
5 [36 names] 'Adriane'
6 [32 names] 'andycanuck'
7 [32 names] 'The Political Hat'
8 [27 names] 'Romeo13'
9 [25 names] 'Truck Monkey'
10 [25 names] 'fluffy'
The group. Yeah.
Where it's at - the Twitter
Tonight's post brought to you by a Christmas Story 2012: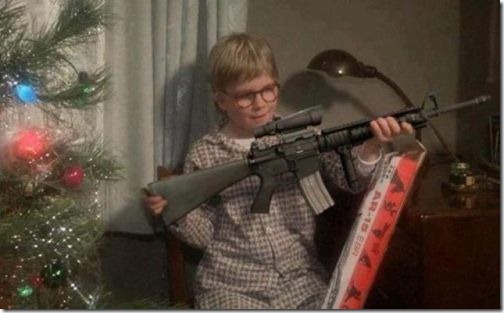 Notice: Posted by permission of AceCorp LLC. Please e-mail overnight open thread tips to maetenloch at gmail. Otherwise send tips to Ace.

posted by Maetenloch at
10:10 PM
|
Access Comments