« Cowboys Player Arrested For Intoxication Manslaughter After Drunken Wreck Kills Teammate
|
Main
|
Sunday Football Thread »
December 09, 2012
Sunday Morning Book Thread 12-09-2012: Comic Book Graphic Novel Edition [OregonMuse]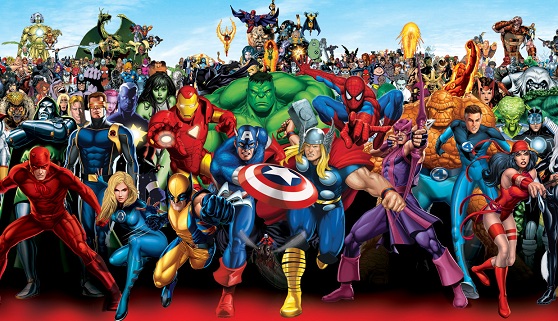 Good morning, 'rons and 'ettes, and welcome to the full-color, yet darkly brooding Sunday Morning Book Thread.

Another Awesome Content Provider
That would be Stan Lee. I think he's in the Guiness Book of World Records for being one of the most prolific writers ever.
In collaboration with several artists, most notably Jack Kirby and Steve Ditko, he co-created Spider-Man, the Hulk, the X-Men, the Fantastic Four, Iron Man, Thor, and many other fictional characters, introducing complex, naturalistic characters and a thoroughly shared universe into superhero comic books
Those Marvel comics you read as a kid? Lee pretty much wrote 'em all:
Throughout the 1960s, Lee scripted, art-directed and edited most of Marvel's series, moderated the letters pages, wrote a monthly column called "Stan's Soapbox," and wrote endless promotional copy, often signing off with his trademark phrase "Excelsior!"
How did he do it? How did he crank out so much copy, week after week?
To maintain his taxing workload, yet still meet deadlines, he used a system that was used previously by various comic-book studios, but due to Lee's success with it, became known as the "Marvel Method" or "Marvel style" of comic-book creation. Typically, Lee would brainstorm a story with the artist and then prepare a brief synopsis rather than a full script. Based on the synopsis, the artist would fill the allotted number of pages by determining and drawing the panel-to-panel storytelling. After the artist turned in penciled pages, Lee would write the word balloons and captions, and then oversee the lettering and coloring. In effect, the artists were co-plotters, whose collaborative first drafts Lee built upon.
I must confess that I was never much of a fan of this genre. Can't recall ever actually buying a Marvel or DC comic book. And when I read one of my friend's copies, the story had always started in an earlier edition and would not finish until a later one, so I never could really get started.
Not until my teen years, and then I didn't read superhero comics, but rather the 'underground' comics found here (some pages NSFW). I grew up in the San Francisco Bay Area in the 70s, hippie culture was in full bloom, and I, being young and stupid, wanted very much to be part of it. I didn't drop acid or go to any Vietnam war protests. I was too young for that. Instead, I read underground comix. And fantasized a lot about hippie chicks. Right on, man. Fight the power.
And then at some point, comic books became 'graphic novels', but I didn't read those, either. However, I did eventually discover an amazing biographical story called Maus, which I would unhesitatingly recommend to anyone. Even if you have never read (or maybe don't even like) graphic novels, this is one you need to read.
And is it my imagination, or are most comic book artists raging lefties?

From the Mailbag
Rob Neal highly recommends the sci-fi novel The Unincorporated Man by Dani and Eytan Kollin. I have never heard of it until now, but I admit it has an intriguing premise. From the Amazon blurb:
A billionaire businessman from our time, frozen in secret in the early 21st century, is discovered in the far future and resurrected, given health and a vigorous younger body. He awakens into a civilization in which every individual is formed into a legal corporation at birth, and spends many years trying to attain control over their own life by getting a majority of his or her own shares. Life extension has made life very long indeed.
Justin Cord is the only unincorporated man in the world, a true stranger in this strange land. Justin survived because he is tough and smart. He cannot accept only part ownership of himself, even if that places him in conflict with a civilization that extends outside the solar system to the Oort Cloud.
This is the first of a series. It is followed by, The Unincorporated War, then
The Unicorporated Woman and The Unincorporated Future
And that's it for this week. As always, book thread tips, suggestions, and insults may be sent to aoshqbookthread@gmail.com
So what have you all been reading this past week? Something good I hope.

posted by Open Blogger at
11:32 AM
|
Access Comments