« Sunday Evening NFL Thread
|
Main
|
Top Headline Comments 12-3-12 »
December 02, 2012
Overnight Open Thread (12-2-2012)
Reminder: When you do your holiday shopping, remember the Ewok and buy through the AoSHQ Amazon store.
Not only do we spend money we don't have on government but we're not even getting our borrowed money's worth.
The American species of homo economicus has been paying hundreds of billions to get rid of poverty for decades, what do we have to show for it? Poverty rate in 1975: 26 percent. Poverty rate in 2010: 26 percent. What a great return on the investment. Federal spending on education? Ahem: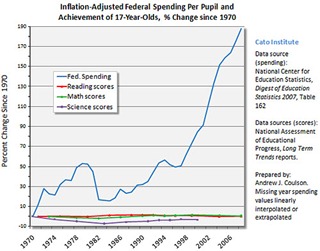 Steyn: If You Want European-Sized Government, the Middle Class Must Pay European Style Taxes
Obama now wishes "the rich" to pay their "fair share" - presumably 80 or 90 percent. After all, as Warren Buffett pointed out in the New York Times this week, the Forbes 400 richest Americans have a combined wealth of $1.7 trillion. That sounds a lot, and once upon a time it was. But today, if you confiscated every penny the Forbes 400 have, it would be enough to cover just over one year's federal deficit. And after that you're back to square one. It's not that "the rich" aren't paying their "fair share," it's that America isn't. A majority of the electorate has voted itself a size of government it's not willing to pay for.

A couple of years back, Andrew Biggs of the American Enterprise Institute calculated that, if Washington were to increase every single tax by 30 percent, it would be enough to balance the books - in 25 years. If you were to raise taxes by 50 percent, it would be enough to fund our entitlement liabilities - just our current ones, not our future liabilities, which would require further increases. This is the scale of course correction needed.
This is how the Israeli Air Force does it and from talking with retired pilots I'm pretty sure the USAF and USN accident investigations are similar. Even in industry full-on engineering post-mortems generally follow the same procedures and guidelines.
If you truly want to solve a problem and prevent it from recurring, you have to get all the data you possibly can, abandon any preconceived ideas, and approach the problem impartially rather than trying to assign guilt. The GOP (and the conservative base ) would be well advised to follow this path when figuring out how to avoid another 2012 election. H/T Bookworm
China Asserts Right to Board and Search Ships in Most of South China Sea
Apparently China is feeling frisky and ready to throw its weight around. Note that half of all the world's oil passes through these waters and that traditionally one of roles of the US Navy has been to defend freedom-of-navigation in international waters. Interesting times to follow.
Already, China's expansive claims to the island territories and waters of the South China Sea have put it at odds with its neighbors and the United States over the past several years. Yet freedom of navigation has always been seen as the one red line with China's growing military strength. Beijing can threaten Taiwan, oppress Tibet, tussle with Asian neighbors over contested island territory, and build stealth fighters and carrier-killer missiles, but interfering with the world's trade and free navigation was assumed to be the one (plausible) thing that would result in intervention by the U.S. Navy to uphold international law.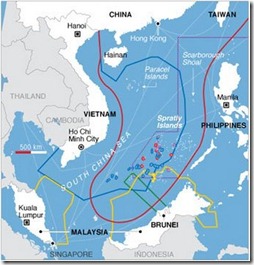 Various gun control legislation since 1968 was intended to reduce the amount of guns in the US and make gun ownership rare. Well that didn't work out so well.
The National Institute of Justice (NIJ) reported in a national survey that in 1994, 44 million people, approximately 35% of households, owned 192 million firearms, 65 million of which were handguns.

...By the same year, 2009, the estimated total number of firearms available to civilians in the United States had increased to approximately 310 million: 114 million handguns, 110 million rifles, and 86 million shotguns.

Per capita, the civilian gun stock has roughly doubled since 1968, from one gun per every two persons to one gun per person.
What Happens When You Find Your Pic on a Big Nose Fetish Site
Last year, I posed for Heeb Magazine's Shtetl Bunny Series. A couple of month's ago, a casting director friend texted me and asked, "Do you ever google yourself?" I told him it had been a long time. "Oh," he responded, "Did you know you're on a big nose appreciation site ?"

Um, no. I didn't.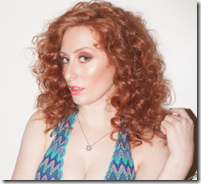 When A Horse Race Turns into a Deer Race
I've seen all the movies so I'm going with Rudolph up to 25-1.
A "Real" Vampire Talks About Drinking Blood, The "Twilight" Films
No sparkles and all the daily mortal hassles.
Movies.com has found the "Twilight" interview to end all "Twilight" interviews: a man named John Reason who lives in East Texas and claims he realized at age 14 that he is a vampire. John rides a motorcycle, wears cowboy boots, and was married for seven years . which all sounds pretty normal until you get to the part where he runs a site called RealVampireNews.com.
"[W]hen I was 14 years old, I started feeling really funny and having these headaches and body aches and different sleep cycles and cravings for blood. I thought I was crazy. That period is called the Awakening, and it usually happens around the time of puberty, but sometimes people are 40 or 50 years old."

..."[I]n the vampire community a lot of the struggles revolve around family life, whether it's just normal, day-to-day getting a job, or coming out of the coffin-as they call it-and explaining to your loved ones that you drink blood."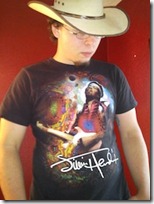 Weekly AoSHQ Commenter Standings
Top 10 commenters:
1 [368 comments] 'BCochran1981' [51.62 posts/day]
2 [362 comments] 'toby928? for TB'
3 [326 comments] 'kbdabear'
4 [321 comments] 'Vic'
5 [316 comments] 'MWR, Proud Tea(rrorist) Party Hobbit, rooting for SMOD or the Mayans, whichever comes first </i></b>'
6 [306 comments] 'Oldsailors Poet, Wonders what Dagny thinks'
7 [305 comments] 'soothsayer'
8 [294 comments] 'Butters'
9 [266 comments] 'Billy Bob, pseudo intellectual'
10 [257 comments] 'J.J. Sefton'
Top 10 sockpuppeteers:
1 [81 names] 'Fatman Alex' [11.36 unique names/day]
2 [70 names] 'kbdabear'
3 [60 names] 'Nebelwerfer'
4 [49 names] 'The Political Hat'
5 [34 names] 'Billy Bob, pseudo intellectual'
6 [31 names] 'Cicero (@cicero)'
7 [30 names] 'fluffy'
8 [26 names] 'Jamie  Foxx'
9 [25 names] 'andycanuck'
10 [24 names] 'fluffy'
The group. Yeah.
Where it's at - the Twitter
Tonight's post brought to you by opening day, 1977: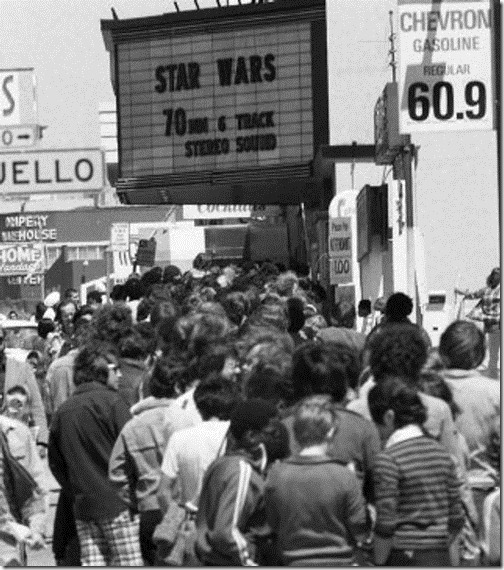 Notice: Posted by permission of AceCorp LLC. Please e-mail overnight open thread tips to maetenloch at gmail. Otherwise send tips to Ace.

posted by Maetenloch at
09:50 PM
|
Access Comments