« Black Friday Afternoon Open Thread
|
Main
|
Overnight Open Thread (23 Nov 2012) »
November 23, 2012
Random Open Thread #172
Since the last thread was getting kinda stale, here's a new one to gnaw on.
Scientists Working on a Very Critical Project!
To make bacon taste better. They have now sequenced the entire DNA of a female pig:
With the full genome, breeders will now be able to pinpoint the specific genes behind those traits. They will take "pigs that have at least one copy of the favorable version [of a gene] and use that pig to breed the next generation," says Jack C.M. Dekkers, a professor of animal breeding and genetics at Iowa State University in Ames. Some researchers may even use the information to do genetic modification of pigs.

...Tastier pork could certainly be an outcome of this research, too, Schook and Dekkers say. What makes a pig tasty, however, is subject to debate and cultural preference. In some parts of Asia, Schook notes, breeders value fat content more than American breeders do.

Tenderness and meat color are other targets for breeders hoping to improve the pork on our plates.
He who controls the pork controls the universe.
Why Our Carriers Should Be Removed from the Gulf
Several months ago, I asked a retired admiral what sign the United States could give that its patience had truly worn thin with Iran. "Remove the carriers from the Persian Gulf," he responded. At first, that struck me as dumb: The Iranians would depict the American withdrawal as another sign that the United States was weak and in retreat. "Don't worry," he assured me. "Any Revolutionary Guardsmen worth his weight would understand."
I'm intrigued and will seek out this Okains. Sounds like it's time for the Pollock lovers to step up their game.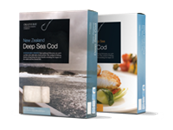 posted by Maetenloch at
07:11 PM
|
Access Comments