« Sunday Morning Open Thread
|
Main
|
NFL Sunday »
November 04, 2012
Sunday Morning Book Thread 11-04-2012: The Late Halloween Thread [OregonMuse]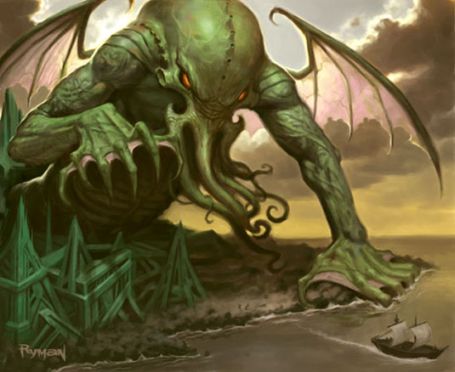 "It lumbered slobberingly into sight and gropingly squeezed Its gelatinous green immensity through the black doorway into the tainted outside air of that poison city of madness."
--H.P. Lovecraft

Good morning all. Thanks to all of you who commented or emailed condolences to me last week on the death of my parents. Looks like it's going to take some months to sort through everything, but we're working through it.

The Horror!
So, what creeps you out?
Perhaps I'm not the guy to do a Halloween thread, because I don't creep out much anymore (except perhaps for things like this). Seriously, I firmly believe and understand more clearly as time goes on, is that Jesus Christ has routed Satan, once and for all. Yes, death is a horror, and Jesus Himself wept when He saw it up close (cf. John 11:1-45), but He has conquered death, so we no longer have to dread it. So ghosts and zombies and vampires and skeletons don't really bother me all that much.
It's either that or maybe it's because I've just gotten old and my senses have become dull. That's always a possibility.
The last time I was seriously creeped out was several ago when I saw zipping around on the internets and stumbled upon something called Victorian post-mortem photography. For those of you who aren't familiar with this, photography was a new technology back in the late 19th-early 20th century, so quite often when someone would die, their family would remember that they had no photograph of the the deceased. So, to remedy this, they would perhaps take a photograph of the deceased lying in their open casket, which wasn't so bad, but then they would get more elaborate, propping them up in chairs, or on a couch next to some actual living family members, and sometimes the photographer would clumsily retouch the eyes of the dead guy to make them look like they're open and living, but they look like cartoon eyes which only made them look even creepier. They even had metal frames in which the corpse could be placed to look like they were standing up on their own.
Some of the photographs are of dead children being held one last time by their parents and the looks of grief and anguish in their faces is heart-rending.
There was one I saw of an 8-10 year old girl next to her dead brother, and the photographer placed the boy's arm around the back of her neck and down over her shoulder, and the expression on her face was like, "Get. Me. The Hell. Out of this. Now." Totally disturbing.
And in some of these old photos, the dead guys look kind of ripe, like they ought to have been buried already.
From this, I've learned that if you ever come across a large group photograph taken during those early years, and there's one guy over on the side who looks like he's peacefully sleeping in a chair or on the end of a sofa, he's most likely not asleep; rather, he's probably dead. DEAD! Mwahahaha!
But, enough of this. Now for some of this:
Moar horror!
Let's start off with some old-school horror, namely, H. P. Lovecraft. Pretty much every one of his horror stories are in this $2.99 Kindle edition. My personal favorite is "Shadow over Innsmouth", but of course "The Call of Cthulhu" is mandatory reading. Also, I would like to give a shout out to "Nyarlathotep", a story that doesn't really go anywhere or do much of anything, but in only 2 pages, Lovecraft manages to create a totally disturbing atmosphere of chaos, despair, and madness. Lovecraft is a lot like Tolkien in that both authors wrote their stories to fit within a consistently defined, well worked-out universe of their own devising.
I don't know very much about modern horror authors. I haven't read any other than Stephen King. King has written a ton of books, but if you only have time to read one them, I think that one book should be The Stand. I first read it nearly 30 years ago and it is an amazingly effective end-of-the-world story. However, since it's original publication, King has gone all George Lucas on it and added something like 500(!) pages of additional material. I don't know if this new material actually adds anything to the novel or is just useless bloat.
Minor spoiler: My favorite scene is where one of the main characters has to get out of New York City on foot, so he makes his way to the (I think) Holland Lincoln Tunnel which is all jammed up with cars that were prevented from leaving the city by an Army blockade that was set up to contain the spread of the plague. Naturally, there's no power and all the lights are out, so he has to make his way in the pitch black, threading his way among the cars and trying not to look at the dead people in them. And everything is dark and deathly quiet.
When suddenly...
Behind him...
He hears...
A sound.
Thirty years later, this scene is still vivid in my mind.
And there's also the Walking Dead graphic novels, which I haven't read, but apparently it's still an ongoing series. My son tells me that at one point they got a new artist, so the recent books look completely different than the earlier ones.
This isn't horror as such, but close enough: more than one of John Collier's short stories have been made into Twilight Zone episodes. The main collection of his stories has been out of print, but is now available on Kindle. I first heard about this author from one of my English teachers back in high school and I've enjoyed his stories ever since.
Recommendations From Morons
And speaking of zombie books, moron commenter and author 'weft cut-loop' has written his own tale of the zombie apocalypse, My Last Testament. One of the reviews on Amazon says this:
Reading zombie novels is supposed to be fun - and this one delivers in spades. Bloody, pus-filled, brain-splattering spades. When your half hour lunch break extends to an hour every day because you can't put the book down, you know you're onto something. The descriptions and characters are written so well, it makes suspending disbelief a breeze. You can't imagine the variety of situations the main character finds himself in...and the zombies aren't the only villains he's fighting.
And the Kindle edition is only 99 cents, so help a brother out, eh?
Mr. Weft is also the author The Warrior or God, which I've mentioned in previous threads. It's an end-of-the-world novel that reads as if it were written by an AoSHQ moron. Which it was. Skull-f*cking, milf-chasing, rape, dismemberment, murder, weapons of mass destruction, war, forced orgasms, and much more, all infused with a conservative mindset.
Greg recommends another zombie book, Feed, by Mira Grant, the first of the 'Newsflesh' trilogy.
I've got one recommendation for the horrific, end-of-the-world story Greener Than You Think by Ward Moore. Link is to a free Gutenberg copy.
Moron commenter 'and irresolute' likes The Keep by F. Paul Wilson and also mentions that there's a supernatural element that runs all through Wilson's 'Repairman Jack' series.
Rickshaw Jack is afraid that his favorite horror novel, 'The Hyde effect' by Steve Vance is out of print, but that isn't so; you can still get it as a Kindle edition, and it's inexpensive to boot.
Also mentioned was "A Night in the Lonesome October" by Roger Zelazny, which appears to pack just about every Halloween theme you can think of into it's pages. Zelazny has always been one of my favorite sci-fi authors, but alas, not many of his works have been converted to eBook format, and this one is no exception.
Commenter Judge Roy Bean asks me to put in a word for Clive Barker's Books of Blood series. He mentions many of these short stories, such as Candyman and Raw Head Rex, were made into movies. Also that each Book of Blood actually is a collection of 4-5 shorter stories and the first volume has a story called 'Book of Blood" that loosely ties all the stories together and is also included as a prologue in each of the books.
Lastly, here's a disturbing, end-of-the-world poem:
Darkness
by George Gordon, AKA Lord Byron
I had a dream, which was not all a dream.
The bright sun was extinguish'd, and the stars
Did wander darkling in the eternal space,
Rayless, and pathless, and the icy earth
Swung blind and blackening in the moonless air;
Morn came and went--and came, and brought no day,
And men forgot their passions in the dread
Of this their desolation; and all hearts
Were chill'd into a selfish prayer for light:
And they did live by watchfires--and the thrones,
The palaces of crowned kings--the huts,
The habitations of all things which dwell,
Were burnt for beacons; cities were consum'd,
And men were gather'd round their blazing homes
To look once more into each other's face;
Happy were those who dwelt within the eye
Of the volcanos, and their mountain-torch:
A fearful hope was all the world contain'd;
Forests were set on fire--but hour by hour
They fell and faded--and the crackling trunks
Extinguish'd with a crash--and all was black.
The brows of men by the despairing light
Wore an unearthly aspect, as by fits
The flashes fell upon them; some lay down
And hid their eyes and wept; and some did rest
Their chins upon their clenched hands, and smil'd;
And others hurried to and fro, and fed
Their funeral piles with fuel, and look'd up
With mad disquietude on the dull sky,
The pall of a past world; and then again
With curses cast them down upon the dust,
And gnash'd their teeth and howl'd: the wild birds shriek'd
And, terrified, did flutter on the ground,
And flap their useless wings; the wildest brutes
Came tame and tremulous; and vipers crawl'd
And twin'd themselves among the multitude,
Hissing, but stingless--they were slain for food.
And War, which for a moment was no more,
Did glut himself again: a meal was bought
With blood, and each sate sullenly apart
Gorging himself in gloom: no love was left;
All earth was but one thought--and that was death
Immediate and inglorious; and the pang
Of famine fed upon all entrails--men
Died, and their bones were tombless as their flesh;
The meagre by the meagre were devour'd,
Even dogs assail'd their masters, all save one,
And he was faithful to a corse, and kept
The birds and beasts and famish'd men at bay,
Till hunger clung them, or the dropping dead
Lur'd their lank jaws; himself sought out no food,
But with a piteous and perpetual moan,
And a quick desolate cry, licking the hand
Which answer'd not with a caress--he died.
The crowd was famish'd by degrees; but two
Of an enormous city did survive,
And they were enemies: they met beside
The dying embers of an altar-place
Where had been heap'd a mass of holy things
For an unholy usage; they rak'd up,
And shivering scrap'd with their cold skeleton hands
The feeble ashes, and their feeble breath
Blew for a little life, and made a flame
Which was a mockery; then they lifted up
Their eyes as it grew lighter, and beheld
Each other's aspects--saw, and shriek'd, and died--
Even of their mutual hideousness they died,
Unknowing who he was upon whose brow
Famine had written Fiend. The world was void,
The populous and the powerful was a lump,
Seasonless, herbless, treeless, manless, lifeless--
A lump of death--a chaos of hard clay.
The rivers, lakes and ocean all stood still,
And nothing stirr'd within their silent depths;
Ships sailorless lay rotting on the sea,
And their masts fell down piecemeal: as they dropp'd
They slept on the abyss without a surge--
The waves were dead; the tides were in their grave,
The moon, their mistress, had expir'd before;
The winds were wither'd in the stagnant air,
And the clouds perish'd; Darkness had no need
Of aid from them--She was the Universe.

My, wasn't that cheerful?

So that about wraps it up for this week. As always, book thread tips may be sent to aoshqbookthread@gmail.com
So what have you all been reading this past week?

posted by Open Blogger at
10:49 AM
|
Access Comments