« Overnight Open Thread (10-29-2012)
|
Main
|
Morning Open Thread »
October 29, 2012
Hurricane Sandy 10/30 update (tmi3rd)
Hi, Morons and Moronettes. Quite a day on the weather desk... you've all seen the pictures, and I pray our friends in the affected areas stayed safe and have had relatively little property damage. Let's get you updated here...

Okay, the NHC is no longer classifying this as a hurricane as of the 11 PM EDT advisory. That means very little- the winds will still be plenty high, and there's still going to be an IMMENSE amount of rainfall from this. Until the storm passes completely, the water goes down, and the wires are picked up, please continue to treat this as a dangerous situation. More below the fold...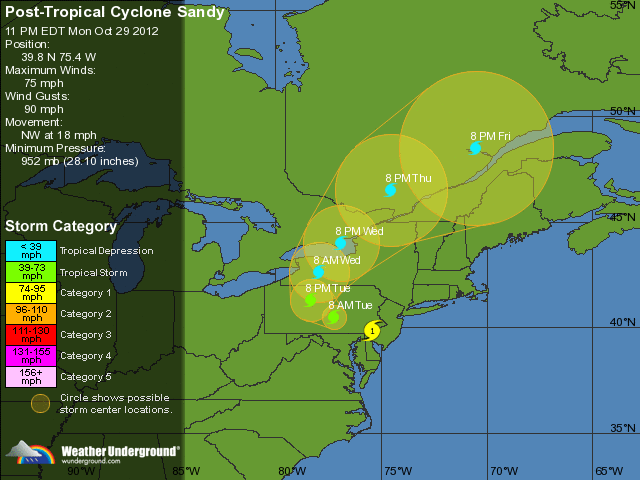 Well, New Yorkers and New Jerseyites, this is what the real deal is like. Believe it or not, there are worse storms than this. I'm really sorry it had to happen like this, but I'd rather it be like this than a 1938-style Category 3 storm. Sandy made landfall about 20 miles south of Atlantic City, NJ around 8 PM EDT.

Sandy is now taking on the characteristics of a post-tropical low, but don't let that fool you... this is when people actually start really getting hurt. If you're in central PA and NY, you're still looking at major-league rain and high winds probably through most of the transit of the storm. If you're in the mountains in these areas, you need to plan for the possibility of serious snow as well.

Sandy's maximum sustained winds are still (as of 11 PM EDT) 75 mph (that's a Category 1 hurricane) with gusts to 90 mph. Sandy, as you saw, really stepped on the gas earlier today to haul ass ashore, and is now more or less right over the corner of Delaware Bay. Pressure is still a very impressive 952 mb, and movement is northwest at 18 mph.
The part that I'm waiting for comes at 5 AM EDT tomorrow, and that's the hydrology reports- these are going to be for the waterways through the affected areas. This is where all of you from Pennsylvania up through all of New England need to be on your toes- if you get enough water, it's going to come up QUICK, and you may not get a whole lot of warning on it. Those of you in Vermont went through this last year with Irene.

Beyond this point, folks, we're sort of at the limit of what I can tell you about. I don't know the waterways up in that neck of the woods, but what I can tell you is that this is where the water starts to really squeeze out of the remainder of the storm. I'm hoping it'll pick up speed on the way out of the area, and by the weekend, you should be in a position to start cleaning up. Please, though, don't start sightseeing- that, once again, is when people start getting killed.

Finally, please stay tuned to your local authorities in case things like levees and dams start to breach... this will all get past us in short order, but everyone stay smart and stay safe out there. I'm going to play it by ear over the next couple of days to see if I have anything intelligent to add, but at this point, it's really more a question for the hydrologists.

As ever, don't hesitate for a moment to contact me on Twitter at @tmi3rd... as many of you have found out, I'm quite available there, and I'm happy to help out.

Oh, almost forgot- I usually leave the pep talks to the greater wordsmiths on the blog, but I just want to tell all of you that it's been a long four years with the SCOAMF... a week from Tuesday, NOBODY STAYS HOME. Let's send his ass packing. I'm proud of everyone for hanging in there, and it's time to write a new chapter in American history.

Stay safe! VOTE!

-tmi3rd

posted by Open Blogger at
11:01 PM
|
Access Comments