« Kyle Wood Recants?
|
Main
|
Hurricane Sandy 10/30 update (tmi3rd) »
October 29, 2012
Overnight Open Thread (10-29-2012)
OMG 18% of Americans Think Obama is Jewish!
Well that's the breathless coverage that a recent AP poll has been getting:
Eighteen percent of Americans inexplicably think that President Barack Obama is Jewish, according to a new poll.

A survey commissioned by the Associated Press and conducted by GfK asked respondents to identify Obama's religion from a list of possibilities. Thirty five percent said Obama had no religion, 28 percent correctly identified Obama as a protestant Christian, another 28 percent declined to answer, 18 percent said he was Jewish, 10 percent said he was Muslim and five percent said he was Catholic. Another two percent each said they didn't know, or named some other religion.
More think he's Jewish than Muslim? This seems well....just weird.
Is it true? Nope.
No - 18% of Americans Do NOT Think Obama is Jewish
In fact the whole thing was just the result of a typo in the AP's results:
The Associated Press/GfK poll statistic, absurdly indicating that more Americans believe Obama is Jewish (18%) than Muslim (10%), is inaccurate and the consequence of a simple typographical error, AP quickly ascertained and confirmed, after The Times of Israel called to point out the mistake. AP immediately moved to correct the error in its survey data.

The self-evidently ridiculous finding, which was nonetheless widely reported by the Jewish Chronicle, Israel National News, Haaretz and numerous minor websites on Sunday and Monday, is a consequence of a missing zero in the tabulated results of the survey, as the most cursory glance at the polling data immediately shows.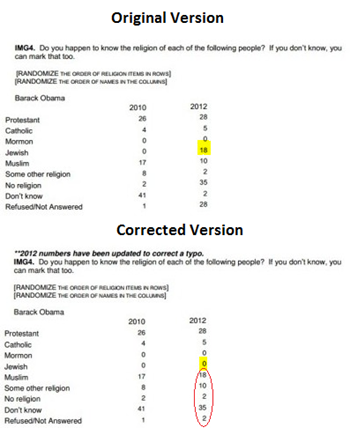 But apparently cursory glancing is simply beyond the layers and layers of media fact-checking. In fact when it comes to statistics most reporters seem to be dumber than even the average person - who bless their little hearts are quite special themselves in this area.
Other giveaways to the non-retarded that this result might be bogus:
No one thought he was Jewish in 2010 - why would this suddenly jump to 18%? Likewise why would 28% of people start refusing to answer?
All the percentage figures on the right add up to 128%. WTF?
Does this result even make sense at all - has anyone anywhere ever claimed Obama was Jewish?
And this media stats tardation was no exception. For instance how much of this hand-wringing quote from NPR's Robin Young is actually true?
A new survey conducted by Chicago's McCormick Tribune Freedom Museum, which has yet to open, finds that only 28 percent of Americans are able to name one of the constitutional freedoms, yet 52 percent are able to name at least two Simpsons family members.
Correct answer: 0%
In the passage quoted above, Robin Young states the survey result incorrectly - actually, 73% of respondents, not 28%, were able to name one of the five freedoms guaranteed by the first amendment - and she spins it in a doubtful direction to boot, because only 65% were able to name one of the Simpsons characters.
Was this mere stupidity or journalistic incompetence? Well when it comes to the MSM, the answer is yes!
But one thing you can be sure of is that whenever you see an article titled that says 'Fewer/More Than X% of Americans Believe Y', you can be 98.6% sure it's bullshit.
Chicago's New Plan to Tax Guns Out of Existence
If you can't just ban'em, maybe you can tax'em to death:
Toni Preckwinkle, president of Illinois's Cook County Board, which includes Chicago, has proposed new taxes of $25 on each gun sold and a nickel for each bullet sold. According to the Wall Street Journal, the bullet levy would amount to a 200% tax on .22 caliber ammunition.

Preckwinkle's message to the NRA? "You're welcome to sue," she said. "We've looked at this and we believe we can survive any challenge."
But it turns out that the Supreme Court has ruled that states may not take away fundamental rights nor put undue (tax) burdens on them:
The Supreme Court has recognized that the Second Amendment guarantees an individual right "to keep and bear arms," which cannot be denied by the state. That means government cannot banish guns directly - nor can it do so indirectly by taxing guns out of existence.

Consider the First Amendment. The Supreme Court has struck down taxes that burden First Amendment rights: In 1983, it declared that Minnesota's excise taxes on ink and paper violated freedom of the press. In 1936 the Court struck down Louisiana law that imposed special taxes on large-circulation papers. Liberals celebrate these precedents, and have waged a preemptive battle against any taxes that would burden the Roe v. Wade right to abortion.
Challenge accepted.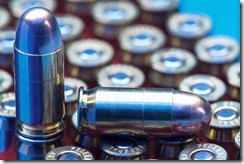 Argo: An Iranian Hostage's Review
The movie has been getting pretty good reviews and here Mark Lijek, one of the hostages smuggled out of Iran in 1980 by CIA agent Tony Mendez, gives his take on the movie.
Argo, Ben Affleck's new movie about the rescue of six Americans from Iran, is a terrific thriller, even if you know the ending. I left the theater sweating-just as when I exited the airport bus to board a Swissair flight out of Tehran in January of 1980, one of the six Americans who were rescued by Tony Mendez, the CIA employee Affleck plays. Affleck's version of events is not only a well-told tale, but a useful story, a necessary and enjoyable mechanism for introducing a younger generation to the origins of our confrontation with Iran. But for me, Argo is also a peek into a nightmarish alternate universe of how things might have been.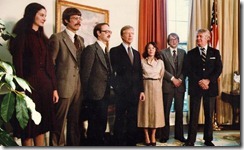 Reason #24 Why You Must Guard Your Sperm Carefully
Whenever anyone just wants a wee sample with no strings attached - there are always strings attached:
Mark Langridge didn't want children, but his lesbian friends did - so he agreed to donate his sperm.

Now his 'act of kindness' has come back to haunt him 13 years later, after he received a letter demanding child support payments.

Mr Langridge has not spoken to the family he helped create since 2004.

He was not named on the birth certificates of the two children, and played no role in their upbringing - but the Child Support Agency insists he has to pay Β£26 a week to support them.
Also: Fun Facts About Halloween
Russian Driving - The Video Compilation
To be fair alcohol was involved in 68% of these accidents.
[Stupid fucking auto-playing video removed]
Do you know how Tina Fey got the scar on her face?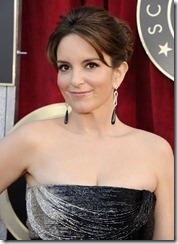 You have been warned. (thanks to David D)
The Yahoo AoSHQ group. Bla bla bla.
And my twitter thang.
Tonight's post brought to you by Clint and friend: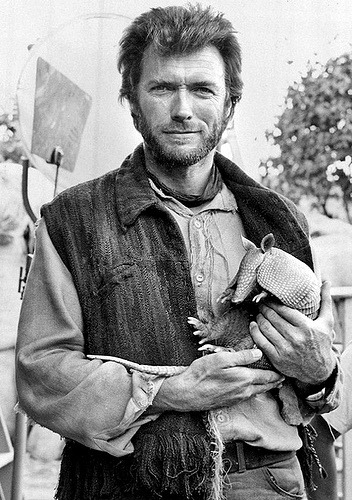 Notice: Posted by permission of AceCorp LLC. Please e-mail overnight open thread tips to maetenloch at gmail. Otherwise send tips to Ace.

posted by Maetenloch at
10:11 PM
|
Access Comments