« Overnight Open Thread (10-25-2012)
|
Main
|
Top Headline Comments 10-26-12 »
October 25, 2012
Hurricane Sandy (tmi3rd)
A late good evening, Morons and Moronettes, from the AoSHQ Weather Desk. It seems like we just did this last year with Hurricane Irene, and Sandy is a very rare bird indeed. For the moment, however, let's concentrate on what we've got in the short term, and we'll move to the longer-term implications shortly.

Forecast map and discussion below the fold...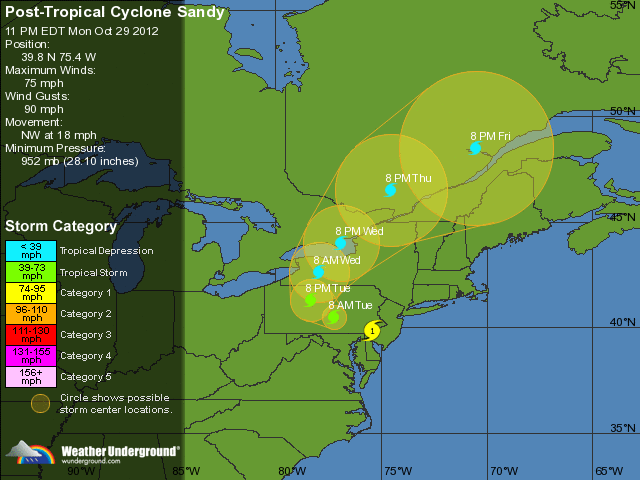 As of the 11 PM EDT advisory, Hurricane Sandy is a strong Category 1 hurricane, with winds of 90 mph sustained and gusts to 115 mph. Motion is roughly NNW at 12 mph. Minimum pressure is 968 millibars, which is fairly impressive.

Okay, so the first thing that jumps out in the map above is the big swing back to the northwest as it approaches the Tri-State area. That's pretty rare for Atlantic hurricanes; usually, they turn east and keep going. So let's talk about why that's happening.

Tropical systems take the path of least resistance. They tend to thrive under high pressure and get torn apart by areas of low pressure. It's currently getting torn up by its interactions with a low pressure area over Cuba. Sandy is forecast to interact with a series of low pressure features that will drag it north, then north-northeast, then finally back to the northwest (as of this model run).

National Hurricane Center (NHC) guidance has Sandy making an East Coast impact somewhere around a Category 1 hurricane or a strong tropical storm, but here's the rub- this is using the hurricane modeling, and that may not take into account that Sandy will lose its tropical characteristics as it transitions into what we call a hybrid system- a mix of a tropical cyclone and an extratropical system. There are characteristics of both, but they're more unpredictable. Therefore, allow for pretty broad fluctuations in course.

For the moment, expect high surf along the East Coast, and if you're anywhere from Philadelphia through Boston, you'll probably want to prepare for hurricane conditions to make their presence felt late in the weekend. As things clear up in terms of forecast solutions, we'll have more information. This should be a pretty messy storm to forecast, and bear in mind that this is a REALLY BROAD storm... several hundred miles in diameter, and asymmetric. That means the weather will be crappy for hundreds of miles in either direction from the center of circulation.

So, to close, begin your preparations NOW anywhere from Wilmington, DE/ Philadelphia, PA all the way up through the Maine coast... consider last year your dress rehearsal for this.

If you need to get a hold of me with questions, find me on Twitter at @tmi3rd. I'm going to spend the rest of the evening practicing my coughing. tmi4th occasionally brings home colds from daycare, and this one's a whopper.

-tmi3rd

posted by Open Blogger at
11:35 PM
|
Access Comments