« Pew Poll: Biden Pounded Ryan, 47-46;
But Independents Call It For Ryan, 50-39
|
Main
|
Top Headline Comments 10-16-12 »
October 15, 2012
Overnight Open Thread (10-15-2012)
Yesterday was the 946 year anniversary of the Normans' victory over King Harold at the battle of Hastings. And the fact that I used the word anniversary instead of say minds-day is just one of the many consequences of what could have been just a minor battle among some Northern European tribes:
It was one of the most consequential battles ever fought. It would set England on a course that eventually led to the establishment of the British Empire-and the foundation of the United States. The Norman Conquest left its stamp on English culture and politics in ways that are still with us; its impact on the development of the English language was especially strong. The Norman conquerors brought the French language with them, and while the English of the majority would ultimately triumph, the language that emerged from the Norman dominion would be profoundly changed. For two hundred years, English disappeared as a language of learned and powerful people. In the royal court and the palaces of the nobility, French was spoken. The Church continued to use Latin. English was the language in which rich people spoke to their servants. By the time the French conquerors began to assimilate to the language and culture of the people they had conquered, English had changed.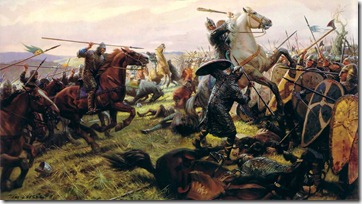 The Normans and the French gave us an utterly screwed spelling system but they also gave us a grammatically stripped-down language (easy to learn but hard too spel korekly) and essentially a doubled vocabulary.
An ear for the difference between Saxon and Norman-French based words remains important even in popular literature. In the Harry Potter books, the good characters often have trustworthy Saxon or Celtic surnames (Weasley, Dumbledore) while you can tell the bad guys by their evil French names like Malfoy (bad faith) and Voldemort (flight of death). "Muggles" is about as Anglo-Saxon as an invented word can get, and to English ears it sounds like a word that ought to exist even if you have never heard it before.
That said I still blame the French and society for my misfortunes. They made me what I am.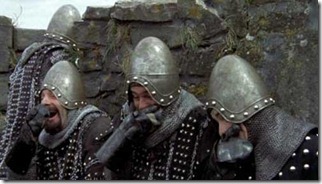 Circle Dances and Leaving the Liberal Fold
Here Neo-neocon reflects on what it's probably like for Buzz Bissinger as he moves away from being a liberal.
We all want to dance in a ring, to a certain extent. It's wonderful to be part of a coherent movement, a whole that makes sense, joined with others working for the same goal and sharing the same beliefs. But there's a price to pay when something challenges the tenets of that movement. When that happens, there are two kinds of people: those who change their ideas to fit the new facts, even if it means leaving the fold, and those who distort and twist the facts and logic to maintain the circle dance.
Dennis Prager has long noted that most American Jews may be ethnically Jewish and practice Jewish rituals but their true religion is liberalism. Well that's true for most people on the left too. And when you no longer join in the liberal circle dances, it's apostasy.
George Will: Jimmy Carter is a Mother-Fucking Liar
Okay two things - this is old (2005) and he didn't use those exact words but if you understand Will-speak, that's clearly what he meant. Carter has long peddled the false story that George Will stole his debate briefing book and gave it to Reagan and has blamed his 1980 loss on this. Well Will was not pleased:
That last accusation, for which there is no evidence, is, as he has been told, false. But he is a recidivist fibber. Last Oct. 21, on National Public Radio, he said: "We found out later that one of Ronald Reagan's supporters inside the White House had stolen my briefing book, my top-secret briefing book that prepared me for the debate. And a very prominent news reporter was the one who took the briefing book to Ronald Reagan and helped drill him on the things that I might say if he said certain things." Asked who that reporter was, Carter replied, "It was George Will, and it was later known that he did that."
But one cannot know what isn't so, and "top secret" is a government classification inapplicable to campaign fodder. Still, Carter continues to retail -- and to embroider -- his fable.

...So strong, however, is the human impulse to believe comforting myths that Carter probably will continue to promulgate the fiction that I gave Reagan the utterly unimportant briefing book, thereby catalyzing the 1980 landslide. But to be fair: As a candidate, Carter promised only that as president he would never tell a lie, thereby leaving himself a loophole for his post-presidential career as a fabulist.
Carter has always been a nasty man and as well as a notorious cat-killer.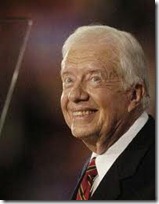 Don't fret - because you can still score a complete Boba Fett adult costume for just $499.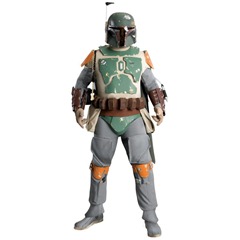 The 'Zero Dark Thirty' Trailer
In case you haven't seen it yet.
The Great Government Meteor Grab?
"New regulations by the Federal government define asteroidal material to be an antiquity, like arrowheads and pottery, rather than a mineral - and, therefore, not subject to U.S. mining law or eligible for mining claims. At the moment, these regulations only apply to asteroidal materials that have fallen to Earth as meteorites. However, they create a precedent that could adversely affect the plans of companies such as Planetary Resources, who intend to mine asteroids in space."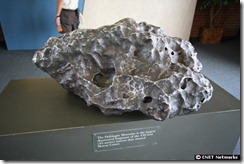 First there was the safety bra: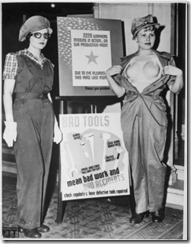 And now there's the smart cancer-detecting bra: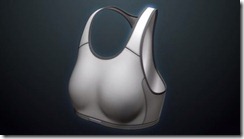 The Yahoo AoSHQ group. Bla bla bla.
And my twitter thang.
Tonight's post brought to you by heading home: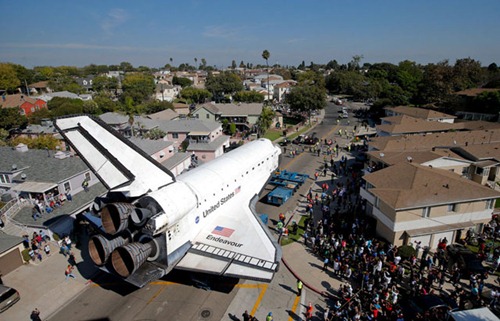 Notice: Posted by permission of AceCorp LLC. Please e-mail overnight open thread tips to maetenloch at gmail. Otherwise send tips to Ace.

posted by Maetenloch at
10:13 PM
|
Access Comments