« Sunday Mid-Morningish Open Thread
|
Main
|
Hey, Who's Up For Reading Some of Toure's (I Use This Word Advisedly) Writing? »
October 14, 2012
Sunday Morning Book Thread 10-14-2012: The Presidential Library [OregonMuse]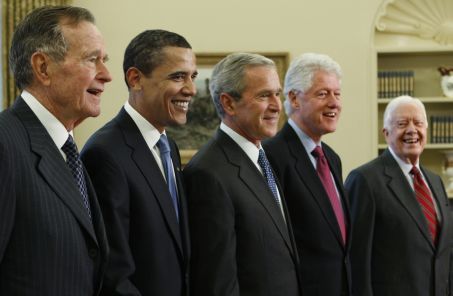 From left to right: Sleepy, Choomy, Bashful, Gropey, and Dumbass


Good morning morons and moronettes and welcome to the presidential, imperial, and magisterial Sunday Morning Book Thread.


Books by Presidents
I have argued that the last serious, intellectually substantial man to occupy the White House was Richard Milhous Nixon. More on this later.
Presidents write books. It seems the natural thing to do after they've left office and people think they've got something worthwhile to say, and publishing companies believe they can make money from the segment of the population who wants to listen to them. Presidential books are mostly memoirs and speeches, but of course not exclusively. The following is an incomplete list:
Rules of Civility and Decent Behaviour in Company and Conversation by George Washington, who wrote it when be was 15 years old. Actually, what happened was that he read a similar work and copied down the best parts of each passage, a condensed version, if you will.
Of course, Thomas Jefferson wrote a number of books, among them his, Notes on the State of Virginia. And also the infamous Jefferson Bible which probably could more honestly be titled "The Bible With All The Parts Thomas Jefferson Didn't Like Taken Out."
Letters on Freemasonry by John Quincy Adams. At one time in this country, the Freemasons were such an influential group that some felt compelled to organize to oppose them, and this resulted in the formation of the single-issue Anti-Masonic Party, of which Adams was a member.
Congressional Government A Study in American Politics by Woodrow Wilson. Wilson was an intellectual who thought quite a bit about what constitutes good government. Whether you agree with him or not, his ideas should be taken seriously. Also, On Being Human and When a Man Comes to Himself, in which Wilson "sets out his vision for the good life [which] draws on both Aristotle's notion of 'the golden mean' and Augustine's view of the ordo amorum (the order of the loves)-specifically, that the good life consists largely in a well-balanced, harmonious ordering of one's passions and priorities."
Whether you agree with it or not, it's a serious book which demands the reader takes the presented ideas seriously.
Teddy Roosevelt wrote over 30 books, many about his outdoor life of hunting and exploring. But he also wrote History As Literature, in which he stated, "In these addresses and essays I have discussed not merely literary but also historical and scientific subjects, for my thesis is that the domain of literature must be ever more widely extended over the domains of history and science." The essays covered such topics as modern art, the pursuit of scholarship, science and history, and the poetry of Dante.
Again, this is a serious, substantial work. I am proud that Americans have elected men to office who are capable of writing such books.
Herbert Hoover had a lot to say, particularly in his book about the origins of WWII, Freedom Betrayed: Herbert Hoover's Secret History of the Second World War and Its Aftermath, which has been mentioned in previous book threads.
JFK's famous book Profiles in Courage was perhaps not written completely by him although he did win the Pulitzer for it. The "research assistant", longtime Kennedy family crony and speechwriter Ted Sorenson, admits he was very well paid for the work that he did. In other words, he pretty much confirmed the rumors that had been floating around for years that PiC was mostly written by someone other than Jack Kennedy.
After he was driven from office in disgrace, Richard Nixon wrote several books displaying his serious foreign policy chops, such as:
Six Crises
Seize the Moment: America's Challenge in a One-Superpower World
Real war
Real Peace

It is because of these books that I have argued that Richard Nixon was the last serious, intellectually substantial man to occupy the White House. All of the presidents since then, with one exception, have only written memoirs and autobiographies. I would like to see a good, solid book on foreign policy written for an adult audience by George W. Bush. However, I don't think Bush is not the kind of man who would write such a book. This is not to say I think Bush is dumb. That statement is itself dumb. But Bush is not an intellectual in the same way that Nixon was. There are two kinds of men in this world, poker players and chess players. Bush, according to those who knew him during his college years, was an excellent poker player and he won like crazy. Now, on the other hand, I can't imagine RN sitting down at the table with the boys for an evening of Texas Hold 'Em. But I think he'd have been a frightfully good chess player.
[Update]: Sigh. Looks like I really screwed the pooch on this one. Many commenters have pointed out that Nixon won quite a lot of money playing poker while in the Navy.
Jimmy Carter has written a number of books, and in fact, his post-presidential output is quite prolific. Fun fact: Carter is the only president who has written a novel, The Hornet's Nest: A Novel of the Revolutionary War. He also wrote a children's book with his daughter, Amy. Also, a volume of his poetry. These are in addition to his policy books, We Can Have Peace in the Holy Land: A Plan That Will Work, and Our Endangered Values: America's Moral Crisis. Along these lines, I suppose I am going to have to mention the execrable Palestine: Peace Not Apartheid that allegedly some Saudi fat cats paid him to write.
I have to give the devil his due. Yeah, Carter was and is a complete dumbass, but I actually came to be somewhat impressed with the variety of his output since he left office. I can't say I agree with any of his policy suggestions, but if someone wants to argue that it was Carter, not Nixon, who was the last serious intellectual in the White House, he might have a point. Dude's written fiction and poetry and books on policy, and you have to respect that. At least I do.
On the other hand, someone should dig up that hilarious P.J. O'Rourke review of one of Carter's earlier autobiographical books, I forget which one, which demonstrated that the book is completely full of stupid. [Update]: Here it is, and it's a masterpiece of snark.
And now that brings us in our day to the Resident of the United States, who has written (some say co-written) two books on his favorite subject: himself. And this before he ever did anything to warrant such attention. I mean, in 1995, who would care would this lazy choomer had to say? Of course the good news is that after he's out of office, there's going to be nothing to motivate his slacker ass to write a book, so perhaps we'll be spared his nonsense and drivel. Oh wait, I forgot, he can always hire Billy Ayers to write him a book, again. Dang.
We've come down quite bit lower than Wilson, Hoover, and Nixon. And even Carter.
So the last American president to author a serious book on policy was -- Jimmy Carter? Sad, but true.
Bleg
I'll be doing a Halloween-themed book thread in a couple of weeks, so if you could send me your favorite zombie/horror books, whether written by you or someone else, I'll see if I can incorporate it into or at least mention it on the thread. Thank you.
As always, book thread tips may be sent to aoshqbookthread@gmail.com
So what have you all been reading this week?


posted by Open Blogger at
11:05 AM
|
Access Comments