« Tuesday Night Baseball Thread
|
Main
|
Top Headline Comments 10-10-12 »
October 09, 2012
Overnight Open Thread (10-9-2012)
And...I'm back my pretties.
The new Casa Maetenloch now haz internet. There's only one cobra trench so far but the safe room is set up and an attack crow is now circling so it is defensible for the moment.
Oh and I hope you enjoyed the little what-have-you with the Humpstress' pathetic seahorses and cake shit. Just remember that if anything happens to me or you bitch too much to the ewok, this will be your future.
Mark Steyn explains:
Unlike Mitt, I loathe Sesame Street. It bears primary responsibility for what the Canadian blogger Binky calls the de-monsterization of childhood - the idea that there are no evil monsters out there at the edges of the map, just shaggy creatures who look a little funny and can sometimes be a bit grouchy about it because people prejudge them until they learn to celebrate diversity and help Cranky the Friendly Monster go recycling. That is not unrelated to the infantilization of our society. Marinate three generations of Americans in that pabulum and it's no surprise you wind up with unprotected diplomats dragged to their deaths from their "safe house" in Benghazi. Or as J. Scott Gration, the president's special envoy to Sudan, said in 2009, in the most explicit Sesamization of American foreign policy: "We've got to think about giving out cookies. Kids, countries - they react to gold stars, smiley faces, handshakes . . . " The butchers of Darfur aren't blood-drenched machete-wielding genocidal killers but just Cookie Monsters whom we haven't given enough cookies. I'm not saying there's a direct line between Bert & Ernie and Barack & Hillary . . . well, actually I am.

...On the latter point, whether or not everybody loves Sesame Street, everybody has seen it, and every American under 50 has been weaned on it. So far this century it's sold nigh on a billion bucks' worth of merchandising sales (that's popular toys such as the Subsidize-Me-Elmo doll). If Sesame Street is not commercially viable, then nothing is, and we should just cut to the chase and bail out everything.
Even as a kid I always found Big Bird kinda tedious and boring so yeah no tears here if he gets sent off to Libya on a good-will mission handing out cookies to the local jihadis. If Sesame Street the Marketing Machine can't make it on its own, then capitalism is dead.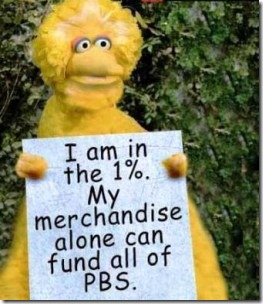 So bad that we're still finding out the ugly, thuggish details years after it was passed. Here George Will points out how the IPAB will essentially become an extra-Constitutional death panel:
The Independent Payment Advisory Board perfectly illustrates liberalism's itch to remove choices from individuals, and from their elected representatives, and to repose the power to choose in supposed experts liberated from democratic accountability. Beginning in 2014, IPAB would consist of 15 unelected technocrats whose recommendations for reducing Medicare costs must be enacted by Congress by Aug. 15 of each year. If Congress does not enact them, or other measures achieving the same level of cost containment, IPAB's proposals automatically are transformed from recommendations into law. Without being approved by Congress. Without being signed by the president.

These facts refute Obama's Denver assurance that IPAB "can't make decisions about what treatments are given." It can and will by controlling payments to doctors and hospitals. Hence the emptiness of Obamacare's language that IPAB's proposals "shall not include any recommendation to ration health care."

By Obamacare's terms, Congress can repeal IPAB only during a seven-month window in 2017, and then only by three-fifths majorities in both chambers. After that, the law precludes Congress from ever altering IPAB proposals.
I don't quite see how it's constitutionally possible for the US Congress to create an entity that cannot be undone by any future Congresses but then I've seen a lot of impossible things during the Obama administration.
Okay granted she probably got some good genetics (well minus that MS part) but by your sixties your lifestyle and life habits do start making a difference.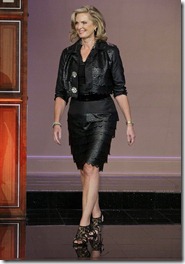 Myth: Radio Listeners Thought Nixon Won the 1960 Debate with JFK
Another one of those 'facts' that everyone knows and repeats - but doesn't hold up when you look at the evidence.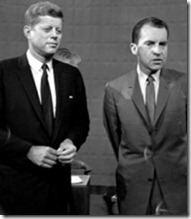 The End Is Nigh: 10 Apocalypse Films To Watch Before It All Ends in Tears
One of my semi-guilty pleasures is apocalyptic books and movies so here a few to slake your desires for DOOM fantasy. I'm glad to see Delicatessen get a shout-out in this genre.
Life is Harder When You're Stupid
And don't get enough uh, electrolights.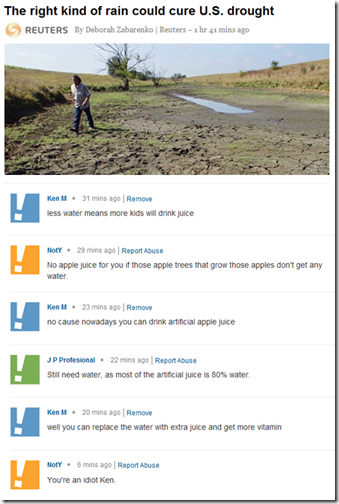 Teh Tweet!
Tonight's post brought to you by George and Mitt Romney, 1958: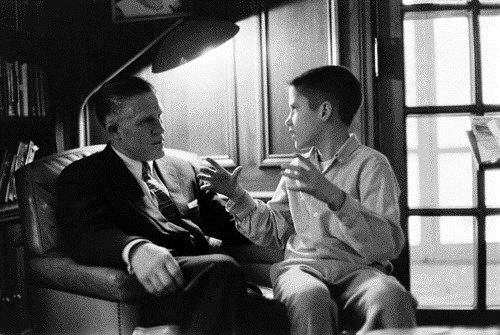 Notice: Posted by permission of AceCorp LLC. Please e-mail overnight open thread tips to maetenloch at gmail. Otherwise send tips to Ace.

posted by Maetenloch at
10:16 PM
|
Access Comments