« Our Greatest Ally In This Presidential Race Appears To Be Obama's Arrogance
|
Main
|
TIPP Daily Tracker: Romney 47% Obama 45% »
October 09, 2012
Smallball: Obama Reverses His 2007 Call For Leadership on The Big Things In Order to Microtarget on... Big Bird
Video at the Washington Examiner contrasts Obama's once-lofty rhetoric to his current Viciousness of Tiny Disputes strategy.
Obama's running a cable-only snarky ad featuring Big Bird-- as Chuck Todd notes, not actually playing it on TV in swing states, just hoping for some free media airings -- but the Sesame Street people have asked them to take it down. Stressing they are "non-partisan."
Here's what it says:
begins with a narrator invoking convicted "gluttons of greed" such as Bernie Madoff and Kenneth Lay before cheekily saying only "one man has the guts" to speak the name of "evil genius who towered over" them: Big Bird. The ad continues with clips of Romney saying "Big Bird," followed by a clip of Big Bird saying, "It's me, Big Bird."

"Big, yellow, a menace to our economy," the ad jokingly continues. "Mitt Romney knows it's not Wall Street you have to worry about, it's Sesame Street."

"Mitt Romney, taking on our enemies no matter where they nest."
The RNC is hitting Obama back on this -- noting that he has recently mentioned Big Bird 8 times and Elmo 5 times, but has mentioned Libya zero times and the economy zero times as well.
Via Hot Air, they've also entered the Sesame Street derby.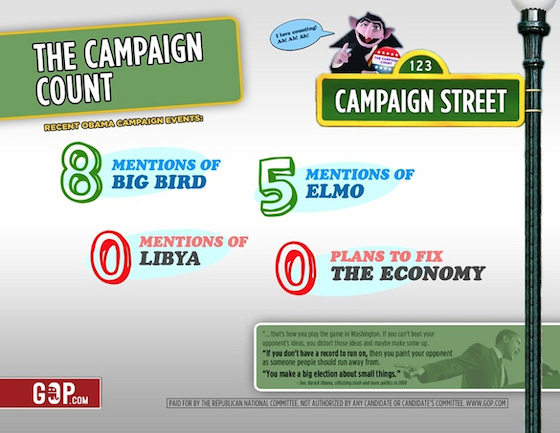 This gets at Obama's problem. There is an old phrase about "The man for the moment" or "the man meeting the moment."
This moment is not about Big Bird. This moment is about very serious things indeed, our nation's future, our Constitution, our once and future dream of being a prosperous, successful nation.
Romney landed serious blows on Obama about serious things, and he's coming back with some funny -- but utterly trivial -- jazz about Big Bird.
This is not the man meeting the moment. This is the man running from the moment. This is a man pretending he doesn't even see the moment or, worse yet, actually not realizing the importance of this moment.

posted by Ace at
02:01 PM
|
Access Comments