« Sunday Morning Open Thread
|
Main
|
Sunday NFL Football Thread and Sharp Elbow Pic »
September 30, 2012
Sunday Morning Book Thread 09-30-2012: The Crescent and the Scimitar [OregonMuse]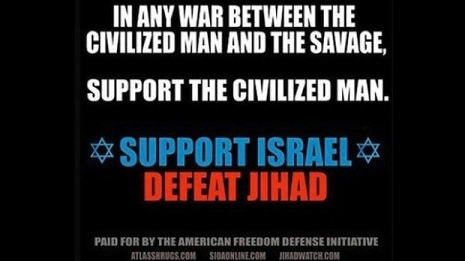 All the Experts Agree: This Sort of Thing Simply Ought Not To Be Allowed


Good morning morons and moronettes and welcome to the slanderous, but not-yet beheaded Sunday Morning Book Thread.


Islam and Free Speech
Following ace's brilliant and insightful post earlier this week on the normative power of law , I went to look for books that extolled the virtues of not fapping. No, not really. But it brought to mind the time when I tried it, and we're talking back when I was a much younger man, 30-35 years ago. I put myself on a strict "no pr0n/no fap" regimen and it lasted about a month. Toward the end, I found myself writing letters to women I used to know in college, nothing sexual or propositioning or anything like that, the letters were just hi, how are you, haven't seen you for awhile, I'd like to see you again, etc. And then I couldn't hold out any more and then afterwards, I felt silly for having written those letters, even though at the time, it seemed like a perfectly healthy and natural thing to do. It was very unsettling when I realized that what I had thought was a purely physical act could have such a profound effect on my thought processes.
But, I digress. That's probably way too much information for a book thread. But if ace really has been "exercising a little restraint" all month long, I think I know what he's going through.
I didn't look for books about the evils of fapping, but rather books that explored the collision between the religion of Islam and American traditions of free speech and 1st Amendment rights, that have lately been under assault. There's lots of books about the Islamic concept of jihad itself, but not so much specifically on this sub-topic, which is relatively new (although if I were a Christian evangelist in Dearborn, Michigan, I suppose I might disagree). I am afraid that there have been many similiar incidents, where some aspect of Islamic law gets enforced by proxy, that have flown under the radar and so I an unaware of.
And I think those evangelists eventually sued the city of Dearborn for constitutional rights violations and won a crap ton of money
Robert Spencer's Stealth Jihad: How Radical Islam is Subverting America without Guns or Bombs may be as close as we have right now on this issue.
The Al Qaeda Reader: The Essential Texts of Osama Bin Laden's Terrorist Organization by Raymond Ibrahim (Forward by Victor Davis Hanson) is a good way to get it directly from the horse's mouth, so to speak. B&N has used copies for $0.79, so this may be the deal of the year.
Of course, if you really want it from the horse's mouth, try Milestones by Seyyid Qutb. Qutb was an Egyptian academic who vusited the United States in 1948-50 and was scandalized and appalled by the American way of life, and by that I mean unchaperoned females, sock hops and jazz music. These things spurred him on to become one the architects of jihad. He never personally planted any bombs or murdered any innocent civilians, but his books provided the theoretical background for those that did and do. He is said to be the main influences on Osama bin Laden. Qutb was jailed and eventually executed by Nasser's government in 1966. The Kindle edition of Milestones is < $7, so I'm kind of tempted to pick this one up myself.
And for promoting jihad, there's nothing like having a bloated Saudi oil tic sue your ass for libel in a British Court to stop your book about the sources of jihad funding from continuing to be published -- and succeeding.
Of course, how could I forget the indispensible Mark Steyn, whose book America Alone got his ass sued in Canada, or rather, the usual stooges of political correctness, allied with Canadian Islamic Congress, tried to get it declared a "hate crime". Hell, they probably wanted to get Mark Steyn declared a hate crime, but I don't suppose they were able to. Steyn is selling it along with a pamphlet by the New Criterion called, appropriately enough, Free Speech In An Age Of Jihad which includes contributions from a variety of authors such as Stanley Kurtz, Andy McCarthy, Ezra Levant and Ibn Warraq. This is from 2008, and I can't seem to find it on the New Criterion website. Although audio from the conference upon which it is based on is available here.
On a side note, it is grimly amusing to me that the same rat bastard commies, and commie stooges, and commie lickspittles who spent the entire Cold War justifying and running interference for Soviet Union (and its various "mini-me" regimes in Cuba, North Vietnam, Nicaragua, etc.) are doing pretty much same thing even now -- only this time the knobs they're fervently gobbling belong to jihadi thug terrorists. Gee, it's like they hate the West or something.
From the Mail Bag
A recommendation from moron "Hitch Aride" of a book by a truly amazing man. Reach for the Sky: The Story of Douglas Bader, Legless Ace of the Battle of Britain:
Douglas Bader was a legend in his lifetime. After losing both legs in an air crash in 1931 and being dismissed as a cripple by the Royal Air Force, he fought his way back into the cockpit of a Spitfire to become one of the great heroes of the Battle of Britain. This inspiring biography of the famous World War II fighter pilot, first published in 1954, has a following of faithful readers who come back to the book time and again to re-read, share with their children and pass along to friends. Not many books have made such an impact on people's lives. Bader's story is so extraordinary that no one would dare invent it, and Brickhill succeeds in matching the excitement of Bader's war deeds with the triumph of his greater battle over a severe handicap. Told he would never walk without a cane, Bader learned to dance, swim, golf, and play tennis. Told he would never fly again, he became not only one of the RAF's top combat pilots but a squadron leader and innovator of fighter tactics that helped win the Battle of Britain. Among the thrilling incidents chronicled in the book are Bader's first successful encounter with an enemy plane, his own shoot down, and his succession of escapes from German prisons.
The balls on that guy. Seriously.
As always, book thread tips may be sent to aoshqbookthread@gmail.com
So what have you all been reading this week?


posted by Open Blogger at
11:02 AM
|
Access Comments