« Sweet Fancy Moses: Administration Still Trying to Refine Libyan Attack Messaging
|
Main
|
Top Headline Comments 9-20-12 »
September 19, 2012
Ye Olde Overnight Open Thread (9-19-2012)– Arggh Edition
Welcome to National Talk Like A Pirate day which multiple morons reminded me about earlier in the week but of course I promptly forgot about. Which is about SOP for the USS AoSHQ of the Skull&Bones fleet. Arrggh.
Romney is Doomed-Doomed-DOOMED!
But apparently no one told the people being polled.
AP: Obama's up, 47 percent to 46 percent, among likely voters. Fascinatingly, when it's registered voters, Obama's up, 50 percent to 40 percent. Among adults, Obama's up, 52 percent to 37 percent.

USA Today: Obama's up nationwide, 47 percent to 46 percent. In the 12 swing states, Obama's up 48 percent to 46 percent.

Kind of amazing how often Obama's hitting . . . 47 percent in polls lately.

According to the conventional wisdom, Mitt Romney's Libya comment, and the furious denunciation from the Gang of 500, was supposed to be hurting him in the polls conducted in recent days.
Leader of Attack on US Consulate in Libya was Released From Gitmo in 2007
But, but I was totally assured by the Democrats that most of the detainees at Gitmo were just innocent goat herders at the wrong place at the wrong time.
Ben Franklin's Thoughts on Signing the Constitution 225 Years Ago
A wise and worldly man that we were very lucky to have as a founder.
    "I confess that there are several parts of this Constitution which I do not at present approve, but I am not sure I shall never approve them: For having lived long, I have experienced many instances of being obliged by better information or fuller consideration, to change opinions even on important subjects, which I once thought right, but found to be otherwise. It is therefore that the older I grow, the more apt I am to doubt my own judgment, and to pay more respect to the judgment of others."
"I doubt too whether any other Convention we can obtain may be able to make a better Constitution. For when you assemble a number of men to have the advantage of their joint wisdom, you inevitably assemble with those men, all their prejudices, their passions, their errors of opinion, their local interests, and their selfish views. From such an Assembly can a perfect production be expected? It therefore astonishes me, Sir, to find this system approaching so near to perfection as it does; and I think it will astonish our enemies, who are waiting with confidence to hear that our councils are confounded like those of the Builders of Babel; and that our States are on the point of separation, only to meet hereafter for the purpose of cutting one another's throats. Thus I consent, Sir, to this Constitution because I expect no better, and because I am not sure, that it is not the best."
Well Rusty at The Jawa Report pretty well summarizes my feelings about Muslims, Islam, and anything to do with Islamic culture after years of hot and cold war.
Not caring about what happens in the Muslim world is a cathartic and liberating experience. You should try it.

If a country can't protect our embassy, the answer is to close the embassy. If a country takes $1 billion of our dollars, and then returns the favor by indicting our citizens for religious "crimes", then stop giving them money.

If the Muslim world wishes to join the 21st century, I wish them all the luck in the world.

But if they don't? It's not my problem. I just don't care anymore.

I don't care about nation building in Afghanistan anymore. I don't care about the Muslim Brotherhood being in power in Egypt anymore. Let al Qaeda take over Tunisia. I. Just. Don't. Care.

Our foreign policy towards the Muslim world should simply be this: leave us the f*ck alone, if you don't we will utterly annihilate you. We will not invade. We will not depose. We will not nation build. We will destroy.

And if after being destroyed you choose to f*ck with us again, we will destroy you again. Until either you stop f*cking with us or you are all dead.

The nuclear option is on the table.

We will put no more American lives at risk to give you freedom. American freedom was won by American blood. Afghan freedom will be won by Afghan blood. Iraqi freedom will be won by Iraqi blood. Etc.

I've had it. I'm checking out. It's not my problem anymore. Call me when you've matured. I'm moving on.

So long Muslim world, and thanks for all the fish!
It's always been true that wars become more and more cruel the longer they go on. And a large part of this is just sheer fatigue and exhaustion from the endless killing and fighting. When the reserves of restraint and forbearance run low, you start thinking real hard about The Unthinkable.
The Pwning of Matt Yglesias Pt. VI
The concept of "redistribution" falsely implies that the existence of property is prior to the existence of the state. #mythofownership

- Matt Yglesias (@mattyglesias) September 18, 2012
In short, you didn't build that, you don't own that. You owe all to the merciful, life giving state. twitter.com/mattyglesias/s.

- David Burge (@iowahawkblog) September 19, 2012
@iowahawkblog The state pre-existed my children, therefore they're not really *my* children. #ThingsYglesiaBelieves twitter.com/mattyglesias/s.

- Robert Stacy McCain (@rsmccain) September 19, 2012
@wjjhoge How dare you, a mere mortal, dispute the opinion of a Harvard alumnus? wp.me/p1IUdy-1V9 @mattyglesias @iowahawkblog

- Robert Stacy McCain (@rsmccain) September 19, 2012
Manimal The Movie is coming out after almost 30 years of development. I never saw any of the original series' very very short run but it did give David Letterman jokes all throughout the 80's.
Manimal followed Dr. Jonathan Chase, a wealthy doctor with a mysterious past, who morphed into animals in order to help the police fight crime.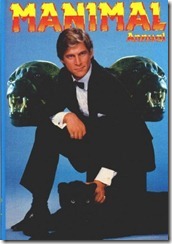 Oh Noes -Lady GaGa Has Pissed off the Muslims
By wearing a burqa with a 'cunt' handbag.
"That (handbag) comes across as a clear insult to Muslims and Islam," said a Chicago-based representative of several Muslim groups, who asked not to be identified. I'm hearing that the uproar is leading to a big increase in Lady Gaga's security detail.
Well this is one fatwa I'm pretty indifferent about. Oh and has the word gotten out yet about Madonna and Kim Kardashian's new line of koranic toilet paper?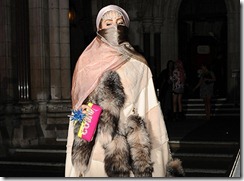 So When Did Bare Breasts Become Taboo?
Well about 3000 years ago judging by statues and drawings. But just a few hundred years ago the bare boobies made a mini-comeback:
The French aristocracy was the first to challenge the taboo. During the 1300s, necklines began to plunge and clothing became tighter, exposing the shape of the breast. Agnès Soler, the mistress to French King Charles VII, shocked the court by appearing in a painting with one breast fully exposed in the late 1400s. The most provocative ladies of Venice and England are said to have walked the streets bare-breasted in the following century. There are even hints that Queen Elizabeth I herself exposed all or nearly all of her breasts to guests, which, if true, might provide some comfort to the young Duchess of Cambridge. But the trend was temporary, and the general prohibition on bare breasts in European society was firmly entrenched again by the 1600s.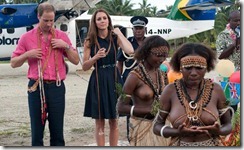 Teh Tweet!
Yahoo group. That is all.
Tonight's post brought to you by a young Marion Morrison: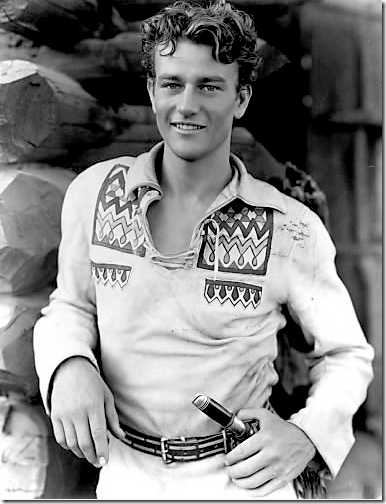 Notice: Posted by permission of AceCorp LLC. Please e-mail overnight open thread tips to maetenloch at gmail. Otherwise send tips to Ace.

posted by Maetenloch at
09:00 PM
|
Access Comments