« Is Obama Really Planning To Turn Over The Blind Sheik, The Mastermind of the First Bombing of the World Trade Towers, To Egypt?
|
Main
|
Top Headline Comments 9-18-12 »
September 17, 2012
Overnight Open Thread (9-17-2012)
Peter van Uhm: Why I Chose the Gun
Here General Peter van Uhm, the Netherlands' chief of defense, explains why he made the gun his chosen tool and the military his career: Because he loves peace and hates evil.
Those who know the saying si vis pacem, para bellum will now doubt find many of his arguments familiar but you rarely ever hear them so forcefully and eloquently expressed - especially to a European audience who are prone to pride themselves on being 'beyond war'.
To put this in context remember that there is a non-trivial minority of the Dutch who would like to do away with their armed forces entirely so Gen. van Uhm is targeting those who have a stereotyped view of the military as mere war-mongers - an audience who are able live their lives woefully ignorant of guns only because of men like him who sweat the details 24/7 to keep it that way.
Well this skewed. Pretty much everything showing a Dem sample advantage  - i.e. every poll on the right - is just wishful thinking by the media.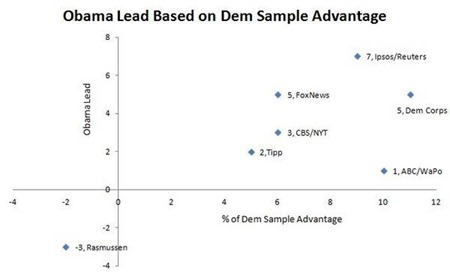 Plus Molly of Molly's Page has first hand experience with the kind of clown questions you get from PPP:
I was polled on Sunday by PPP about politics in NC and, for the last question, they asked "Who was more responsible for killing Osama bin Laden, Obama or Romney?" I was just flummoxed. I couldn't figure out what it was doing in a poll of standard questions on whom I was going to vote for or if I approved or disapproved of certain politicians. Well, now it's clear what the purpose of the goofy question was - to generate stats so they could make fun of Republicans. Well, I'll confess - I answered "not sure." That wasn't because I wasn't sure but it was my way of registering how ticked off the question made me. As I tell my students, one problem that we can't account for in polling is that people lied. So I lied. Now my answer is part of a Comedy Central gag.
China Now Entering 'Interesting Times'
The communist government has longed used nationalism as an escape valve for tensions in the country but events and nationalistic passions may be getting out of their control.
Before Jiang Zemin stepped down, a book was published of his selected speeches translated into English. In one speech to party cadres, he said that Japan's past must be used as a weapon against the country "forever".

They do not have elections. They are subjected to daily barrages of political propaganda so strident as to be numbing. Product exhibits in stores selling ordinary consumer goods are arranged in displays of militaristic chauvinism. Corruption is endemic and rampant, especially among the oligarchy. The work of sociopolitical engineering must be enormous. Their financial engineering is failing.

The largest country on earth, a nuclear power, is having another serious spasm. The people don't know what to do with themselves, nor what they can do with themselves. The People's Liberation Army is the country's largest interest group, and it is aggressively pursuing its interests, both at home and abroad.
This photo appeared on Weibo, the Chinese Twitter. Photographs such as these don't last long on the Net in China. It reads: Chinese people! What should we oppose? No wage increases. Public officials make large profits from illegal land transactions. We can't buy a home. We die because we can't go to a hospital. We can't die because graves are too expensive. We use all our assets to graduate from college and still can't get a job.

There are 30 grievances in all. I don't see any about the Japanese.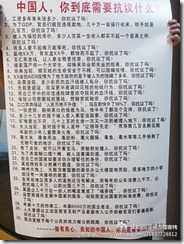 Just Another Monday, Move Along Please
As a precaution amid rising anti-American protests, diplomats in the US Embassy in Beirut, Lebanon, have started destroying classified material.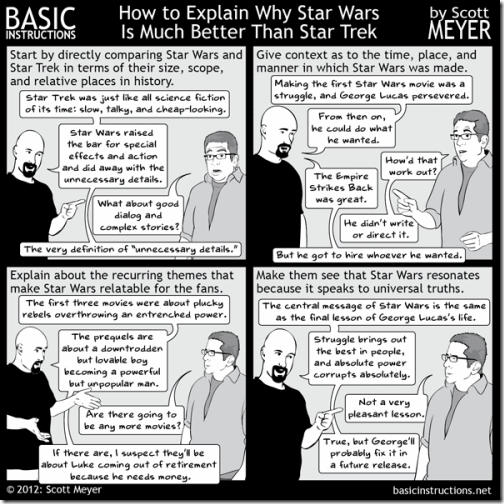 17 Euphemisms for Doing The Deed From the 1800s
3. Bread and butter

One on top of the other. "Rumor has it he found her bread and butter fashion with the neighbor."

4. Brush

"Yeah, we had a brush once." The emphasis here is on brevity; just a fling, no big deal.

5. Clicket

"They left together, so they're probably at clicket." This was originally used only for foxes, but became less specific as more and more phrases for doing it were needed.

6. Face-making

Aside from the obvious, this also comes from "making children," because babies have faces.

7. Blanket hornpipe

There is probably no way to use this in seriousness or discreetly, but there you have it.

8. Blow the grounsils

"Grounsils" are foundation timbers, so "on the floor."
Plus The Erotic Toys of Yesteryear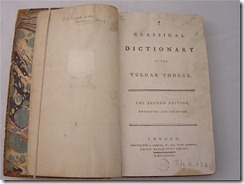 Is in throwing:
Around the world, at all ages, boys throw better - a lot better - than girls. Studies of overhand ball throwing across different cultures have found that pre-pubescent girls throw 51 to 69 percent of the distance that boys do, at 51 to 78 percent of the velocity. As they get older, the differences increase; one U.S. study found that girls age 14 to 18 threw only 39 percent as far as boys (an average of about 75 feet vs. about 192 feet).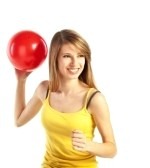 Oops: Wells Fargo Forecloses on the Wrong House, Destroys Elderly Couple's Possessions
Well this seems to be a pretty big fuck-up:
Wells Fargo mistakenly foreclosed on a home that had no mortgage, sending in a crew to steal all and throw out all the elderly homeowners' belongings. Alvin Tjosaas helped his father build the family home in Twentynine Palms, CA when he was a teenager, and the couple raised their own children there. The Wells Fargo crew destroyed their entire lives' accumulation of personal possessions. Wells Fargo says it is "deeply sorry" and that it is "moving quickly to reach out to the family to resolve this unfortunate situation in an attempt to right this wrong."
I'm guessing Wells Fargo will settle rather than risk this ever going before a jury.
The Yahoo AoSHQ group. Bla bla bla.
And my twitter thang.
Tonight's post brought to you by blowing it man: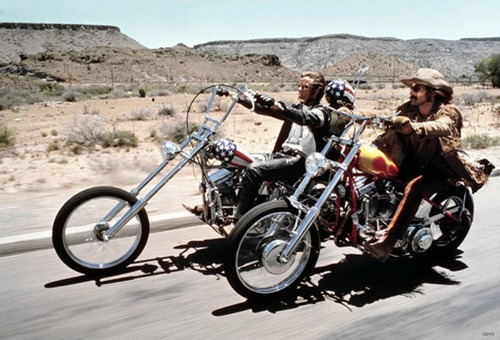 Notice: Posted by permission of AceCorp LLC. Please e-mail overnight open thread tips to maetenloch at gmail. Otherwise send tips to Ace.

posted by Maetenloch at
09:56 PM
|
Access Comments