« The Flag is at Half Staff- Gaming Thread
|
Main
|
Libyan Officials Say They Warned US About Deteriorating Security Three Days Before Attacks;
Hillary Clinton Stonewalls, Will Not Answer Any Questions About Benghazi »
September 15, 2012
College Football Thread Again
And there will be more. Weeks and weeks, cause it's back morons.
Arkansas fans? My heart goes out to you.
Texas A&M fans? Likewise.
Top 10 action today: Alabama (1) takes on Arkansas, USC (2) vs. Stanford (21), LSU (3) and Idaho, Oregon (4) vs. Tennessee Tech (who?), Fla ST (5) and Idaho, Georgia (7) vs nobody (117) and a whole bunch of other warmups.
Today's cheerleader brought to you by the letter F, and also Redken number 5.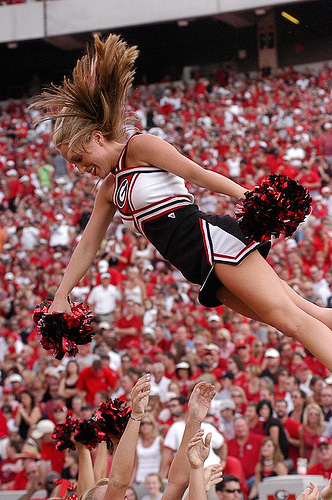 Have a great weekend you morons.

posted by Dave In Texas at
12:56 PM
|
Access Comments