« Afternoon Open Thread/Quick Hits
|
Main
|
Joe Biden, Intellect of the Democratic Party, Just a Grin With a Body Behind It, Goes Off-Script Again Himself: Kisses Female Supporter Full On The Lips »
August 31, 2012
Clint Eastwood Killed, And The Media's Not Going To Be Able To Present a Counter-Narrative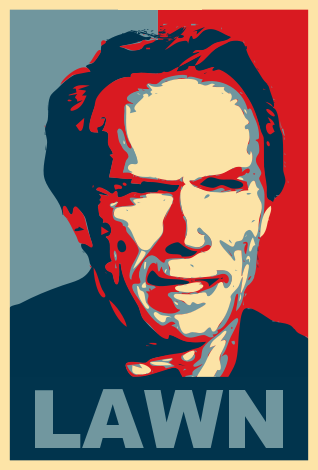 The LAT uses headline bias to declare "Ann Romney, others distancing themselves from Clint Eastwood's ramble."
The actual Ann Romney quotes:
Asked on ABC's "Good Morning America" about Eastwood's rambling, unscripted speech, the wife of the Republican presidential nominee allowed that she was "grateful for his support," but quickly heaped much more effusive praise on Olympic athletes and fellow Mormons "that knew Mitt so well" who also spoke on behalf of her husband Thursday night. Those testimonials did not reach the vast majority of viewers because they were delivered before 10 p.m EDT, when the networks opened their live coverage.

On CBS on Friday morning, Romney again quickly segued away from Eastwood's performance. "You can never take away from the fact that this country is in trouble," she said, "and people are looking for real leadership and that I know that Mitt is the man for this moment."
There's an old maxim that you don't pick a fight with people who buy ink by the barrel, and it's quite clear that on this point Baby Wants A Bottle. The media are just determined to claim Clint Eastwood is awful, and should probably be committed for his own safety and the safety of others, and there is simply no point in arguing with Baby Who Wants A Bottle. Baby Wants A Bottle, Baby Will Keep Crying Until Baby Has A Bottle.
She's raised five babies. She knows.
This isn't distancing. It's refusing to get into an argument with a lunatic.
There are several problems with the media's attempt to spin this. For one, the video is viral and everyone can spend 10 minutes watching it to make up their own minds.
Does he ramble? He sure does. But what is the problem with that? No, it's not a political speech where every line is thought out and scrubbed and edited to an inch of its life, all for the purpose of delivering a precise message in a precise way. It's Clint Eastwood offering his general, barely rehearsed political thoughts.
And so it rambles. And, when it's not rambling, it kills. In fact, some rambles are hilarious, like when he suddenly remembers he wants to talk about attorneys and then gets wound up about that.
We're dealing with the East German judges here. Clint Eastwood did a great routine with a few technical errors here and there, and the East German judges are offering a score of 1.4 out of 10.
And their hope is that if they just keep flashing that score over and over, they can influence the other judges.
I've watched this like seven times now and I like it better every time. True, the first time around, I was worried that he wasn't going to come to his points. He was sometimes stammering and slow to get to his next killer line. But in each case, he did get 'round to that killer line -- in 2 seconds, rather than the professionally-preferred 0.8 seconds.
The liberals -- who are, they will be the first to tell you, all extremely funny and brilliant -- are all telling the same joke, that Clint Eastwood really thought he was talking to an Invisible Obama.
????
That's funny? That's funny, but "Joe Biden, Intellect of the Democratic Party, just a grin with a body behind it" isn't funny?
The Great Grazing Herd of Independent Minds as usual is all saying the exact same thing about this, and hoping that if they just keep saying it, over and over and over and over and over and over and over and over again, they'll shape public opinion.
The bit was solid. I wonder if these sissies have ever actually seen a Clint Eastwood movie before. This is his style -- sly, laconic, deadpan, wry. He's a famously dry actor, and a famously small actor, in terms of theatrics. There's an old joke which I just made up that the difference between Eastwood Raging and Eastwood Happy is what side of his mouth he moves his cheroot to.
So, this is Clint Eastwood. The same guy who's been delivering killer lines with the slightest arch of the eyebrow for 50 years. Except he's now that plus 50 years.
He killed. Deduct him a few points for rambling, if you will, but ignore the East German judges.
One funny thing: The media wants to sell this as a "fiasco" so they keep running clips of it. The clips they're running are... unfortunately for their thesis, his killer stuff.
Personally I'd edit this up and run it in ads. (Unless he's specifically forbidden that, which he probably has, so forget it.)
"Lawn" thanks to AliceH.
But Aren't We Spending Time "Defending" A Humorous Newhart-Bit? So says a commenter, embittered redleg.
I respond:
This is true, sort of? But keep in mind: In no conceivable world would the media NOT be attacking the Republicans today.

I'm not going to link it, but Politico found the SON of the old couple whose tearjerking story about romney's generosity made everyone cry. The big story was that he doesn't support Romney, and thinks he's greedy. And notes "I'm a union worker."

This son was not the son in the story, and in fact was just a child when Romney was helping his brother write his will.

But Politico had to offer push-back.

So when you say "The republicans have to defend Clint's speech" -- if Clint hadn't spoken, we'd be defending something else.

posted by Ace at
05:50 PM
|
Access Comments