« The Obligatory "Chris Matthews Thinks Everything Romney Says And Does Is Racist" Post
|
Main
|
ABCNews/WaPo Poll Has D+9 Skew, & Romney Ahead »
August 27, 2012
Tropical Storm Isaac, noon EDT (tmi3rd)
This post has been promoted by Drew M. in light of the impending landfall of Tropical Storm Isaac.

Good morning from the AoSHQ weather desk. We'll be updating these with time stamps because information will be updated every three hours at the NHC and NWS. The next one is due at 2 EDT. The next AoSHQ advisory on this will happen as the High Command decides it's necessary.

Important stuff: Tropical Storm Isaac is anticipated to make landfall (the center of circulation will hit land) sometime on Tuesday, probably somewhere between the mouth of the Mississippi River and Morgan City, LA. Maximum sustained winds are currently 65 mph, and its movement is northwest at 13 mph.

More beneath the fold...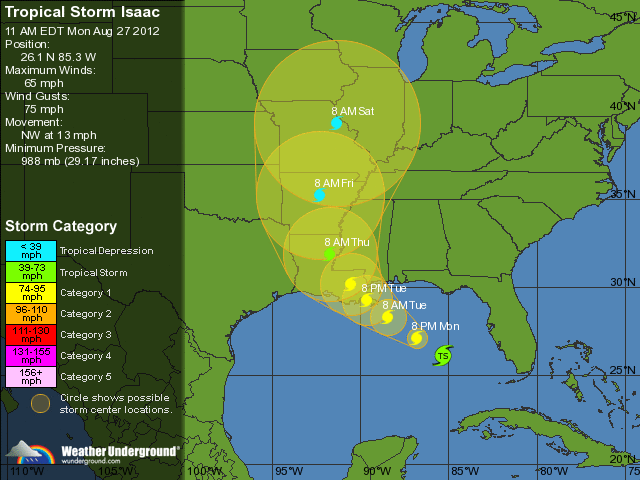 Two things that jump out about this: one, the storm didn't strengthen much overnight, which was something of a surprise. As of the morning advisory, the maximum sustained winds were 55 mph, and it's strengthened some today.

If it stays on its current course, it'll hit Barataria Bay, which is about ten or fifteen miles due south of the house I grew up in. Of course, when it hits land, it'll wobble a bit, so we'll see where it actually goes ashore.

The current thinking in terms of intensity is that it will top out at around 90 mph maximum sustained winds, which makes it a solid Category 1 hurricane. Storm surge effects will be highest on the northeast quadrant of the storm, which means if you're anywhere from Terrebonne Parish, LA east to the AL/FL border, you're looking at 6-12 feet higher water than normal. South central Louisiana is looking at 3-6 feet, as is the Florida panhandle.

Rainfall estimates, as are customary with any landfalling hurricane, are between 12-15 inches anywhere along the eastern side of the storm. It may not be that much, but be prepared for that possibility. Tornadoes are also a possibility anywhere along the northern Gulf Coast (usually EF-0 in intensity).

This kind of storm is almost an annual occurrence along the northern Gulf Coast, so take your usual precautions. If you're on the beach, you do need to finish your preparations swiftly. If you're heading inland, go now, please.

As ever, the greatest loss of life with any hurricane is usually inland flooding- just stay away from high water and don't do anything dumb.

Watches and warnings:

a Hurricane Warning is in effect for...
* east of Morgan City Louisiana to Destin Florida...including metropolitan New Orleans...Lake Pontchartrain...and Lake Maurepas


a Hurricane Watch is in effect for...

* Intracoastal City to Morgan City Louisiana


a Tropical Storm Warning is in effect for...

* east of Destin Florida to the Aucilla river

* Intracoastal City to Morgan City Louisiana


a tropical storm watch is in effect for...

* east of Sabine Pass to west of Intracoastal City Louisiana

If you need me, find me on Twitter at my handle. What we're hoping for, by the way, is that Isaac will make its way up into Oklahoma and Kansas and beat up on our drought.

Thanks for reading! I leave you with the current satellite shot of Isaac...

-tmi3rd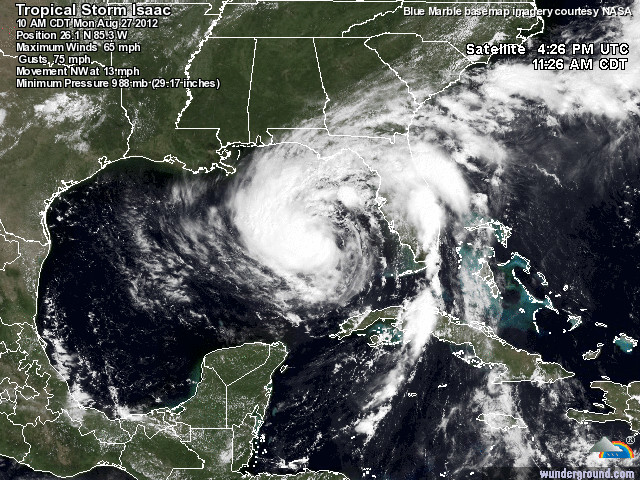 posted by Open Blogger at
12:41 PM
|
Access Comments