« That's No Moon -Gaming Thread!
|
Main
|
The Voters: Blame It On Bush »
August 26, 2012
Harry S. Goddanged Truman, Union Buster
On August 25, 1950 President Truman ordered the US Army to take control of the nation's railroads, in anticipation of a crippling railway strike. Two months after North Korea sent seven infantry divisions, 150 medium tanks, 200 aircraft, an armored brigade, a separate infantry regiment, a motorcycle regiment and another batch (brigade) of crazy Border Constables across the 38th parallel into South Korea and launched the Korean War.
Given the stakes, an entire Army mobilizing to move into the fight, Harry was in no mood to eff around.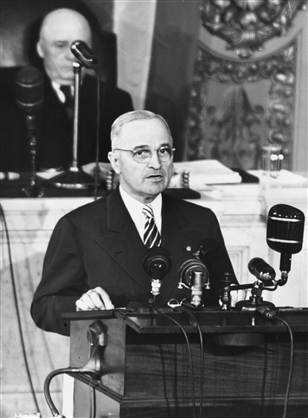 FYNQ
In a public statement that day, Truman insisted that "governmental seizure [of the railroads] is imperative" for the protection of American citizens as well as "essential to the national defense and security of the Nation." He used the same justification for seizing control of steel plants when the United Steel Workers union struck later in the year.
The three unions involved in the strike that came to pass, the Brotherhood of Railroad Trainmen, the Order of Railway Conductors and the Brotherhood of Locomotive Firemen and Enginemen eventually threw themselves into the war effort after 21 months of telling the nation to "please consider our important needs" while American troops fought and died in the field.
This is how it was, in 1950. They haven't changed their stripes at all. Sometimes we need a reminder that this recent unpleasantness between the country and unions didn't just spring up yesterday.
Harry Truman is not exactly a beloved former President by us conservatives, and I'm not giving him a pass on carrying FDR's domestic policies. But there was a time when Democrats were willing to take on the unions for the good of the country, and that's worth noting.
Also, thanks for smacking PATCO Ronnie. "We're on strike," "That's illegal, and you're all fired."
He knew the score.


posted by Dave In Texas at
02:32 PM
|
Access Comments