« Jobless Claims Rise So We're Probably Going To Have To Talk About Gun Control and Romney's Taxes and Gay Marriage All August
|
Main
|
"Purposeful," The New Dance Smash »
August 02, 2012
Making Its Triumpant Return: TOTUS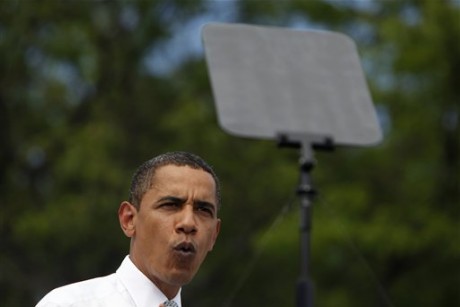 If you've become president, you didn't do that on your own. You didn't build that Teleprompter or program in that script. Someone else did that.
President Obama spoke to supporters in Florida this afternoon, but was careful to stick to his script, relying heavily on his teleprompters.

The president campaigned without teleprompters last month, when he made his controversial "you didn't build that" remark about business owners.
By the way, I named that picture "TeleprompterJones." Here's why: Racism.
See, I found the picture at Salon. I saw most of Salon's headline: "Is the right's obsession with Obama's teleprompter...."
That's all I saw.
I was pretty sure I could guess the final word.
Reaction: DNC, White House Press Corps celebrate the return of their Scroll-Text Savior:

posted by Ace at
04:10 PM
|
Access Comments