« DEA To TSA, ATF, GSA ... : Hey, We'd Like Some Attention Too!
|
Main
|
Top Headline Comments 7-31-12 »
July 30, 2012
Overnight Open Thread (7-30-2012)
The very fact that you're reading this means that you probably check out Ebay, Hulu, LinkedIn far more often than say reddit, Etsy, or Spottify. And note that users of Twitter, Amazon and Farmville are more GOP-leaning than you'd expect.
Meanwhile Buzzfeed Politics has veered so far left that we're gonna need a bigger chart and a third dimension to fully capture their dishonest hackery.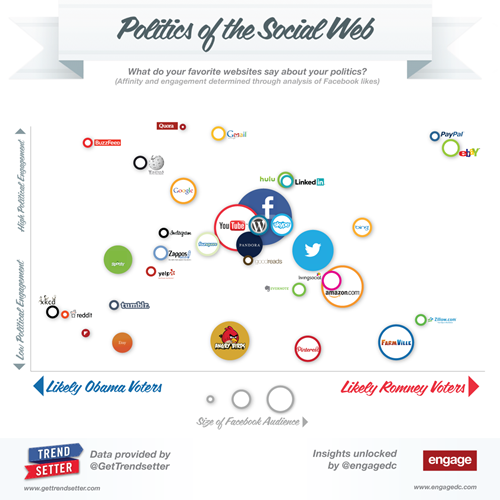 Related: Does Abstaining From Facebook Make You Suspicious?
Well it is true that 99.98% of all modern mass murderers and terrorists were
not
on the FB.
As examples they use Norwegian shooter Anders Breivik, who used myspace instead of facebook (or as they put it, "largely invisible on the web", haha @ myspace), and the newer Aurora shooter who used adultfriendfinder instead of facebook. So being social on any other website isn't good enough, it has to be specifically facebook that people are using.
Why a Government Mandated GPS Tracker on Your Car is Inevitable
There's been proposals to add GPS tracking to cars off and on the last few years but I always assumed that the privacy-invasion aspect alone would make this a non-starter.
But when it comes to maintaining revenue the government is relentless...
Still, I hate to be the one to break this to you but eventually your car is going to track you. The government will make you do it. But it's not going to be for the reasons you think.

The problem is this: cars are becoming ever more fuel efficient, and more and more people are using cars that don't burn gas.

One problem with that, from a governmental standpoint: gas taxes are how we pay for roads.

You can't just stuff all those taxes into the cost of buying a new car, either. The government makes nearly $200 million per day in gas taxes. Before you start ranting about big government: nearly all of that money goes to roads.

This leaves the feds in a quandary: as people buy less gas but drive the same amount, the money to keep those roads in usable shape has to come from somewhere. Sticking non-drivers with that cost isn't fair. Taxing vehicles isn't necessarily fair. GPS tracking is the fairest.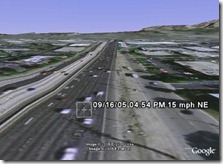 How one man destroyed the lives of his wife and children thanks to his faith in Marxism.
The BBC tells the melancholy story of Oh Kil-nam, a South Korean man who, convinced by his Marxist education that North Korea was a worker's paradise, decided to defect there with his wife and two children in 1986. Oh, who had just completed his PhD in Germany in Marxist economics and who "had been active in left-wing groups" had no reason to doubt the beckoning invitation of North Korean officials who promised him free health care and a government job, like certain other people you may know.

He chose poorly.
Shockingly North Korea was not the paradise they claimed and the starvation began shortly after arrival. Oh was also ordered to lure more gullible South Koreans to North Korea.
Damned herself, his wife did not want to damn others. So when Oh arrived in Copenhagen, he defected to the West. For Oh it meant going back to the place he left before.  But for his wife and two children it was a death sentence. He never saw them again.
Some things are so stupid and awful that it takes advanced study at elite universities to believe in them.
Fewer Fires, More Firefighters
Do we really need (or can afford) so many firefighters given that they rarely fight fires? Let's just hire more paramedics and train them in basic rescue skills.
Taxpayers are unlikely to support budget increases for fire departments if they see firemen lolling about the firehouse. So cities have created new, highly visible jobs for their firemen. The Wall Street Journal reported recently, "In Los Angeles, Chicago and Miami, for example, 90% of the emergency calls to firehouses are to accompany ambulances to the scene of auto accidents and other medical emergencies. Elsewhere, to keep their employees busy, fire departments have expanded into neighborhood beautification, gang intervention, substitute-teaching and other downtime pursuits." In the Illinois township where I live, the fire department drives its trucks to accompany all medical emergency vehicles, then directs traffic around the ambulance-a task which, however valuable, seemingly does not require a hook-and-ladder.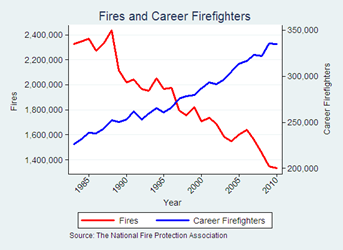 Humans Have Been Getting Jiggy With Non-humans Since Forever
Well given a choice between between Grognaar, the cave wife, and the semi-hawt, but sharp elbowed hominid across the river, why choose? It's not like they're gonna be comparing notes at the next clan meet-up or anything.
"DNA extracted from old Neanderthal bones proves that all people of European and Asian descent have a few percent of Neanderthal DNA inside them today, equivalent to the amount they inherited from each great-great-great-grandparent. In addition, scientists have discovered that Melanesians, the people who originally settled the islands between New Guinea and Fiji, seduced another archaic human race, the Denisovans, somewhere on the long haul from Africa to the south seas. The Melanesians still carry Denisovan DNA today. In some sense, then, neither Neanderthals nor Denisovans ever quite went extinct: Their DNA lives on in various non-African ethnic groups. . . . The study concluded that, about 35,000 years ago, some central Africans had children with an unnamed and now-extinct race of hominids. Like Europeans and Asians before them, these people couldn't resist the temptations of nonhuman lovers. As scientists continue to probe the human genome, they'll likely find even more examples of interbreeding in our past. The DNA memories of those deeds are buried deeper inside us than even our ids, but it seems that all peoples, everywhere, enjoyed cross-species love."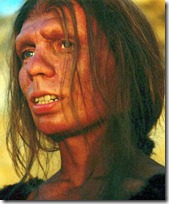 Why Do So Many Arab Leaders Wear Mustaches?
Short Answer: In the middle east facial hair = politics and plus it's a condition of the Arabic ManCard
Even outside the ranks of government officials, many Arab men are raised to see the mustache as a sign of manhood. Because of the pride attached to its presence, the mustache has been a prime political target, and shaving off an opponent's mustache is not unheard of. In 2003, an aide to Saddam Hussein insulted Kuwait's minister of state when he exclaimed, "Curse be upon your mustache!"

...While facial hair is not a blanket statement of one's politics in the Arab world, it can give an indication: Many Islamists don beards, Baathists are often seen with mustaches, and liberals tend to forgo facial hair altogether.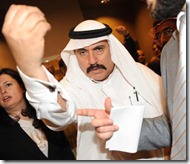 Top Commenter Stats (delayed from Sunday)
Top 10 commenters:
1 [324 comments] 'Billy Bob, pseudo-intellectual' [45.48 posts/day]
2 [312 comments] 'steevy'
3 [305 comments] 'Oldsailors Poet, Team Dagny'
4 [298 comments] 'Nevergiveup'
5 [276 comments] 'Jane D'oh'
6 [272 comments] 'Vic'
7 [267 comments] 'AllenG (Dedicated Tenther) Channelling Breitbart'
8 [259 comments] '@PurpAv'
9 [243 comments] 'toby928?'
10 [226 comments] 'Christopher Taylor'
Top 10 sockpuppeteers:
1 [68 names] 'from a female perspective' [9.55 unique names/day]
2 [58 names] 'Billy Bob, pseudo-intellectual'
3 [56 names] 'Cicero'
4 [46 names] 'Romeo13'
5 [33 names] 'Doctor Fish'
6 [31 names] 'toby928?'
7 [31 names] 'kbdabear'
8 [29 names] 'logprof'
9 [27 names] 'Mallamutt, RINO President for Life'
10 [25 names] 'andycanuck'
Teh Tweet!
Yahoo group. That is all.
Tonight's post brought to you by Catwomen: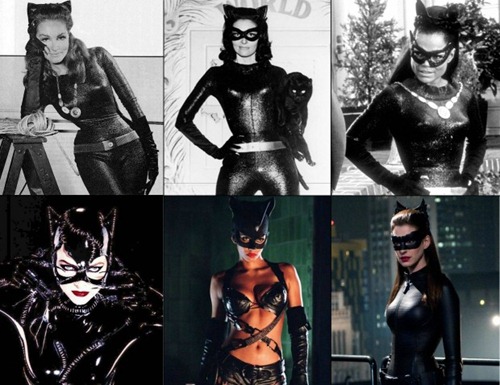 Notice: Posted by permission of AceCorp LLC. Please e-mail overnight open thread tips to maetenloch at gmail. Otherwise send tips to Ace.

posted by Maetenloch at
10:03 PM
|
Access Comments