« Big Gulp: Scott Brown Snags Key Michael Bloomberg Endorsement (JWF)
|
Main
|
Hey there, Britain! »
July 26, 2012
Overnight Open Thread
I'm not sure what you guys did to get punished with me doing tonight's thread but I hope it was worth it.
First up....spiders. Lots of spiders. Lots and lots of poisonous spiders.
Dylan Baumann said he began finding the brown recluse spiders in his Omaha home four months ago. And they're everywhere, "in the entryway, the bedroom, under the fridge."

He's counted 40 spiders so far — but he hasn't yet been bitten by the venomous arachnid.

Baumann said he contacted his landlord, who has called an exterminator "about five times."

...

"People say 'why don't you move,' but they could be inside my stuff, inside my couch. I'll try to go through everything with a fine tooth comb, but you can't catch everything."

Meantime, he is shaking out his shoes and clothes before putting them on and has moved his bed away from the wall. His landlord, who he said has been very supportive, will move him into a new unit in the building in August.

"It could be worse," Baumann said. "There was a house in Kansas City with 2,000 brown recluse," he said.
Turns out if he gets bit he doesn't get cool superpowers or a hot redheaded girl friend, he just gets...dead.
The Canadian Mounties always get there man, even if he's going 180mph on a motorcycle.
A motorcyclist turned himself into Canadian police earlier this week, after a video that seems to show him traveling at speeds up to 186 mph on a highway in British Columbia went viral.

Randy George Scott, 25, surrendered to authorities at the Kelowna, B.C., police department on Tuesday. Canadian law enforcement had issued a warrant for Scott's arrest earlier this month.

"The man allegedly responsible for the infamous YouTube video 'Victoria Highway Run 299km' is in custody," Kelowna police said in a statement. Scott was charged with reckless driving. The speed limit on the stretch of the the Trans-Canada Highway where Scott was allegedly speeding is 50 mph.

The video shot from a camera mounted on the bike--which appears to show Scott weaving in and out of cars near Saanich, Vancouver Island--has racked up more than 1 million views since being uploaded to YouTube in April.
I don't know much about doing illegal things but I'd think Rule Number 1 would be, don't post yourself committing a crime on YouTube. YMMV.
The "don't try this at home" video beneath the fold.
Kind of stupid, eh?
Things you probably didn't know about the recently deceased Sherman Hemsley of "The Jeffersons" fame.
He loved 70's progressive rock, even cutting an unreleased album with Jon Anderson of Yes. He was so much a fan of a band called Gong that he got in touch with a guy from the group called Daevid Allen. That's when things...got weird.
Inside the front door of Sherman's house was a sign saying, 'Don't answer the door because it might be the man.' There were two Puerto Ricans that had a LSD laboratory in his basement, so they were really paranoid. They also had little crack/freebase depots on every floor. Then Sherman says, 'Come on upstairs and I'll show you the Flying Teapot room.' Sherman was very sweet but was surrounded by these really crazy people.

We went up to the top floor and there was this big room with darkened windows and "Flying Teapot" is playing on a tape loop over and over again. There were also three really dumb-looking, very voluptuous Southern gals stoned and wobbling around naked. They were obviously there for the guys to play around with.
Movin' on up indeed.
Meanwhile, at this year's Iowa State Fair....
Old and Busted: Deep fried butter.
New Hotness: Double Bacon Corndogs (aka, The Cardiologist Full Employment Act)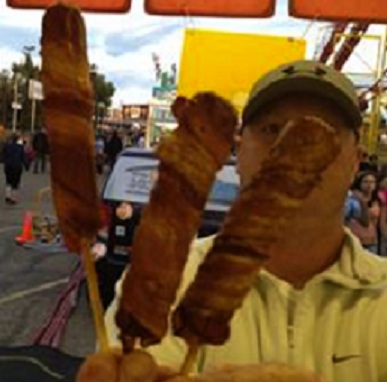 That's more than enough stuff. Besides, you're not actually going to talk about any of it anyway.
Oh and my understanding is if you guys misbehave again the next step in punishment is a weeks worth of ONT's featuring nothing but Jack M. "Epic Poems". You old timers can explain that to the newbies.
You've been warned!

posted by DrewM. at
09:56 PM
|
Access Comments