« Study: Obama And Democrats Proposed Tax Hikes Would Cost 700,000 Jobs And Cut Economic Growth
|
Main
|
LA Times Claims Romney Speech Hitting Obama on "You Didn't Build That," and Discussing American Capitalism, Somehow "Invokes Birtherism" »
July 18, 2012
Operation Husky, July 9 to August 17 1943
The Sicily Campaign. Half a million Allied soldiers, sailors and airmen took on Hitler's Fortress Europe, and carved away the first piece from the Axis powers, almost a year before the D-Day invasion of Normandy.
The airborne attacks of July 9-10 were catastrophic, 23 of 144 Allied planes shot down by nervous friendly fire. Pathfinders were unable to find their marking zones. Most British gliders crashed into the sea, only 12 managed to make it to their landing zones. Allied forces were scattered along southern Sicily from Gela in the west to Syracuse. Despite these setbacks, airborne forces were able to gather up, and disrupt the enemy behind the lines, planting fear and panic.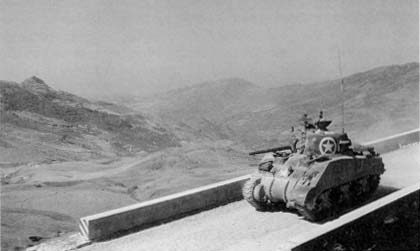 The campaign was the first assault against entrenched and powerful German forces since North Africa, made famous not only for its military struggles but also the famous military/political struggle between Patton's 7th Army and Montgomery's 8th to gain supremacy within Allied command. A small footnote, the loss of Sicily also resulted in the first crack within the Italian government as Mussolini was thrown from power.
A fairly thorough description of the entire campaign is here.
Sixty nine years ago today, halfway through the first major campaign against the Nazis in Europe. The Allies suffered heavier casualties in this battle, but began the first of many lethal blows against the enemy in Europe.

posted by Dave In Texas at
11:00 AM
|
Access Comments