« Lanny Davis to Morgan Fairchild: Hey, Now That I'm DMing You, We're Completely Alone and In Private
|
Main
|
Top Headline Comments 7-10-12 »
July 09, 2012
Overnight Open Thread (7-9-2012)
Fat Is Officially Incurable (According to Science)
Yep that's the bad news:
Here's a much larger analysis of every long-term weight loss study they could find. They all find the exact same thing: You can lose and keep off some minor amount, 10 or 15 pounds, for the rest of your life -- it's hard, but it can be done. Rarer cases may keep off a little more. But no one goes from actually fat to actually thin and stays thin permanently.
Well except for a few lucky freaks who do maintain major weight loss. And how rare are these people? Pretty freakin' rare:
Well, this person did the math, and as far as they could tell, two out of 1,000 Weight Watchers customers actually maintain large weight losses permanently. Two out of a thousand. That means if you are fat, you are 25 times more likely to survive getting shot in the head than to stop being fat.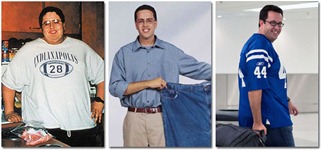 But, but, but what if I cut out processed and junk food, avoid corn syrup, work out, stop watching TV or drinking alcohol, stay active, and basically live like the Amish do - I'll be thin then right??
Nope - it turns out that even the Amish who do all the 'right' things lifestyle-wise still get fat:
Among the Old Order Amish, the adult women had an average BMI of 27.8 - about 162 pounds for a 5'-4" woman - and the men had average BMIs of 25.7 - about 180 pounds for a 5'-10" man. "The prevalence of overweight and obesity in [Amish] men was 54.0% and 10.1%, respectively, and in [Amish] women was 63.7% and 30.5%, respectively." They are not thinner than the rest of country, despite untold amounts of physical activity and healthy living.
And it turns out that all that physical labor that they're famous for has a relatively small effect on weight:
for a man of average Old Order Amish height and BMI, working out 16 hours versus 12 hours a day would equate to about a 15 pounds difference; and for a woman, working out 14 versus 10 hours a day would correlate with a whole 12 pounds difference in body weight. These nominal weight differences would still not transform someone naturally obese into someone thin.
Okay, but they get sick just like regular American slobs too right? Nope:
The Amish don't diet and the ideal of slimness is foreign to them, according to the German researcher. Stoutness and robustness is considered an asset for hard field work among the men and childbearing for the women. Yet, the Amish have lower rates of heart disease and rates of type 2 diabetes that are only about half that of the general American population.
So they're heavy but not necessarily unhealthy.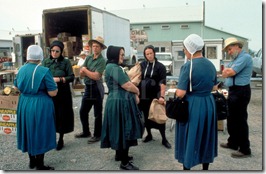 The goal here is not to depress you but to point out that losing and keeping off a lot of weight permanently is really, really hard. And since genes and biology are involved, there's likely no magic diet or behavior bullet that will ever change this. So if you're kinda big, odds are that you'll never become a long-term thin person - but you can be a thinner and healthier version of you.
How ObamaTaxCare Will Really Work
Even after passing it  no one really knows exactly what's in it. But here Veronique de Rugy breaks down some of the nitty-gritty to give you an idea of how it'll work.
The penalty/tax will be phased in from 2014 to 2016.
The minimum penalty/tax in 2016 will be $695 per person and up to 3-times that per family.
After 2016, these amounts will increase at the rate of inflation.
The minimum penalty/tax per person will start at $95 in 2014 (and then increase through 2016)
No family will ever pay more than 3X the per-person penalty, regardless of how many people are in the family.
The $695 per-person penalty is only for those who make between $9,500 and ~$37,000 per year. If you make less than ~$9.500, you're exempt. If you make more than ~$37,000, your penalty is calculated by the following formula.
The penalty is 2.5% of any household income above the level at which you are required to file a tax return. That level is currently $9,500 per person and $19,000 per couple. The penalty on any income above that is 2.5%. So the penalty can get expensive quickly if you make a lot of money.
However, the penalty can never be more than the cost of a "Bronze" heath insurance plan purchased through one of the state "exchanges" that will be created as part of Obamacare. The CBO estimates that these policies will cost $4,500-$5,000 per person and $12,000-$12,500 per family in 2016, with the costs rising thereafter.
And here's how much will be coming out of your pocket:
Less than $9,500 income = $0
$9,500 - $37,000 income = $695
$50,000 income = $1,000
$75,000 income = $1,600
$100,000 income = $2,250
$125,000 income = $2,900
$150,000 income = $3,500
$175,000 income = $4,100
$200,000 income = $4,700
Over $200,000 = The cost of a "bronze" health-insurance plan.
And if this seems rather regressive to you, you're correct:
Even a quick look makes it clear that 75% of the taxes to be paid will be paid by those making $120,000 or less.  That, my friends is a middle class tax increase of epic proportions- something this president promised wouldn't happen on his watch.
Keith Olbermann's High School Yearbook Page
Apparently he was already called to hackdom even then.
"Journalists say a thing they know isn't true, in the hope that if they say it long enough it will be true."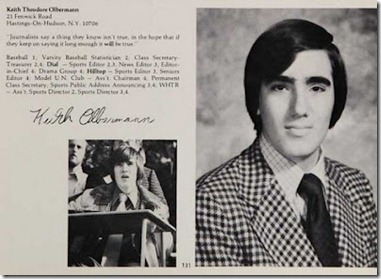 The Return of Debtor's Prisons
Debtor's Prisons are supposed to be illegal in the US but with many cities and towns desperate for revenue they're making a de facto comeback.
Even minor offenses now come with many fees and charges tacked on whether or not you're convicted with failure (or inability) to pay leading to escalating fees (with high interest rates), penalties and even jail time. And of course you'll be charged for your jail time too.
Three years ago, Gina Ray, who is now 31 and unemployed, was fined $179 for speeding. She failed to show up at court (she says the ticket bore the wrong date), so her license was revoked.

When she was next pulled over, she was, of course, driving without a license. By then her fees added up to more than $1,500. Unable to pay, she was handed over to a private probation company and jailed - charged an additional fee for each day behind bars.

For that driving offense, Ms. Ray has been locked up three times for a total of 40 days and owes $3,170, much of it to the probation company.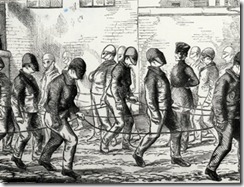 The KA-BAR knife became famous during WWII but Union Cutlery was making knives long before then.
Of course you do:
A business named Drive-a-Tank offers drivers the chance to pilot surplus military tanks and other armored vehicles around an old limestone quarry and smash junk cars like an action movie hero.

The ride is loud, grinding, hot and dirty - ideal for satisfying one's inner Rambo.

...A basic package that includes driving a tank and shooting a machine gun costs $399, with more expensive options for driving several models and shooting other weapons such as assault rifles. Drivers who want to smash a car pay an additional $549; for about $3,500, a customer can drive a tank through a trailer house.
And for those playing double-post bingo this also appeared on the sidebar so it counts.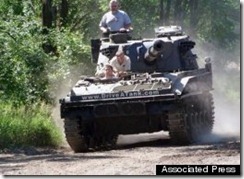 One of the Mothra Twins Has Died
Sad news - Emi Ito, one of the two fairies that sang lullabies to summon Mothra, has died at the age of 71.
The identical twins were perhaps the most memorable human characters in the Godzilla series, and Emi and Yumi Ito were the two actresses who played the roles. They recorded hit albums in Japan going by the name "The Peanuts" and were one of that country's first pop sensations, one of the few that became well known internationally.

...In 1961, they achieved international immortality when they appeared in the movie MOTHRA as fairies, or pixies, called "shobijin" (small beauties) who had telepathic communication with Mothra, giving The Peanuts a somewhat supernatural aura.
Even now there's something still mesmerizing about the Mothra song.
The Yahoo AoSHQ group. Bla bla bla.
And don't forget about the Job Bank.
And my twitter thang.
Tonight's post brought to you by Miro: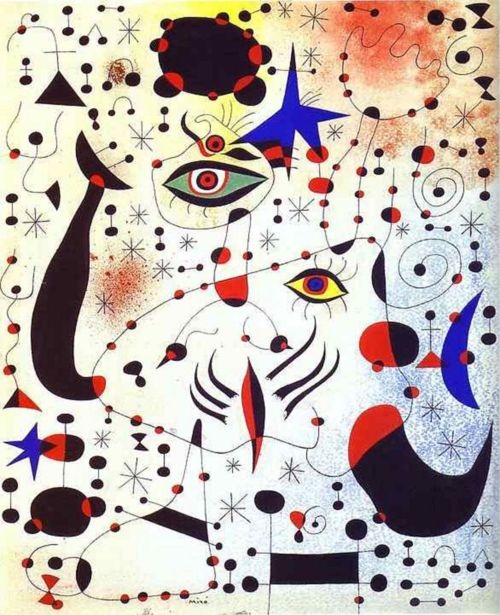 Notice: Posted by permission of AceCorp LLC. Please e-mail overnight open thread tips to maetenloch at gmail. Otherwise send tips to Ace.

posted by Maetenloch at
09:55 PM
|
Access Comments