« Open Thread and Cheese
|
Main
|
Overnight Open Thread (7-1-2012) »
July 01, 2012
July 1, 1898, Near Santiago, Cuba
The Battle of San Juan Hill. One hundred and fourteen years ago today.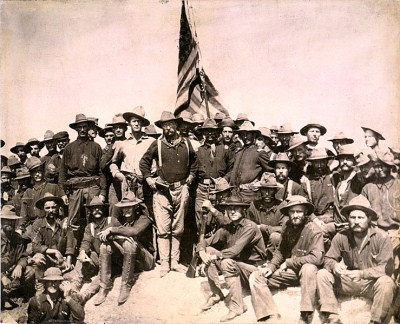 The decisive battle of the Spanish-American War, but a costly one. And one that showed how armament technology can make the difference. The American forces carried inferior Krag-Jørgensen* .30 bolt action rifles, and outmoded artillery pieces that could not reach Spanish positions.
The Spaniards were armed with 7 mm Mauser M1893 rifles which were much more effective. And as a result, owning the heights with superior firepower, a Spanish force of less than a thousand men held off a US and Cuban assault of almost 20,000.
Theodore Roosevelt commanded the First United States Volunteer Cavalry, the "Rough Riders". Initially not part of the tactical battle plan, intended to be used as a diversionary force they instead found themselves in the middle of the battle, and realizing their fire could not knock the enemy from position, instead charged Kettle Hill, supported by three Gatling guns.
The Gatlings suppressed a Spanish counter-attack. And the American Army had a hero and a reason to ditch the Krag. The Springfield 1903 would be the American infantryman's rifle until WWII and the M-1 Garand.
The Marines were skeptical. They loved the Springfield that much.
* Using authentic slash through the letter O because a Møøse once bit my sister...

posted by Dave In Texas at
05:18 PM
|
Access Comments