« Overnight Open Thread (6-24-2012)
|
Main
|
Top Headline Comments 6-25-12 »
June 24, 2012
Tropical Storm Debby (tmi3rd)
Good evening, Morons and Moronettes. I'm tmi3rd, and tonight, we take a moment to try to make some sense of the very uncooperative Tropical Storm Debby. Thanks to Maetenloch for letting me jump in so soon after posting the ONT. Thanks, bro.

As of 7 PM CDT, Tropical Storm Debby was nearly stationary about 115 miles south-southwest of Apalachicola, FL, or 195 miles east-southeast of the mouth of the Mississippi River. Top sustained winds are 60 miles per hour, and the minimum central pressure was 990 millibars, or 29.23 inches. A Tropical Storm Warning is in effect from the Mississippi/Alabama border east to the Suwanee River in Florida. A Tornado Watch is in effect over the majority of the west coast of the Florida peninsula

Discussion below the fold...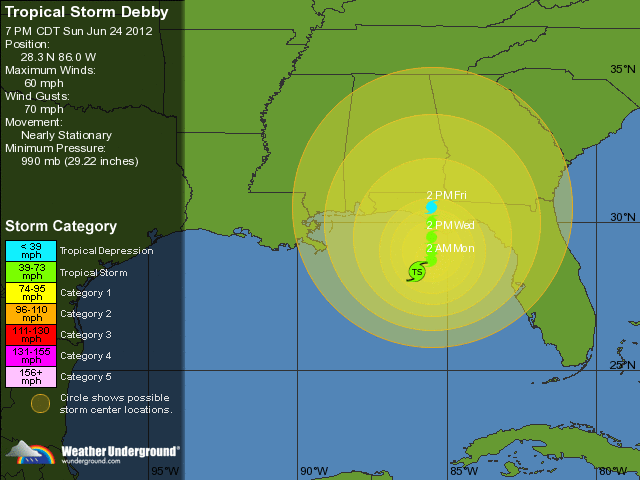 Image via www.wunderground.com, http://www.wunderground.com/tropical/tracking/at201204_5day.html

Because Debby is so large and so poorly-defined, it's been a real pain to forecast with any confidence where the storm will go. Nonetheless, because it's comparatively close to land, its main effects will be flooding rains in the the Florida Panhandle and west-central Florida. Also, seas are 4-6 feet in Apalachee Bay and Waccassa Bay, and as high as 1-3 feet all the way over to the Louisiana coast. This means that crews are pulled off of oil rigs, so you may see an increase in gas prices for a few days.

So what's so messy about the forecast of this storm? Well, there are a few major elements in play in terms of where it's going to go and how fast the center of circulation will get there. First of all, there's a strong upper-level ridge of high pressure over the Central Plains, and a surface-level high is building and pushing south. One of the models shows a low pressure trough building over the East Coast, which would pull the storm north and east. However, that would be an awfully quick development, so the National Hurricane Center doesn't appear to be biting on that solution at the moment.

A somewhat more plausible solution has the surface high working its way south and blocking motion of the storm, allowing it to meander around until the high pressure over the Central Plains begins to weaken and push off to the east. If that happens, the storm may take a slight northwestward jog. However, by then, one could reasonably expect that it'll be on land, and just be a big rainmaker.

So what?

Well, first of all, the good news is that you probably won't see Debby strengthen into a hurricane. It'd need a lot more room to spin up and get organized, and tropical storms don't like interacting with land. The bad part of that is that places from Tampa to Apalachicola may be looking at anywhere from ten to fifteen inches of rain over the next several days while the storm makes up its mind where to go.

Nobody in the forecasting business is terribly confident in where this storm will wind up. For the moment, if you're anywhere from Pensacola to Tampa, be ready for lots of rain and coastal flooding. If you're on the west coast of Florida, some of those bands of thunderstorms could spin up a small tornado or two. I'm seeing reports of tornadoes all the way down towards Miami, so just keep an eye out.

Once Debby is inland, if you're in eastern Alabama, Georgia, and the Carolinas, be ready for some heavy rain towards the end of this week. More people die from inland flooding than any other element of tropical storms.

I'd love to give you more specifics of inland flooding, but I'm definitely no hydrologist (Mrs. tmi3rd is a meteorologist), so I'm going to stick to what I know.

I'll be floating around until about 11 PM CDT, and you can always find me on Twitter at my handle if you've got any questions or anything I can help you with. In the meantime, stay safe- we've got a heat wave going on in the Midwest, and tropical weather in the Southeast... must be summer!

-tmi3rd

posted by Open Blogger at
10:31 PM
|
Access Comments