« Racist Republicans Once Again Disrespect America's First Black President
|
Main
|
Overnight open Thread (6-20-2012) »
June 20, 2012
Obama: Clearly, we need to hold more fundraisers
In the red, or hitting the panic button?
President Barack Obama's campaign spent more than it took in over the month of May despite his frenetic fundraising schedule, leaving the massive operation with just shy of $110 million dollars cash on hand against $115 million one month earlier.

The embattled incumbent scooped up a hair over $39 million dollars but spent nearly $44.6 million, according to a formal filing with the Federal Election Commission. A more detailed breakdown can be found here.
As
JammieWF notes, the campaign that wildly outspent the GOP in 2008 is using this
as an opportunity to play the victim card and whine about conservative Super PACs again: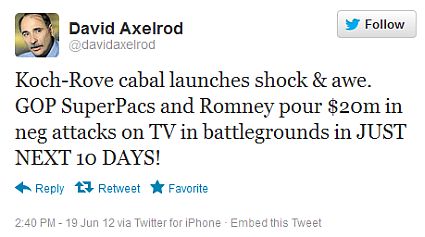 This is bad because conservative Super PAC money is a threat to democracy! Negative ads should never be paid for by third-party donors with legal donations. Democracy can only survive when negative ads are purchased with unverified credit card donations, some of which may have illegally come from non-citizens.
Aside from enjoying the schadenbonery goodness of this, there are two things we can take away from the story: 1) Obama is now having to build and maintain a large paid network this year, meaning he's spending money for people to do work that was done willingly by enthusiastic volunteers four years ago and 2) The Obama campaign is much more worried about fundraising than they're letting on and feel the need to instill some panic into their donor base this early. Either way, this news and the Obama campaign response is another sign that this isn't 2008 and Mitt Romney is no John McCain.

posted by Slublog at
09:40 PM
|
Access Comments