« Holder: Hey, How About I Turn Over A Few Emails?
|
Main
|
Top Headline Comments 6-15-12 »
June 14, 2012
Overnight Open Thread (6-14-2012)
Then the US Army (Happy Birthday BTW) wants you...to help test out their less-than-lethal weapons:
That's right, if you are over 18 and live in the greater New Jersey area, you too can get $20/hour to be whacked with batons and shot with rubber balls! The testing takes place in a non-descript one-story building, known as the Target Behavioral Response Laboratory, located a few miles from Picatinny Arsenal, the Army's research and development center.

...To that end, the Army actively recruits volunteers from local colleges and libraries to pretend to be part of an angry mob, paying them $20 an hour with the small chance of permanent injury (though all tests are supervised by the Picatinny's Institutional Review Board).
On the plus side you do get bonuses based on how many rocks you can toss through the guards.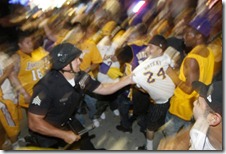 Yep the Shiba Inu Puppy Cam is back with a fresh new batch of puppies to keep you entertained and take care of that pesky too-much-free-time problem.
Egypt: Yeah We're Done With That Tourism Thing
Despite accounting for at least 12% of their jobs and economy. Possible replacements include coups, camels, and sharia and sharia accessories.
Michael Totten has declared Egypt a no-go area for women due to routine sexual assaults there:
I've heard one extreme sexual harassment horror story after another from women I know who have visited Cairo. I don't personally know anyone who has been sexually assaulted in Egypt, but from my informal survey of female travelers there it appears the likelihood of a foreign woman experiencing extreme harassment approaches 100 percent.
I have no idea why this is such a huge problem in Egypt. It's not because Egypt is Arab or Muslim or Middle Eastern. Lebanon isn't like this. I understand Syria isn't either, though I'm less certain.

...The stories I've heard from women in Egypt, however, involve harassment that is aggressive, physical, and sometimes terrifying. I will never take my wife to Egypt. Never.
Meanwhile the Egyptian government itself is now running ads that discourage Egyptians from having anything to do with foreigners - otherwise they might possibly hear local complaints and learn precious souq secrets.
"Liberals are sure they're in the reality-based community and anyone who disagrees with them either has a bad brain, or in some other way rejects empiricism and science, and they are the only ones working with the building blocks of facts and reason," says National Review's Jonah Goldberg, author of the new book, The Tyranny of Cliches: How Liberals Cheat in the War of Ideas.

"And I call bullshit on that.
Speaking cliches != thinking and in fact inhibits actual real thought.
The World's Worst Password Requirements List
This one is from the Attorney General of Texas Child Support website. Any password policy this complicated is just asking for people to come up with some kind of guessable system so they can possibly log back in without having to go look it up. Too bad the AG's office doesn't read XKCD.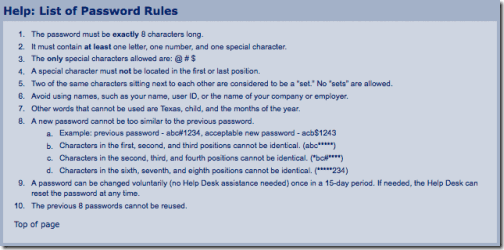 10 Great Science Fiction Books for People Who Don't Read Sci-Fi
Sadly I've only read three of these but then I'm probably the anti-target for this list. But here's one that's a true classic and deserves more recognition outside the sci-fi ghetto.
The Stars My Destination, Alfred Bester

If you are a staunch reader of the classics and only the classics, you may have to bend your rules for this one - an excellent sci-fi retelling of Alexandre Dumas' The Count of Monte Cristo, and an early anticipator of the cyberpunk genre. It's an epic, blood-pumping adventure, furious and darkly comic, and it will probably make you dream of jumping wherever you want to go on a moment's notice. Plus, though written in the '50s, it still winds up on just about everyone's top 10 list of sci-fi anything, so you'll garner yourself a little bit of geek cred in the process.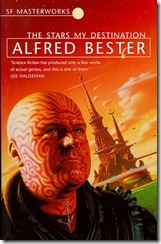 Oh Noes: House Hunters Is Fake?!
Well that's bummer since House Hunters and House Hunters International are quite popular in the old Maetenloch homestead.  There's no joy quite like judging complete strangers on their decisions, wardrobes, hairstyles, speaking styles and personalities  - especially when they're 27 years old and declare a 3300 sq ft house to be way too small for their needs, a new kitchen from 2006 to be 'dated', and have yet to find a house they like despite viewing 100+ homes.
Now I always figured that the producers did punch story lines up for a bit more drama, but I had no idea the entire premise was fake:
The premise of 'House Hunters' is that viewers follow a buyer as they anxiously decide between three different houses. Jensen says that, in fact, one house has already been purchased--the producers wouldn't even finalize her as a subject until after the closing. "When I watch other episodes of the show now I can usually pick out the house they were getting based on hair-dos alone," says Jensen. Houses are sometimes shot months apart. While the two rejected properties may be on the market, in Jensen's case, "They were just our two friends' houses who were nice enough to madly clean for days in preparation for the cameras!"

A former subject of the spin-off "House Hunters International" confirms that one house on the program has already been bought before filming begins.
Well I guess we can still judge - but now with only a third of the usual self-congratulation.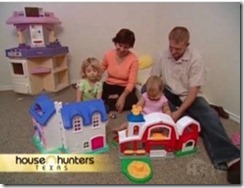 Fuckin' erections, how do they work? And calling them boners is more true than you know.
Yahoo group. That is all.
And my Twitter spew.
Tonight's post brought to you by rocky hard places: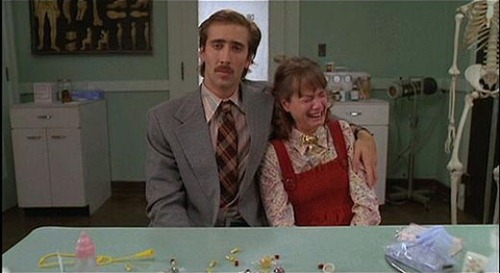 Notice: Posted by permission of AceCorp LLC. Please e-mail overnight open thread tips to maetenloch at gmail. Otherwise send tips to Ace.

posted by Maetenloch at
09:50 PM
|
Access Comments