« A Brief Look at the "Blue Wall" and the Cracks Therein
|
Main
|
The Public Sector Has, In Fact, Lost Jobs. But Does Obama Understand Why? »
June 12, 2012
Obama Losing Black, Jewish, White, Young Support; Falls Behind Romney In North Carolina
Barack Obama won North Carolina in 2008, and there's no plausible way the GOP wins if even North Carolina won't come back to the GOP column. I think we just have to assume this one (if we don't have this one, there's little point in speculating about other states), but at least Kos pollster PPP finds Romeny with a small 2 point lead, 48-46.
The eyebrow-raising finding is that while Obama won African-Americans 95-5 in NC in 2008, the new poll finds him winning... 76-20, with 4% undecided.
Although doubtful folks can reasonably doubt this dubious finding, it reminded me of what some idiot said recently.
GQ: The election is coming up. You've been a big supporter of Barack. Why do you think so many people are so critical of him?

Spike Lee: I can't say to all the people that are unhappy with him that they're racist people. People ain't got jobs, people are hurting. So I don't care what color you are, if people are out of work, it's tough.
Sometimes the wisest words come from the most stupidest of people.
Of course, Dr. Racewar goes on to say...
And then when you're the first African American president, that's not helping either.
I'd say that's about the only thing that is helping. Obama's now a failure, and can no longer speak hopefully of the future or even his policies, but he's still black. (Half.) Point is, that's the one variable that hasn't shifted against him.
Another suspicious auspicious finding comes from a Sienna poll (linked above, in Allah's post), finding, in New York...
The poll [of New York State], conducted by Siena College, finds that currently President Obama has the support of 51 percent of Jewish voters, while 43 percent are opposed to him. Five percent are undecided. That means, Obama's lead among Jewish voters is at 8 percentage points.
Could that be true?
So we have two almost-impossible polls. Almost impossible. And while hard to believe, the both point at the same thing: A long-predicted tipping point.
And whites too. This is the most important racial group, because 3/4ths of the US is white; a small decline in the white vote can doom a presidential bid, and smaller minority groups would have to turn out a great deal more than even in 2008 to even partly make up for such a decline.
Or, as Gallup says:
Even if Obama were to regain his 2008 level of support among blacks and improve his support somewhat among Hispanics, he could still lose if his support among whites slips any further. By the same token, even a slight increase in whites' support could secure his re-election.
Obama's down with all sectors of white voters -- if you divide them by education, age, income, and religion, he's down with all subcategories. Surprised Allah failed to note that among the non-religious/atheist, his support is down 10 points, 71 to 61.
The important swing group of low-income whites, which voted 51% for Obama in 2008, now only support him at the 42% level.
The only bright spot for Obama, it turns out, is Hispanics, who continue supporting him at his crushing 2008 advantage.
I was going to save this, and really think I should save this, but since I haven't posted in hours, and now come at you with another polling post that isn't anything more than what's on Drudge, I'll throw this up there.
From MegaIndependent: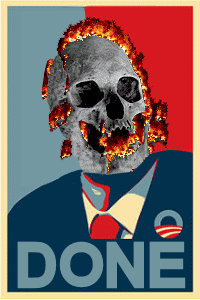 posted by Ace at
07:18 PM
|
Access Comments