« Party Like It's 1969: After Horrific Jobs Report, Obama Parties With (Brace Yourself) Former 60s Radicals
|
Main
|
Romney Wins Critical Endorsement »
June 01, 2012
Sat. Nite Chess Thread 06-02-2012: Fri. Nite Edition [OregonMuse]
Greetings to all the AoSHQ chess nerds, and you know who you are. I'm going to be away from the computer pretty much all day tomorrow, so I'm putting this week's chess thread up a day early.
More on the CN 7643 endgame problem
Last week, I put up an endgame problem that was driving me nuts, which I didn't know the answer to. And it stimulated a good discussion in the comments, which I found very gratifying. Thanks to you all, I think we now have a pretty good idea of the solution, and it's a win for White.
Here is the problem: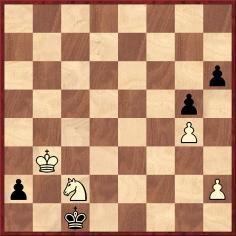 White to move
In these types of problems, I always start out by asking, what can Black do to f@*! White up? Well, Black only has one real threat, which is his advanced a-pawn. His strategic goal is to bring his King over and capture the White pawns. In order to do this, he needs to figure out how to leverage his main threat to tie White up in defense so the Black King has time to make a break for it over to the other side of the board.
For White's part, he needs to not get too far behind Black's march to the king-side, and also, he cannot afford to part with the Knight. If, for example, he trades Knight for pawn, he's dead, as Black has now got the drop on him over on the King-side.
The position starts out with Black pretty much in zugzwang, which White can exploit
1. h3 Kd2
Black really doesn't need to go to b1 to defend the pawn, as some commenters have suggested. White really can't take the pawn, at least not yet. If Kxa2, then Kxc2 and Black now goes over and scoops up the pawns.
2. Kb2 Kd3
This pretty much nullifies Black's queening threat. The King can stay on b2 for a time while White uses his Knight to duel with the enemy King.
3. Nb4+ Ke4 4. Nc6 Kf3 5. Nd4+ Kg3 6. Nf5+ Kxh3 7. Nxh6 Kg3
It's pretty much over at this point. White can now take the a-pawn and then join the fray on the other side of the board. If Black tries to manoeuver his King around to attack the Knight, it can go to f5. A typical continuation might be:
8. Kxa2 Kf4 9. Kb3 Ke5 10. Kb2 Kf6 11. Kc3 Kg6 12. Nf5 Kf6 13. Kd4 Ke6 14.
Ng7+ Kf6 15. Nh5+ Ke6 16. Ke4 Kf7 17. Kf5 etc.
Thanks to moron commenters Philip, DJ, rtw, TSgt Ciz, MFG, CAL and others for providing analysis.
Commenter MFG had an interesting idea, inspired by one of his correcspondence games:
1. Na1 Kb1 2. Kc3! Kxa1 3. Kc2 h5 4. gxh5 g4 5. h6 g3 6. h7 gxh2 h8B mate
Very clever, but I think Black can avoid it by not taking the Knight. Instead, his second move should be Kc1 and now it's unclear how White can make any progress in this new direction without having it morph back into the main line.
What a fun problem. Again, thanks to Edward Winter's excellent Chess History site for it.
Another tricky endgame
Rook and pawn endgames are always complex and ripe for discussion. This particular one is from the 1st issue of Chess, a British magazine published in 1935. It's not the BCM, I believe.
Thomas (Black)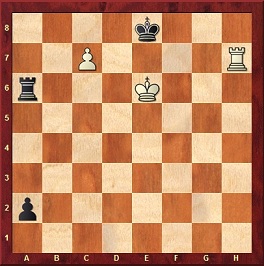 Bogoljubov (White)
The magazine text reads: "Bogoljubov gave this up as a draw. Actually, he could have won. How?"
Game of the Week
This week's famous chess game is Alekhine v. Yates, 1922. White gets an open file, and then seizes some crucial dark squares, and then finishes it off with a surprising sacrifice.
You can play through it yourself here.
Thanks to those of you who have sent me tips for this thread. They may be sent to me at
OregonMuse
and then the at sign
followed by yahoo
and then dot
com
See you next week!

posted by Open Blogger at
07:10 PM
|
Access Comments